ISHINE LIVE READIES FOR NATIONWIDE KICK-OFF

The First Of Its Kind Tween Tour Brings Luke Benward, Robert Pierre and The Rubyz Together For Fall Dates

The Tween Crew Announces "iShine So iDance" Contest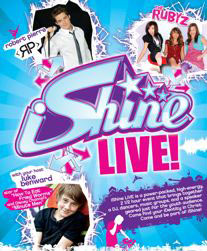 NEWS SOURCE: The M Collective
September 8, 2008
Nashville, Tenn. Sept. 8, 2008… The unique iShine Live event will launch nationwide this Oct. with a star packed crew including host Luke Benward from "How to Eat Fried Worms" and Disney Channel's "Minutemen" as well as music from 15 year-old Robert Pierre and tween girls trio The Rubyz. Also added to the mix will be interactive Jelly Telly characters designed specifically for iShine from Veggie Tale's creator Phil Vischer as well as speaker Paige Armstrong and backstage personality "JP." Amidst the tour, the iShine crew is also launching an online "iShine So iDance" contest through the end of the Nov. on iShinelive.com as well as their youtube page.
Around 20 dates (dates listed below) are scheduled for the fall and 70 performances are slated for 2009. Creative Artists Agency is booking the event, home to tween songstress Hannah Montana, Tobymac and Carrie Underwood. For all tour information including dates and tickets, go to myspace.com/iShinelive.
Here to fill an age gap in faith-based entertainment, iShine Live is a two and a half hour event that will include music, a speaker and overall entertainment designed specifically for the eight to 14 tween market.
Tweens ages eight through 14 are emerging in every area including kids music sales which increased 38.5% to $17.1 million last year alone. According to Billboard, this musical category was the only one to show growth in 2007, with tweens spending $50 billion dollars a year and their parents spending an additional $150 billion on their behalf. iShine wants to acknowledge the needs of this growing generation and provide them with not only entertainment, but with an identity in their faith as well.
iShine Live recently held a kick-off event at Disney World's Odyssey Center on July 13 at the International Christian Retail Show. The event included an address from founder Robert Beeson as well as Michael Omartian and Allan Hardin. The breakfast was attended by around 75 guests and also included devotions from The Rubyz, Robert Pierre, Luke Benward and Paige Armstrong (photo from event attached).
"This younger market is hungry for music and they want something that applies to their lives, something that they can connect with," explains iShine founder Robert Beeson. "And as far as the Christian community is concerned, there is a real lack of music being made for this age group."
In addition to the tour, the iShine crew is launching the "iShine So iDance" online contest where they are encouraging tweens to be fun, creative and show how they shine through dance video submissions. Submissions can be sent to idance@ishinelive.com for approval prior to being posted on youtube and will include three categories for solos, duos and group dances. There will be prizes for the best rated in each category and then an overall grand prizewinner. Anyone can vote online at the youtube website. All dances must be choreographed to one of the six songs listed at the below link from Benward, Pierre and The Rubyz. For a free download of these songs, go to iShinelive.com. For more information about the "iShine So iDance" campaign along with a sample video from The Rubyz, visit www.youtube.com/ishinesoidance
About The Artists
At first glance, Luke Benward looks like any other typical 12 year-old boy. Born and raised in Franklin, Tenn., he spends his free time like most kids his age: playing football, video games, break dancing and practicing on his new electric guitar. Lucky for Hollywood, Benward is not just your average seventh grader. Luke's first break was at the age of five, appearing along side Mel Gibson in We Were Soldiers. At age eight, he was cast as Stevie Dewberry in the family film Because of Winn Dixie. During the fall of 2006, moviegoers laughed as Luke (Billy Forrester) choked down ten worms in the hit Walden Media Film How To Eat Fried Worms. Most recently, Benward has appeared in Disney Channel's Minutemen and can be seen later in the year in the Diamond Dog Caper. He was named as one of "Hollywood's Top 12 Kids to Watch" by The Hollywood Reporter in 2006 and is working on an upcoming career in music.
Robert Pierre is a 15 year-old sophomore who plays high school basketball, leads student worship at his church, is involved in student leadership at his school and is working on his sophomore record with Matt Bronleewe (DC Talk, Steven Curtis Chapman, Tobymac). He is truly a multi-talented young man with a desire to make a difference in his generation. Since 2007 Robert has performed for more than a quarter of a million people at major Christian summer festivals and as the guest artist on Christ In Youth's national Believe tour. As he talked with students on the road, Robert realized so many of them find their identity in anything from celebrities and athletes, to music and video games. As a result, Robert wants to influence his peers to find their identity in Christ. That passion is reflected in the songs he co-wrote for his upcoming release, Identity.
Here to fill the industry age gap, The Rubyz released their iShine Record's self-titled debut on April 1. Comprised of Cammie Hall (17), Alexis Slifer (14) and Marissa Milele (13), The Rubyz' debut record has been praised by everyone from Christianity Today to Girl's Life magazine. Though their sound can be compared to the fresh chart-topping teen discs like High School Musical or Hannah Montana, their lyrics are sure to be grasped by tweens and teens alike. Whether it was taking dance, performing in their local school theater or playing bass, drums and even piano, The Rubyz are your average girls who are making music about everything from acting their age to friendship. The band's freshman project was produced by Chris Omartian (Hilary Duff, Pink, Jump5) with Executive Producer Joy Williams. The Rubyz were also recently accepted into Radio Disney's coveted Incubator Program in June 2008.
Paige Armstrong's life changed abruptly in 2001, just before her 11th birthday, she was diagnosed with bone cancer. She spent most of the next year in the oncology unit of St. Christopher's Children's Hospital in Philadelphia as she endured extensive chemotherapies and surgeries. However, the cancer became an opportunity to begin fulfilling her dream of being a Christian recording artist and songwriter. The Make-A-Wish Foundation sent her to Nashville, Tenn. in 2003 to record songs with industry professionals. Since that time she has been all over the country with her story and songs and was featured on "The Today Show" as well as the TV show "Extra" when she made a CD for the Bath and Body Works Christmas Album in 2005. Many of her appearances are fundraisers for Make-A-Wish, The American Cancer Society, schools and churches. She and some friends also formed a group called "Kids 4 Kids" who perform at children's hospitals and cancer camps. Paige wants to focus her message on young people who she believes often become discouraged and aimless because they don't realize that God has a plan for them. Her "anti-apathy" message includes the slogan – "You Have A Life – Use It!" In addition to her singing and songwriting, Paige is working on a book to guide young people in discovering their gifts, developing a passion and "using the life they have been given".
###
www.iShinelive.com
* all dates subject to change, go to myspace.com/iShinelive for most updated tour information
10/9 - Blue Ridge, GA
10/10 - Columbia, SC
10/11 - Chattanooga, TN
10/12 - Nashville, TN
11/6 - Lancaster, PA
11/7 - Baltimore, MD
11/8 - High Point, NC
11/9 - Hilton Head, SC
11/13 - Flint, MI,
11/14 - Grand Rapids, MI
11/15 - Cincinnati, OH
11/16 - Indianapolis, IN
11/20 - TBA
11/21 - TBA
11/22 - Kansas City, MO
11/23 - Wichita, KS

· To hear more information about iShine Live from 13 year-old host and tween actor Luke Benward, visit http://media.beatmart.com/ishine/ecard_index.html