SKILLET BRINGS EXPLOSIVE LIVE SHOW TO THE FANS ON 'COMATOSE COMES ALIVE' DVD AND CD OCTOBER 21ST

NEWS SOURCE: The M Collective
October 8, 2008
**GMA's Artist of the Year nominee and two-time GRAMMY® nominated band Skillet's explosive live show will soon be available for fans as the first-ever live concert CD and DVD combo, COMATOSE COMES ALIVE, hits on October 21st. This is the first live project for the band in their 12 year history.
**COMATOSE COMES ALIVE features songs from their 2006 Lava/Atlantic/Ardent/INO release COMATOSE, which has become their best-selling project to date, with sales over 400,000 units, along with their 2003 best-selling CD COLLIDE, and more.
** In follow up to a spring '07 tour with FlyLeaf, and fall '07 with Breaking Benjamin and Three Days Grace, this winter Skillet played to over 300,000 on Winter Jam, and in the spring launched their own theater tour, during which this footage was garnered at the Tivoli Theater in Chattanooga, and where 60% of the shows sold out placing the tour in Pollstar's Concert Pulse Top 50 Tours throughout the spring . Skillet's electric live show was also a highlight of numerous summer festivals.
** The CD of COMATOSE COMES ALIVE includes the full live concert audio plus six enhanced acoustic versions and bonus tracks, while the DVD, recorded in 5.1 surround sound audio, includes the full live concert plus four music videos and a photo gallery of live shots (full track listings below). To catch a clip of the DVD now, go to http://www.inorecords.com/comatoseLive/Skillet-Comatose_live.mov.
** In the process of becoming one of the hardest working, most rocking, and broadly appealing acts of its generation, radio has welcomed SKILLET and COMATOSE with open arms, garnering 5 back-to-back #1 singles: the first single, "Rebirthing" spent seven-weeks at No.1 on Christian Rock. Their second single, "The Last Night," also took the top spot, this time at both Rock and CHR (CRW/R&R), while "The Older I Get" (CHR/Rock) and "Comatose," which received a 2008 GMA Dove Award for "Rock Song of the Year," became their third and fourth consecutive No. 1 singles. Most recently "Those Night"s hit number one as well on CHR.
**At the end of 2007 the band was lauded with R&R's No. 1 Christian CHR Song of the Year for "The Last Night", which was also R&R's No. 2 Christian Rock song of the year. In addition, Skillet was named 2007s No. 2 top artist on both the CHR and ROCK yearend lists.
www.skillet.com
www.myspace.com/skilletmusic
TRACK LISTING
CD
1. Intro
2. Comatose
3. Whispers In The Dark
4. Collide
5. Forsaken
6. The Older I Get
7. Last Night
8. Better Than Drugs
9. Those Nights
10. Yours To Hold
11. Rebirthing
12. My Obsession
13. Angels Fall Down
14. Savior
15. Best Kept Secret
16. Live Free Or Let Me Die (b-side)
17. Rebirthing (acoustic)
18. Yours To Hold (acoustic)
19. The Older I Get (acoustic)
20. Whispers In The Dark (acoustic)
21. Say Goodbye (acoustic)
DVD
1. Intro
2. Comatose
3. Whispers In The Dark
4. Collide
5. Forsaken
6. The Older I Get
7. Last Night
8. Better Than Drugs
9. Those Nights
10. Yours To Hold
11. Rebirthing
12. My Obsession
13. Angels Fall Down
14. Savior
15. Best Kept Secret
16. Rebirthing (video)
17. Whispers In The Dark (video)
18. Making of the Album (video)
19. Savior (video)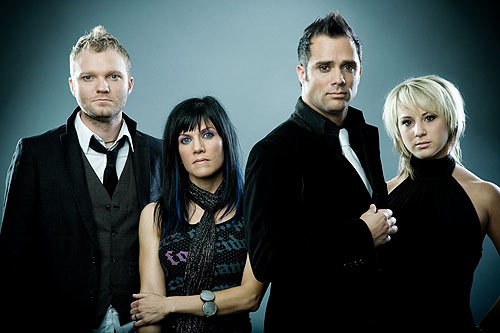 ###