TAMMY TRENT AND TOBYMAC 'TURN THE TABLES'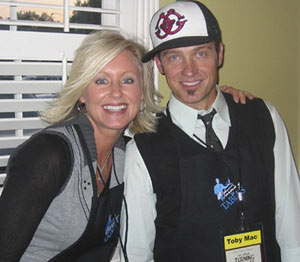 NEWS SOURCE: Turning Point Media
October 9, 2008
Singer/songwriter, author and speaker Tammy Trent recently participated in "Turning The Tables," a benefit dinner starring Nashville-area television, sports and music personalities as servers. Trent teamed with GMA's reigning Artist of the Year, TobyMac, to serve gazpacho at the event, which was presented by Southern Exposure Magazine to raise money for the Save The Franklin Theatre project.
"Turning The Tables" also featured Michael W. Smith; American Idol finalist Melinda Doolittle; and Tennessee Titans players Erron Kinney, Daniel Loper and Benji Olson, among others. Save The Franklin Theatre is an effort on behalf of the Heritage Foundation to reclaim, restore and renovate the 71-year old venue on Franklin, Tennessee's Main Street.
Since 1995, Tammy Trent has been a familiar voice on Christian radio with a string of hits, including "My Irreplaceable" and "Welcome Home." She stepped away from the spotlight in 2001 after the tragic death of her husband in a diving accident, returning as a featured speaker and performer at Women of Faith conferences in 2003. In addition, Trent has appeared on the Revolve Tour for teen girls and has written two books inspired by her journey. Trent's latest album, Stronger, released in July and is a celebration of her hope and trust in Christ and the acknowledgment of His sovereignty through seasons of sorrow and joy.
For further information, visit www.tammytrent.com.
###