ZORO: JOYCE MEYER TV GUESTING THIS WEEK –'PIERCING THROUGH TRADITIONS'
October 14-15th Telecast With "Minister of Groove" Shows Christianity Can Be Radically Real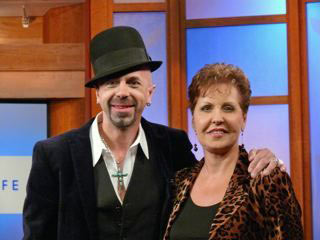 NEWS SOURCE: MorningStar PR
October 14, 2008
(Nashville, Tennessee) –October 13, 2008 – Those tuning in to Joyce Meyer's popular daily ministry broadcast, Enjoying Everyday Life, seen nationally and internationally, have the experience this week of meeting a unique evangelist – Zoro, world famous drummer, and one of rock music's most respected name musicians. He's on a mission, in his own words, to 'pierce through the traditions' of what today's Christianity looks and sounds like.
Behind the unusual pairing is a match made in heaven. Noted Joyce Meyer about the booking: "Zoro has a tremendous passion for ministry and sharing the gospel. I immediately connected with his desire to communicate God's truth in a real and down to earth way and it was exciting to hear his heart for sharing his faith through the unique platform God has given him in the music industry."
A passionate Christian, Zoro takes regular leaves from his position behind an elaborate set-up of signature skins to emerge as a real 'voice of change' in evangelical circles. A frequent and in-demand speaker, over more than two decades of creating music he has capsulated his mainstream music success and life experiences into motivational ministry with a message that is both real and relevant to the challenges of every day life—as viewers will witness on the Joyce Meyers telecast this week,
Growing up fatherless as one of seven children in the environment of LA's notoriously rough Compton district, Zoro recently served as the keynote speaker at the National Conference of Big Brothers & Big Sisters—an organization that outreached to him as a youth. He is working on his first Christian book release—a motivational theme—for release in '09. His latest music industry book—The Commandments of Early Rhythm & Blues Drumming is coming from Alfred Publishing this month with the promise of being a best seller.
With a recent re-location to Nashville from Los Angeles, Z continues to influence the music world with his performances and presence—but this time with a very pronounced message for God that encourages listeners to –as he does--"travel to the beat of the different drum."
Check local listings for air times of Enjoying Everyday Life, or resource market information online at: http://www.joycemeyer.org/
For booking and additional information, resource Zoro online: http://www.zorothedrummer.com/
###