DECYFER DOWN ANNOUNCES ADDITION OF NEW LEAD SINGER
BAND'S SOPHMORE PROJECT, "CRASH" TO HIT SPRING '09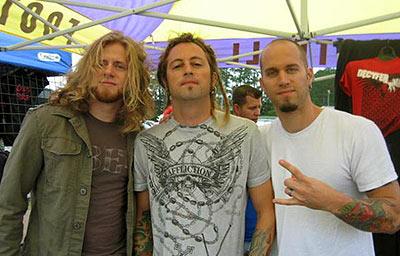 NEWS SOURCE: The M Collective
October 24, 2008
NASHVILLE, TN.....October 24, 2008.....INO/Columbia Records' rockers Decyfer Down have recently announced the addition of a new lead singer, TJ Harris. Formerly with the band Fighting Instinct, Harris has joined the band effective immediately.
"TJ brings a unique vocal edge to the band with his dynamic style, and is an exciting and engaging live performer," remarks drummer Josh Oliver. "Combined with his heart for ministry, Decyfer Down is looking forward to starting this new chapter in the band's career. "
TJ has been filling in at recent shows for Caleb Oliver, and will now be a permanent fixture on stage with fellow members Josh Oliver (Drums), Brandon Mills (Guitar) and Chris Clontz (bass).
Addressing the changes,"Caleb (former lead singer) is dealing with some personal things," continued Oliver. "We had hoped they could be dealt with in the context of the band, but it has become apparent that he needs to step away to find resolve. He is my brother, I love him, and we as a band support him and still consider him a brother as well. Moving forward with Decyfer Down, we are excited to have TJ as our new lead singer – the shows we've done together have been great."
"At first, I filled in with Decyfer Down for a couple of shows," recalls Harris. "It felt great on stage, and hanging out with the guys before and after felt good as well. We had toured together a few times before, but now I was really able to sit down and hear their testimonies and see where their hearts are. I'm really excited about this new chapter that God has opened in my life. It's a great opportunity as a writer and a performer. I'm glad to be a part of the Decyfer Down family."
Decyfer Down's new Digital EP released on Sept. 30th, and their new single, "Crash," recently peaked at No. 1 on Christian Rock radio. The digital EP is a preview of four-selected tracks from their upcoming sophomore record, aptly titled CRASH, due April 2009.
www.DecyferDown.com
###