TOBYMAC'S WINTER WONDER SLAM 2008 ROCKS WITH DIVERSITY FOR THE HOLIDAYS TOBYMAC HEADLINES ALL-STAR BILLING WITH RELIENT K, FAMILY FORCE 5 AND B. REITH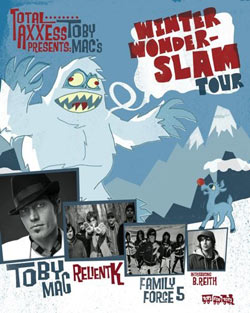 NEWS SOURCE: The M Collective
November 4, 2008
(Nashville, TN) November 4, 2008– Multi Grammy and Dove winner and GMA's Artist of the Year, tobyMac whose critically acclaimed album Portable Sounds is his best-selling solo project to-date, will once again live up to the definition of "diversity" as the Winter Wonder Slam Tour announces details of his highly anticipated 2008 line-up of artists and markets. Talent set to perform this year includes a litany of hot artists including Relient K, Family Force 5 and new Gotee Records act B. Reith.
Total Axxess Radio is once again this year joining forces with TobyMac for the November 11th to December 14th run of Winter Wonder Slam shows. The tour is scheduled to hit 17 markets, and has already pre-sold a whopping 5,200 tickets in one day for the upcoming Houston show.
As in past years, Winter Wonder Slam will benefit the work of the U.S. Marine Corps in its' annual Toys For Tots campaign. The mission of the Toys For Tots Foundation is to provide a tangible sign of hope to economically disadvantaged children at Christmas and concert-goers will again this year be encouraged to bring an unwrapped gift to the event. Each year, Winter Slam produces multiple sell-outs and sets records for the amount of gifts collected for Toys For Tots.
In bringing back this successful tour, tobyMac noted his pleasure at the artists assembled for the Winter Wonder Slam mission, commenting, "During the holidays, everyone needs a break from studying for exams and Christmas shopping. I wanted to put together a diverse tour that rocks in many musical directions but always points to Christ. The Winter Wonder Slam Tour does have a Christmas theme, but every band will be playing their hits and doing it the way they do!"
Winter Wonder Slam 2008 will be a welcome return of the concert series that's become a traditional holiday family reunion for tobyMac and national audiences. It's a reunion that's anticipated to again this year bring the real meaning of Christmas to concert-goers and needy children alike.
With over 8 million career scans and sold out tours, "Portable Sounds" is TobyMac's latest and highest solo debut ever on the Billboard Top 200 chart (No. 10), and after hitting No. 1 on SoundScan's Contemporary Christian Overall chart in its first week as well, the project is quickly approaching RIAA GOLD certification All three of TobyMac's solo projects have received numerous GMA Dove Award nominations as well as GRAMMY nominations. In addition, "Momentum" (2001) and "Welcome to Diverse City" (2004), both were awarded RIAA Gold Certification.
www.tobymac.com
WINTERWONDERSLAM 2008 (all dates subject to change)
11/13/08 7:00PM Greenville, SC Bi-LO Center
11/14/08 7:00PM Jacksonville, FL Veterans Memorial Arena
11/15/08 1:00PM West Palm Beach, FL Cruzan Amp
11/16/08 3:00PM Ft Myers, FL Germain Arena
11/20/08 7:00PM Lincoln, NE Pershing Auditorium
11/21/08 7:00PM Denver, CO World Arena
11/22/08 6:00PM Kansas City, MO Municipal Auditorium
11/23/08 6:00PM Oklahoma City, OK Ford Center
11/29/08 7:00PM Atlanta, GA Fox Theatre
11/30/08 7:00PM Knoxville, TN Knoxville Coliseum
12/5/08 7:00PM Nashville, TN Sommet Center
12/6/08 7:00PM Huntsville, AL VBC
12/7/08 7:00PM Mobile, AL Mobile Civic Center
12/11/08 7:00PM Bossier City, LA Century Tel
12/12/08 7:30PM Houston, TX Toyota Center
12/13/08 7:00PM Tulsa, OK MaBee Center
12/14/08 Dallas, TX Nokia Theater
###