Centricity Music To Sponsor BETHLEHEM SKYLINE Christmas Tour
Tour Features Downhere, Jason Gray, Lanae' Hale, Jaime Jamgochian, and Daniel Kirkley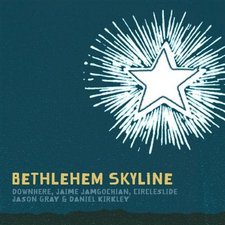 NEWS SOURCE: Bozeman Media
November 10, 2008
Nashville, TN (November 10, 2008) ---- Centricity Music will sponsor its debut tour in support of their highly popular Christmas project, Bethlehem Skyline. The nine city tour will launch on December 3rd in St. Louis, Missouri and will end on December 14th in Waukesha, Wisconsin. Centricity artists to be featured on the tour include; Downhere, Jason Gray, Lanae' Hale, Jaime Jamgochian, and Daniel Kirkley. The concert will offer a fresh blend of Christmas classics and original compositions for an intimate evening celebrating Christ's birth.
"The last several months have been very anxious in our country and we're excited about sharing a great message of hope through music during this Christmas season," says Jeff Berry, Vice President of Artist Management, Centricity Music. "Though it's fairly unusual for a label to produce a tour like this, one of the great things about Centricity is the ability to do the unusual! We're hoping this will be the first of many years of sharing our artists at Christmas!"
Upon its release in 2007, Bethlehem Skyline generated tremendous response upon its release in 2007 from Christian press and radio, with over 60 reporting stations (which includes the AC, INSP and CHR formats) playing one or more songs from the project. The album also resulted in a record-breaking chart position for Downhere with their single, "How Many Kings." The song peaked at #4 on the Christian Adult Contemporary chart at Radio & Records.
Media accolades include:
"Usually albums from new labels that feature Christmas songs land in the bargain bin. But Bethlehem Skyline has beaten the odds with a refreshing approach to the tried and true seasonal recording." – New Man Magazine
While most holiday releases spend eleven months of the year collecting dust on a shelf Centricity Record's Bethlehem Skyline won't be facing that future, the music is too good not to play it year round. This release is destined to become a Christmas classic itself! - ChristianRockersonline.com
For more information on the Bethlehem Skyline tour please visit, www.centricitymusic.com.
Centricity Music is an independent recording and publishing company based in Bellevue, Washington and Nashville, Tennessee. The company's mission is to nurture the gifts and expand the influence of Christian artists around the world. Centricity Music's artist roster includes Jaime Jamgochian, Downhere, Circleslide, Jason Gray, Daniel Kirkley, Lanae' Hale, Andrew Peterson and High Valley.
###