JASON GRAY INVITES LISTENERS IN FOR
ACOUSTIC STORYTIME
FROM CD THAT SPOTLIGHTS LIVE SONGS AND STORIES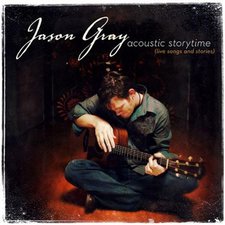 NEWS SOURCE: Bozeman Media
November 10, 2008
Nashville, TN (November 10, 2008) ---- One of Christian music's premiere singer/songwriters, Jason Gray, has released a new CD, Acoustic Storytime. The project features fifteen songs performed acoustically that were recorded live onstage in Minnesota and California or in the studio. Interspersed between the songs are Gray's heartfelt stories and winning sense of humor that have had such an impact on audiences nationwide. Acoustic Storytime is available at his live shows, Jason's online store, www.centricitymusic.com or on iTunes.
"Jason's fans have been asking for a more intimate project of his new music, so we decided to give them what they wanted," states Steve Ford, Vice President of Sales and Marketing, Centricity Music. "This CD captures some truly magical moments as Jason isn't afraid to open up and show who he is as an artist or a fellow Christian."
"I can honestly say that I've never had a more difficult time making a record than I did with this one!," exclaims Gray. "It seemed at every turn there were challenges from equipment failures, to guitar tuning, to my own health. So here I am, warts and all, and the peeling back continues, as this album is more about perseverance than perfection. In the end, this project is more about my relationship with the wonderful audiences who are the stars of this record."
Acoustic Storytime showcases new renditions of songs from Gray's critically acclaimed album, All The Lovely Losers, including "Blessed Be," "Grace," "The Cut," "This Far," and "Everything You Own" as a bonus cut. The project also features new songs from Gray including, "Down To The River," "The Reason You Brought Me Here," "The Things We Hold Back" and "If I Were A Dog," which believe it or not is a love song! The banter from Gray is quite humorous but layered with powerful illustrations of faith. Gray says he couldn't believe that God would use him for a music ministry because of his stuttering, as he thought anyone doing this sort of ministry should look and act like the Marlboro Man. Or when Gray was on tour with Downhere and Shaun McDonald, he said after such rockin' music it's like acoustic storytime at the library time with him, hence the title of the CD.
Gray's previous CD, All The Lovely Losers, was heralded as one of the top releases in 2007. Media outlets embraced the project and Gray from the start with coverage in CCM Magazine, ChristianMusicToday.com, Charisma, Christian Single, Aspiring Retail, Christian Retailing, Worship Leader Magazine, JesusFreakHideout.com, Phantom Tollbooth, Home Life Magazine, Devo 'Zine and Focus on the Family's national radio show, Weekend Magazine.
For more information on Gray please visit online at www.jasongraymusic.com or www.centricityrecords.com.
Centricity Music is an independent recording and publishing company based in Bellevue, Washington and Nashville, Tennessee. The company's mission is to nurture the gifts and expand the influence of Christian artists around the world. Centricity Music's artist roster includes Jaime Jamgochian, Downhere, Circleslide, Jason Gray, Daniel Kirkley, Lanae' Hale, Andrew Peterson and High Valley.
###