- PROVIDENT'S FRIDAY BUZZ -
FOR THE WEEK ENDING NOVEMBER 21, 2008
MICHAEL W. SMITH WILL BE FEATURED ON THE 700 CLUB,
MONDAY, NOVEMBER 24

THIRD DAY PERFORMED HIT SONG "REVELATION" ON
THE "LATE LATE SHOW WITH CRAIG FERGUSON" THIS WEEK

AMERICAN MUSIC AWARDS THIS WEEKEND:
THIRD DAY AND CASTING CROWNS NOMINATED

MATT MAHER, "WASHINTGONPOST.COM/ONFAITH" CONTRIBUTOR,
LATEST POSTING: ENCOURAGE PRAYER, DON'T FORCE IT

PILLAR AND FIREFLIGHT ROCK "CREATION FESTIVAL: THE TOUR"

CASTING CROWNS COMPLETES SUCCESSFUL EUROPEAN TOUR

BRANDON HEATH WRAPS ART*MUSIC*JUSTICE TOUR THIS WEEK TO STELLAR REVIEWS AND A NON-STOP SINGLE

PLG ARTISTS SCORE TWO SPOTS ON
GOSPELMUSICCHANNEL.COM'S TOP 10 YEAR END PICKS FOR 2008
NEWS SOURCE: Provident Label Group
November 21, 2008
Michael W. Smith will be Featured on the 700 Club, Monday, November 24: Multi-platinum and GRAMMY-winning artist Michael W. Smith, who recently released his 21st album A New Hallelujah (10/28), will be featured on the Christian Broadcast Network's "700 Club". The show will air Monday, November 24. The 700 Club is hosted by Pat Robertson and is a live television program that airs weekdays before a studio audience in Virginia Beach, VA. Please visit the following link for local 700 Club air times: http://www.cbn.com/700club/ShowInfo/Schedule/program_air_times.pdf.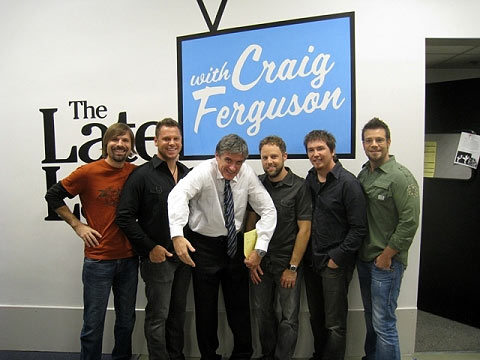 Third Day Performed Hit Song "Revelation" on the "Late Late Show with Craig Ferguson" This Week: Having graced the July 7 cover of Billboard Magazine, performed on "The Tonight Show with Jay Leno" and broken its own first-week sales records with its 10th studio album Revelation (7/29/08), Thursday night Third Day appeared on its second late night network TV performance in just three months. The Atlanta based rock band performed its hit song "Revelation" on "The Late, Late Show with Craig Ferguson". Please visit the website to watch Third Day perform: http://lateshow.cbs.com/latenight/latelate.
American Music Awards This Weekend- Third Day and Casting Crowns Nominated: The 36th Annual AMAs will air SUNDAY, NOVEMBER 23rd (8:00-11:00 p.m. ET/PT) on ABC. Provident Label Group artists Casting Crowns and Third Day are nominated for "Favorite Artist" in the Contemporary Inspirational Category. Casting Crowns, who won this category at last year's show, celebrates its fourth consecutive nomination. This is Third Day's third nomination. For more information about Casting Crowns please visit: http://www.castingcrowns.com/. For more information about Third Day please visit: http://www.thirdday.com/.
Matt Maher, "Washingtonpost.com/OnFaith Contributor", Latest Posting-"Encourage Prayer, Don't Force It": Matt Maher has been very active in the Washington Post's On Faith community with 11 articles being published to date. On Faith is a website that encourages informed, eclectic and respectful conversation among specialists and generalists who devote a good part of their lives to understanding and delineating religion's influence on the life of the world. To read Matt's articles and comment on his thoughts visit: http://newsweek.washingtonpost.com/onfaith/matt_maher/archives.html.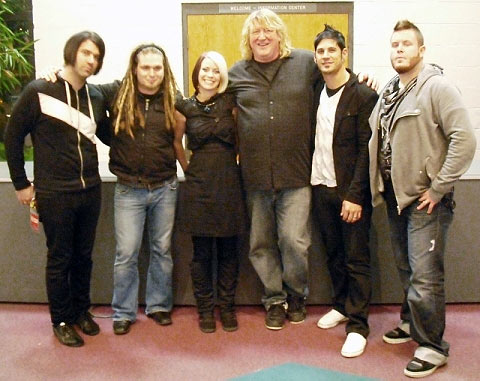 Photo (L-R): Justin Cox-Fireflight, Noah Henson-Pillar, Dawn Richardson-Fireflight, Bob Lentz-Speaker on Creation Tour, Rob Beckley-Pillar, and Rich Gilliand-Pillar
Pillar and Fireflight Rock "Creation Festival: The Tour": Pillar welcomes Rich Gilliand as their new bass player. "Rich is a great player and has a huge heart," said Rob Beckley of Pillar. Rich will join the rest of the members of Pillar as they continue on Creation Festival The Tour. "We have done a lot in terms of the touring world. I am so glad to have been a part of a historical tour. Creation is a brand that has been around as long as I've been alive and to be trusted to carry that brand to a new generation is humbling and an honor. I have thoroughly enjoyed my time on Creation Festival: The Tour. I hope that I was as much of an impact on others as this tour has been on me." For more please visit: www.myspace.com/pillar, www.myspace.com/fireflight.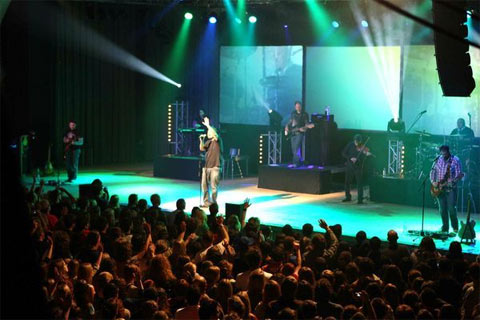 Casting Crowns pictured above during European tour.
Casting Crowns Completes Successful European Tour: Casting Crowns returns back to the States after spending 10 days, and performing 6 concerts, in Europe. Casting Crowns reached fans in countries including: the United Kingdom, Ireland, Denmark, Switzerland and Germany. Along with concert performances, Casting Crowns met with fans and international media. "Casting Crowns performed the concerts of the year in Germany and Switzerland!" said Jörg Schwehn, concert promoter out of Switzerland. Mark Hall also conducted three seminars discussing "How to transform your youthgroup in a youth ministry". For more information on Casting Crowns, please visit: www.castingcrowns.com.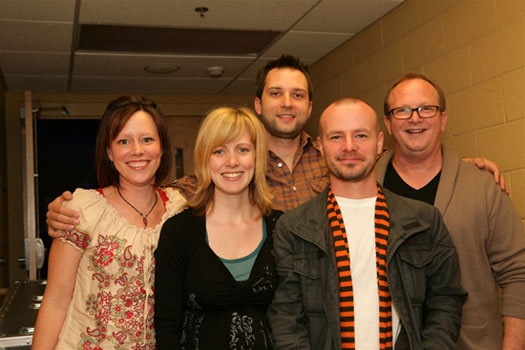 Pictured L-R: Sara Groves, Sandra McCracken, Brandon Heath, Derek Webb, Charlie Peacock
Brandon Heath Wraps ART*MUSIC*JUSTICE Tour to Stellar Reviews and a Non-Stop Single: This fall Brandon Heath along with Sara Groves, Derek Webb, Sandra McCracken and author/artist Charlie Peacock, hit the road for the ART*MUSIC*JUSTICE tour. This tour benefited both the International Justice Mission (IJM) and Food For the Hungry (FH). The tour was such a success on so many levels that plans are already underway to put together a follow-up tour in the fall of 2009. "The sound and feel of the night couldn't have been more like a family joining other families to end slavery," said Brandon Heath. In over 20 cities, the artists brought a unique concert opportunity to "add to the beauty, seek justice and give God praise," each evening, desiring to further educate the church on God's heart for justice, gain advocates for the oppressed, and show evidence of a God at work in this world. Each evening brought with it inspired music and videos of God's people in action and their heroic experiences across the globe. Incredible stories of rescue from the International Justice Mission were told. As the tour wrapped, 550 kids had been sponsored in the Rwandan Village of Gisanga, and their goal to raise $50k for the International Justice Mission was surpassed.
PLG Artists Score Two Spots On GospelMusicChannel.com's Top 10 Year End Picks for 2008: Provident Label Group artists, Brandon Heath and Fireflight, received recognition on GospelMusicChannel.com's Top 10 Year End Picks for 2008. Brandon Heath was recognized as iTunes pick for his song "Sunrise" off of his sophomore album What If We. GospelMusicChannel.com editors had a lot of great things to say about Brandon and his latest album: "There's an urgency in Brandon Heath's music that causes the listener to examine the world and their faith through a more finely tuned lens. That, combined with captivating vocals and a slew of grab-your-attention songs continues to spotlight this New Artist of the Year's multi-faceted talent. Brandon's laid-back style and smooth vocals, combined with the songs' originality, make the album one that as a music fan – not even just a Christian music fan and regardless of style preference – you need to hear. The more time you give it to settle into your bones, the more you'll find yourself hitting repeat." Fireflight's hit song "Unbreakable", off of its sophomore album Unbreakable, also was chosen as GospelMusicChannel.com's iTunes pick. The song, which made huge impressions in radio and on the charts, also impressed the GMC editors: "There's no denying the ability of "girl rock" to make major waves these days in both faith-focused and mainstream circles. In fact, with spiritually centered groups like Fireflight, Superchick, Paramore and Evanescence making a splash on both sides of the charts, it's no wonder Fireflight is so popular and relevant with today's youth. Still, the high-octane troupe is carving out a niche of its own thanks to explosive chord progressions and spirited sing-a-longs. Unbreakable proves Fireflight has enough heat to go the distance."
For more information about Brandon Heath please visit: http://www.brandonheath.net/.
For more information about Fireflight please visit: www.myspace.com/fireflight.
###