AUSTRALIA'S POP/ROCK BAND "REVIVE" JOINS ESSENTIAL RECORDS IN PARTNERSHIP WITH THIRD DAY'S CONSUMING FIRE PRODUCTIONS
Co-Produced by Third Day's Mac Powell, Revive's U.S. Label Debut
Chorus of the Saints to Release March 2009

NEWS SOURCE: Provident Label Group
December 4, 2008
(Nashville, Tenn.) Dec.4, 2008 –Today, Essential Records announces the signing of Australia's latest musical export, high-energy pop/rock band Revive. In partnership with GRAMMY-winning group Third Day's Consuming Fire Productions, the band of four from Sydney relocated to the U.S. in 2007 to pursue a career in Christian music. Championed and mentored over the last year by the members of Third Day, Revive will release its 12-song label debut titled Chorus of the Saints on March 10, 2009.
Third Day's lead singer, Mac Powell, co-produced the album with Revive. Chorus of the Saints combines Revive's passionate musicianship with its direct emphasis on well-crafted lyrics. The vibrant pop/rock outfit is anchored by Dave Hanbury's charismatic lead vocals which contain an element of drama and spiritual passion that commands attention.
Powell notes, "I can't wait for the USA to hear this new album. It has the ability to make you want to groove, or move you to tears in your own living room."
Third Day bassist Tai Anderson adds, "Revive has everything that I look for in a new artist: great musicianship and songs, a passionate drive and work ethic, and the ability to really connect live with an audience. Whether in the studio, in concert or backstage, they listen to the lessons we have learned and apply them quickly to their own band. Revive has set the standard for what I will look for in future Consuming Fire productions."
Through its music, Revive is about ministry and reminding people of the message in Psalm 85. "It says, 'He will revive their hearts.' We love that," says Hanbury. "We want people to be refreshed, like what our name means, to be revived. It would be great if someone would listen to this CD, and feel like they could walk closer with the Lord."
Having toured extensively in Australia with 3 acclaimed albums already to their name, Revive is fast connecting with fans on tour with Third Day. After already playing more than 45 dates with the headliner in 2008, Revive will play 35 cities in spring 2009 as part of Third Day's Revelation Tour, yielding more opportunities for American audiences to fall in love with Australia's latest musical export.
Dave Hanbury says, "It's an honor to share the stage with a band that has been so influential on the industry as well as our own lives. So far American audiences have been great to us and we can't wait to visit every corner of this enormous land!"
Revive got its start more than four years ago when Dave Hanbury (lead vocals), Tyler Hall (guitar), Mike Tenkate (drums), and Rich Thompson (bass) were at church together in Sydney, Australia, playing shows for local youth groups and schools. The guys first caught the attention of frontman Mac Powell during Third Day's "Down Under" tour of Australia in 2007 at which Revive performed in an opening slot. Now in the USA, Revive has played alongside Sanctus Real and DecemberRadio on Third Day's 2008 spring tour, and most recently with NEEDTOBREATHE on the "Third Day Live" fall tour.
For more on Revive and to view the band's video blogs from the road, please visit www.reviveband.com.
About Consuming Fire Productions:
Many artists were incredibly instrumental in Third Day's rise to prominence. Not forgetting this, Third Day is committed to "paying it forward" by investing in up-and-coming talent. Resourcing its members' collective business experience, production savvy and the revered Third Day "live concert" platform, Consuming Fire Productions is Third Day's vehicle to develop and help spearhead the careers and ministries of young artists, bands and writers. Currently, Third Day is working with one of Australia's most highly-sought-after bands, Revive. Mac Powell co-produced its upcoming U.S. debut album, with Revive band members, and Third Day has featured Revive on several North American tour dates. Third Day has also invited the quartet to be part of the highly anticipated Revelation Spring tour.
About Third Day:
Over the past decade, rock band Third Day (made up of members Mac Powell, Tai Anderson, David Carr and Mark Lee) has racked up 25 No. 1 radio singles and sold close to seven million albums. The band has garnered 23 career Dove Awards, three GRAMMY Awards (with eight career nominations), an American Music Award, three AMA nominations and multiple ASCAP honors.
One of the top-ranked touring bands according to Pollstar magazine, Third Day has played for audiences reaching into the millions. Due to its mass appeal, Third Day has been featured by top media outlets including The Tonight Show with Jay Leno, CBS' "60 Minutes," ABC's "Nightline," USA Today, New York Times and even graced the cover of Billboard magazine.
While celebrated for its live shows and chart-topping album sales, Third Day is also highly respected for its humanitarian efforts. The band actively supports the ONE Campaign, Blood:Water Mission, Habitat for Humanity and World Vision. Third Day recently established the "Come Together Fund" as a vehicle to direct a portion of concert proceeds to grassroots humanitarian efforts around the world.
For more information on Third Day, please visit: www.ThirdDay.com.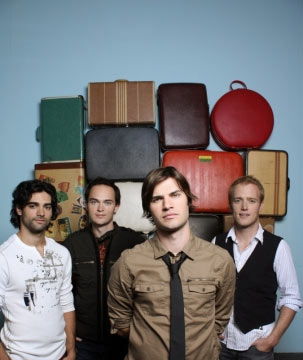 ###