- PROVIDENT'S FRIDAY BUZZ -
FOR THE WEEK ENDING DECEMBER 19, 2008
CASTING CROWNS PERFORM ON TNT'S CHRISTMAS IN WASHINGTON SPECIAL

- TV ALERT -
THIRD DAY'S PERFORMANCE ON
"THE LATE LATE SHOW WITH CRAIG FERGUSON" WILL REPEAT FRIDAY, JANUARY 2

USA TODAY PICKS ANNIE MOSES BAND & CASTING CROWNS AS
TOP HOLIDAY ALBUMS, HIGHLIGHTS MICHAEL W. SMITH'S
DUET WITH MANDISA

PROVIDENT LABEL GROUP ARTISTS NOMINATED FOR
WORSHIP LEADER 2008 PRAISE AWARDS

THIRD DAY ANNOUNCES SPRING 2009 REVELATION TOUR

BRANDON HEATH AND TENTH AVENUE NORTH VOLUNTEER AT WOW SHARES EVENT

FIREFLIGHT USES VIDEO BLOGS TO CONNECT WITH FANS

THIRD DAY AND FIREFLIGHT LISTED IN TOP 10 ALBUMS OF 2008 BY JESUSFREAKHIDEOUT.COM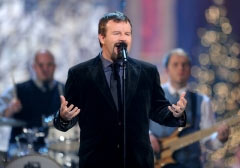 Pictured Above: Casting Crowns performing at TNT's CHRISTMAS IN WASHINGTON concert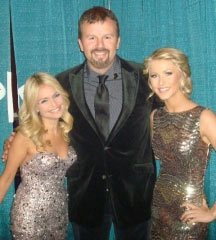 Pictured Above (L-R): Kristin Chenoweth, Casting Crowns' lead singer Mark Hall and Julianne Hough
NEWS SOURCE: Provident Label Group
December 19, 2008
Casting Crowns Performs "I Heard the Bells on Christmas Day" for First Lady and National Television Audience: Christian music's top-selling, top-touring, and multi-platinum artist, Casting Crowns performed its hit single "I Heard the Bells on Christmas Day" for the First Lady, Vice President Dick Cheney and other Washington VIPs this week on TNT's nationally-televised "CHRISTMAS IN WASHINGTON" special. The annual concert, hosted by Dr. Phil and Robin McGraw, aired Wednesday, Dec. 17, and benefited the National Children's Medical Center. Other performers included Kristin Chenoweth, Julianne Hough, Darius Rucker, Raphael Saadiq and Straight No Chaser. Casting Crowns' anthemic arrangement of "I Heard the Bells on Christmas Day" is the featured single off its first Christmas album Peace On Earth, which remains No.1 on SoundScan's Christian Albums chart. For more information about Casting Crowns, please visit: www.castingcrowns.com.
USA Today Picks Annie Moses Band and Casting Crowns As "Top Holiday Albums" and Highlights Michael W. Smith's duet with Mandisa: Music critic Brian Mansfield picked some of his favorite holiday albums coming out this season and listed them on USA Today.com. Two Provident bands were listed as favorites for this holiday season: Annie Moses Band with This Glorious Christmas and Casting Crowns with Peace On Earth. Michael W. Smith was also highlighted for "Christmas Day" his duet with Mandisa, which is currently on her Christmas album It's Christmas. To check out the complete list of holiday albums visit: http://www.usatoday.com/life/music/news/2008-12-14-christmas-music-list_N.htm.
Provident Label Group Artists Nominated for Worship Leader 2008 Praise Awards: Each year with the Praise Awards, Worship Leader gives the fans a chance to say thanks to the people who have served them and their congregations with their ministries and devotional art. This year Provident artists were included in many categories. Worship Project of the Year nominees include Michael W. Smith for A New Hallelujah and Leeland for Opposite Way. Song of the Year nominees include Michael W. Smith with A New Hallelujah and Matt Maher with As it Is in Heaven. Breakout Artist of the Year nominees include Matt Maher and Tenth Avenue North. Worship Leader encourages fans to vote in order to share their voices, pointing out the people and projects that have been meaningful to them and their worshiping community. The winners will be listed in the March/April issue of Worship Leader magazine. To cast your vote, please visit: http://www.worshipleader.com/praise-awards.
Third Day Announces Spring 2009 Revelation Tour: With sales approaching 250,000 on Third Day's latest, No. 1 debuting album, Revelation (7/29), the multi-platinum, GRAMMY and AMA winning rock band announces the lineup for its spring 2009 "Revelation Tour." Reigning "New Artist of the Year," and recent double-GRAMMY nominee, Brandon Heath and new four-piece pop/rock band, Revive will join Third Day on its 35-city tour launching March 5 in Champagne, Ill. The tour will visit venues across the nation through the end of May. A complete list of tour dates will be posted December 19 on www.ThirdDay.com; the same day that tickets will be made available for purchase. (The direct link to purchase tickets on December 19 is: www.ThirdDay.com/touring.htm).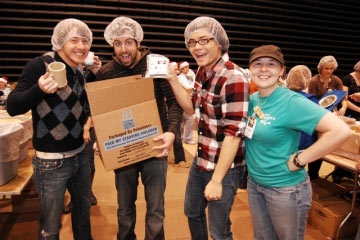 (Photo by Aaron Crisler / The Judy Nelon Group)
Mike Donehey, Tenth Avenue North; Jeremy Camp; Jeff Owen, Tenth Avenue North;
Jess Swanson, Senior Team Leader, Feed My Starving Children
Brandon Heath and Tenth Avenue North Volunteer at WOW Shares Event: Brandon Heath and Tenth Avenue North volunteered their hands and hearts to the WOW Shares event benefiting starving children around the world. The guys spent the morning packaging food for Feed My Starving Children, a faith-based relief organization. Brandon also took part in a noon performance for the over 1,500 volunteers. In one day, volunteers packaged 427,000 meals, which is enough to feed 1,169 children for one year. "I feel more purpose if I'm doing things like this, in addition to the music," says Brandon. "You can really focus on your career and the charts, but those things will go away. This is making an eternal difference, and what's so cool about it is that it's so simple. It's an act of sacrifice and kindness, and it has a greater impact than a lot of things." To learn more about Brandon Heath, please visit: www.brandonheath.net. To learn more about Tenth Avenue North, please visit: www.tenthavenuenorth.com.
Fireflight Connects With Fans Using Video Blogs: A lot of people have heard the music of Fireflight, but they don't really know the individuals of the band. Over the next couple of weeks Fireflight is using online video blogs to introduce the members of the band through the eyes of their band mates. The video blogs will also include footage from Creation Festival: The Tour. To see this footage and learn more about Fireflight, please visit: http://blog.myspace.com/index.cfm?fuseaction=blog.view&friendID=2345663&blogID=453757759.
Third Day and Fireflight Listed In Top 10 Albums of 2008 by Jesusfreakhideout.com: This year the staff of Jesusfreakhideout.com picked their favorite albums of the year. After averaging all of the staff picks they came up with a Top 10 Albums of 2008 list. Included on this list at No. 4 is Third Day with Revelation. Fireflight's Unbreakable came in at No. 7. For more information about Third Day please visit: www.ThirdDay.com. For more information about Fireflight, please visit www.myspace.com/fireflight.
###