NEWSBOYS CALL ON FANS TO "JOIN THE TRIBE" THIS SPRING
Guitarist Jody Davis Returns to Group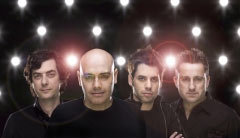 NEWS SOURCE: Savvy Media
January 16, 2009
(NASHVILLE, Tenn.) Jan. 16, 2009—Award-winning supergroup newsboys kicks off 2009 with its 35-city "Join The Tribe" tour in February featuring DecembeRadio, VOTA, and Bread of Stone. Also on the tour is Jody Davis, who has re-joined newsboys after a five-year hiatus.
Kicking off on Feb. 20, the tour will support Global Tribe (www.globaltribe.com) in its quest to fight physical and spiritual poverty. The tour will also introduce fans to new music from newsboys forthcoming fifteenth studio release in stores May 5, 2009, including the album's title track and debut single, "In The Hands Of God," which will vie for adds at both AC and CHR radio beginning Jan. 23.
Running through mid-April, the "Join The Tribe" tour also marks the return of long-time guitarist Jody Davis to newsboys. Davis will replace Paul Colman who has retired the band to pursue his solo career. "I am thrilled to be returning to the band and back with my bandmates, who are some of my best friends," says Davis. "This is a big change in my life, and I'm looking forward to the tour and new record with excitement." For the most up-to-date tour itinerary, www.myspace.com/newsboys.
With five gold albums, sales exceeding six million units, more than 20 No.1 radio hits, and a mantle of Dove Awards as well as Grammy nominations, newsboys has achieved phenomenal success in its two decades together. Known for its amazing live performances and groundbreaking tours, the band continues to sellout festivals and concerts worldwide, satisfying diehard fans and winning new ones in the process. For more information, visit http://www.newsboys.com/.
Classic rock band DECEMBERADIO has been making headlines since its debut initially hit the shelves, garnering a GRAMMY ® nomination, a DOVE Award win for Rock Album of the Year, three DOVE nominations and several hits including Song of the Year nominee "Drifter." The band's recent sophomore release was named one of the Top 10 Critics Pick Albums of the Year by ChristianityToday, CCM Magazine and The Gospel Music Channel. DECEMBERADIO is known for their rousing stage performances and gutsy, guitar expertise. Whether opening a NASCAR event with songs like "Dangerous" or filling the AC radio airwaves with hit ballads such as "Find You Waiting," the foursome has brought a defining sound and energy to the world of Christian music.
Formerly known as Casting Pearls, VOTA is Bryan Olesen, Case Maranville and Scott Rutz. This pop-rock band has had a busy year signing with INO Records and releasing their new self-titled album digitally. Now they are preparing to release VOTA to all stores nationwide on Feb. 10, 2009. Produced by Nathan Dantzler (Relient K, Audio Adrenaline, Tree63) the 11-track album exerts high-energy artistic sounds, taking cues from the players' previous alternative dichotomy and adding dance elements influenced by dance poppers Maroon 5 to ethereal rockers Augustana.
With a unique blend of rock, pop, and worship, Bread of Stone (BOS) is a Christian band based out of Sioux City, Iowa with a sound all their own. Coming from Indonesia, the largest Muslim country in the world, Bread of Stone was formed by two brothers Ben (vocals) and Bill Kristijanto (guitar) and later joined by friends, Jeremi Hough (drums) and Tim Barnes (bass) When asked about the significance of the name "Bread of Stone," they state we are all merely stones that God turns into bread to feed the hungry and that without Him, no one can accomplish good in this downfallen world.
###

[2022]
Jan. | Feb. | March | April | May | June | July | Aug. | Sept. | Oct. | Nov. | Dec.
[2021]
Jan. | Feb. | March | April | May | June | July | Aug. | Sept. | Oct. | Nov. | Dec.
[2001 - 2021]
Visit our complete MUSIC NEWS ARCHIVE