A PLEA FOR PURGING TALK ABOUT NEW ALBUM, "DEPRAVITY"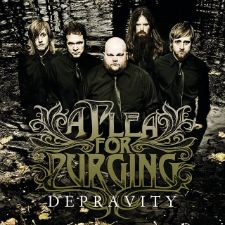 NEWS SOURCE: Facedown Records
January 23, 2009
Today A Plea For Purging debuts a brand new song on their new myspace profile. Plea has been keeping their new look under wraps and will unveil it today to coincide with the first track to be released from their new album Depravity. The track is titled "Malevolence" and is just a taste of what the new album has in store.
Guitarist John Wand has this to say about the creation of Depravity. "In many ways this album is a confession to each other and to all those who know and care for us. There have been many things in our lives that have been hidden for the better of this band and its reputation. We have all felt despair and hopelessness and blamed God for those circumstances, when in all actuality, we have driven ourselves into those dark places. Depravity is the depiction of what life is without God."
Click here to listen to "Malevolence." Plea will soon release a video for this track as well, directed by Andy Reale. You can see a teaser for the video now on their myspace.
Depravity comes out March 3rd. Every pre-order receives a free t-shirt and chance to win a one of a kind A Plea For Purging snare drum by Dark Horse Percussion and a new guitar from First Act guitar. http://facedown.merchnow.com/products/99505
Tour Dates
Jan 24 - Jacksonville, FL @ Murray Hill Theater
Jan 30 - Douglasville, GA @ The 7 Venue
Feb 1 - 25 w/ The Great Commission and Venia
Feb 1 - Hickory, NC @ YMCA Teen Center
Feb 3 - Danville, VA @ Plan B
Feb 4 - Boones Mill, VA? @ Southside 220
Feb 5 - Louisville, KY @ Bulldog Cafe
Feb 8 - Lorain, OH @ Chenga 57
Feb 9 - Mansfield, OH @ CD Jungle
Feb 10 - Romeo, MI @ Static Age
Feb 11 - Lansing, MI @ Mac's Bar
Feb 12 - Ft. Wayne, IN @ Sunset Hall
Feb 22 - Little Rock, AR @ Vino's
Feb 24 - San Antonio, TX @ The White Rabbit
Feb 25 - College Station, TX @ Schotzi's
Feb 28 - Hernando, MI @ Higher Grounds
April 3 & 4 - Pomona, CA @ The Glasshouse - FACEDOWN FEST

[2022]
Jan. | Feb. | March | April | May | June | July | Aug. | Sept. | Oct. | Nov. | Dec.
[2021]
Jan. | Feb. | March | April | May | June | July | Aug. | Sept. | Oct. | Nov. | Dec.
[2001 - 2021]
Visit our complete MUSIC NEWS ARCHIVE