BAND MEMBER RON MCCLELLAND OF STORYSIDE: B
DIES SUDDENLY OF APPARENT HEART CONDITION
McClelland Remembered As A Guy Who
Walked Around With A 'Huge Smile On His Face'
NEWS SOURCE: LB PR
January 28, 2009
(Nashville, Tenn.) January 28th, 2009 -- Ron McClelland, bassist for the popular Christian recording band StorySide:B, collapsed and died suddenly from an apparent undiagnosed heart condition on January 18th while on a cruise with his wife as part of Jacksonville, Florida's 88.1 The Promise radio listener appreciation trip.
McClelland, who was playing basketball when he lost consciousness, was not able to be revived. He was just 33 years old and is survived by his wife Rebecca.
Fellow band member and guitarist Preston Pohl commented on McClelland's passing. "He's inspired me musically and in every way in life. He wasn't just my best friend; I could definitely consider him my brother. I continue to thank God for Heaven and I believe I'll see him again, one day."
"He just always walked around with a huge smile on his face and people just absolutely adored the ground that he walked on," said drummer Jordan Mohilowski.
"Ron was a man I admired greatly, and I was lucky to call him friend," said Gotee president Joey Elwood. "Men like Ron always leave a little piece of themselves in the people they touch through their integrity, their honesty, their selflessness, and their joy. That's where I think many of us will find out solace in the days to come. Ron left a lot of himself for us, made many deposits in our lives and so he'll be missed immensely, but his character will be with us, pushing us to be better, for the rest of our lives."
Gotee Records' Brad Moist commented, "I will always remember Ron's infectious laughter and big bear-like hugs. Also, something that will always stand out to was how he was a guy who always expressed his appreciation and gratitude for what, we as a label and me as their A&R, did for StorySide:B."
A donation fund has been established help cover the funeral costs and can be made at any Bank of America in the name of Ron and Rebecca McClelland. Reference bank account number xxxxxxx8678.
www.myspace.com/storysideb
For more information on StorySide: B, visit the JFH Artists Database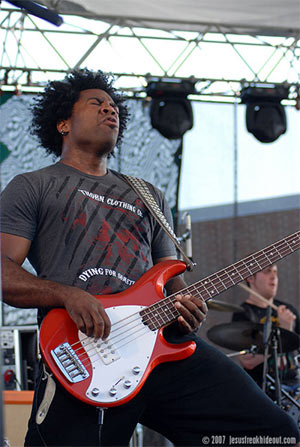 [2022]
Jan. | Feb. | March | April | May | June | July | Aug. | Sept. | Oct. | Nov. | Dec.
[2021]
Jan. | Feb. | March | April | May | June | July | Aug. | Sept. | Oct. | Nov. | Dec.
[2001 - 2021]
Visit our complete MUSIC NEWS ARCHIVE