CeCe Winans & J. Moss Help To Celebrate Gospel Music With McDonald's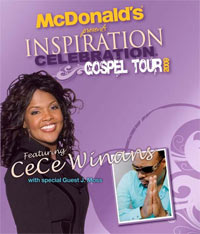 NEWS SOURCE: ROCspace.org News
March 26, 2009
For many, Gospel music is a source of expressing Christian belief. It uplifts and inspires, taps into deep soulful emotions, and provides an outlet to celebrate the rich tradition of African American music.
The tradition of gospel music is nothing new to UMI. One of the earlier covers of UMIs teen publication, Inteen®, was graced by none other than gospel music legend, Andrae Crouch. Dr. Melvin Banks, founder of UMI, could sense the spiritual ties between gospel music and the Christian lifestyle and wanted to share that with the Inteen® audience.
In honor of celebrating our traditional and spiritual ties to gospel music, UMI has partnered with McDonald's to bring you the 3rd annual McDonald's Inspiration Celebration Gospel Tour. The gospel tour is a series of unprecedented concerts that bring a powerful and inspirational message to all in attendance. Past concert attendees have enjoyed the soul-stirring ministry of Smokie Norful, Vanessa Bell Armstrong, Kierra "Kiki" Sheard and Myron Butler & Levi. "This concert series gives UMI the opportunity to fellowship with our customers, while experiencing these dynamic artists," says UMI President Jeff Wright. "We are excited to have the opportunity to partner with McDonald's in this way and hope that these concerts will be the first of many positive joint programs for our community."
Headlining the 2009 McDonald's Inspiration Celebration Gospel Tour will be recording artist CeCe Winans along with J Moss. GRAMMY, Stellar and Dove award winning artist, CeCe Winans released her first album in 1985 with brother BeBe Winans. Her latest solo album is described as a variety of styles and movements, spanning energetic urban gospel, beautifully orchestrated balladry, and joyful corporate worship. Opening for CeCe Winans is Zomba recording artist J Moss. Newer to the gospel industry arena, but equally a blessing, J Moss has gained industry notoriety writing and producing for several artists, including Karen Clark-Sheard, Hezekiah Walker and Trin-i-tee 5:7.
For tickets and tour dates, click here.