DOVE AWARD PERFORMERS ADDED TO LIVE SHOW
AT OPRY HOUSE ON APRIL 23
DOZENS OF ARTISTS LINED UP FOR GOSPEL MUSIC
CHANNEL'S NATIONAL LIVE BROADCAST 8–10 p.m. ET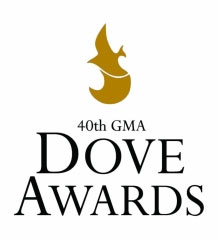 NEWS SOURCE: Spinhouse PR
April 17, 2009
NASHVILLE, Tenn. – April 17, 2009 – Today, the Gospel Music Association (GMA) announced more artists who have confirmed to perform on the Dove Awards (www.DoveAwards.com), which will be live from the Grand Ole Opry House in Nashville, Tenn. and broadcast nationwide on the awards' exclusive television home, the Gospel Music Channel television network, from 8:00 to 10:00 p.m. ET on April 23.
The Blind Boys of Alabama, Kierra Sheard and Sandi Patty are among the newest artists confirmed for performances. Previously announced performers include Steven Curtis Chapman, Natalie Grant, Brandon Heath, Mary Mary, MercyMe, Third Day and Chris Tomlin.
With dozens of artists now slated to participate in the multiple musical performances and present alongside well-known celebrities throughout the evening, and of course, Dove Award winners to be named, the GMA Dove Awards on Thursday, April 23, will be a spectacular celebration of the 40th year of Christian and gospel music's biggest night to honor its best and share this inspirational music with a worldwide audience.
The Dove Awards will feature many memorable musical moments starting with Mary Mary opening the show, followed immediately by the soulful Kierra Sheard. New Artists Francesca Battistelli, Jonathan Nelson, Remedy Drive, Chris Sligh and Tenth Avenue North will sing from their debut CDs. Reigning Male and Female Vocalists Chris Tomlin and Natalie Grant return to the stage with powerful performances; with Grant inviting hip-hop artist Group 1 Crew for an unlikely but energetic and joyous pairing. Steven Curtis Chapman will sing his touching "Cinderella," a poignant anthem for fatherhood that became a national sensation just this past year.
Sandi Patty will host a special tribute to Southern Gospel legend Dottie Rambo who died in a tragic bus accident last year. Kim Hopper, Brian Free & Assurance, Reba Rambo McGuire, Dony McGuire, Destiny McGuire and Larnelle Harris will honor Rambo's legacy by performing a medley of some of Rambo's biggest hits. And, the Blind Boys of Alabama will lead surprise guests in a memorable finale.
Presenters announced for the Dove Awards include actor Billy Baldwin along with new Christian duo Chynna Vaughn, which is comprised of Baldwin's wife Chynna Phillips and Vaughn Penn. Comedian Sinbad and professional wrestler A.J. Styles will also be a part of the festivities.
"American Idol" finalists Mandisa and Phil Stacey are joined by other top artists who will also be presenting at the Dove Awards, including Artist of the Year nominees Casting Crowns and Fireflight.
Additional presenters include Michael W. Smith, Kirk Franklin, former Lonestar lead singer-turned-solo artist Richie McDonald, country and pop icon Ronnie Milsap, Tye Tribbett, Jeremy Camp, worship leader sisters Martha Munizzi and Mary Alessi, DecembeRadio, GRITS, Jason Crabb, Kim Hopper, The Afters, Canton Jones, Isaiah D. Thomas, Marty Magehee, Mark Harris, Wayne Watson and Damita Haddon.
Outside of the main show, the Dove Awards pre-telecast will feature several performances as well as the presentation of the majority of the evening's awards. The pre-telecast opening ceremonies, which will begin at 4:30 p.m. CT, will be hosted by comedian and recording artist John Gray and include performances by Meredith Andrews, Downhere and J.R. Presenters for the pre-telecast include After Edmund, Children 18:3, Aaron & Amanda Crabb, Dennis Jernigan, KJ-52, Phillip LaRue, Cindy Morgan, Revive, Laura Story, Seventh Day Slumber, Alvin Slaughter, Kristy Starling, Tommy Walker and Ayiesha Woods.
With less than a week until the live show, the GMA does expect a few more announcements of some surprise special musical appearances. Tickets for the 40th Annual GMA Dove Awards are currently available at www.TicketMaster.com.
Dove Awards will be handed out in 43 categories with fans having their vote heard for two of the night's biggest honors – Artist of the Year and New Artist of the Year. Fan voting is open at the Gospel Music Channel Web site (www.gospelmusicchannel.com) and at www.doveawards.com and also includes voting by text messaging. The cumulative fan vote, which will continue through the live Dove Awards broadcast, will account for one-third of the total vote in each of those two categories.
While the awards are the purpose of the show, music performances will definitely share center stage at the Dove Awards, showcasing some of gospel music's hottest and most diverse artists. Steve Gilreath, producer of the GMA Dove Awards for the 8th consecutive year, is being joined by producer Rob Cowlyn to put on the live stage show and broadcast.
This is the second straight year that Gospel Music Channel has televised the Dove Awards live. In addition to the exclusive live broadcast, Gospel Music Channel will present back-to-back encore broadcasts that night and additional re-airings following. Gospel Music Channel's rapid growth has made it the fastest growing network in television for the past two years and GMC is now available in more than 45 million homes in all major markets on the major cable systems as well as on DIRECTV on Channel 338.
The American Bible Society (www.AmericanBible.org) is the official charity for the 40th Annual GMA Dove Awards.
About GMA:
Founded in 1964, the Gospel Music Association serves as the face and voice for the gospel/Christian music community and is dedicated to exposing, promoting and celebrating the gospel through music of all styles including pop, rock, praise & worship, black gospel, R&B, hip hop, southern gospel, country, and more. The GMA community consists of more than 3,000 members including agents, artists, church leaders, managers, promoters, radio personnel, record company executives, retailers, songwriters and other industry visionaries. The GMA produces the GMA Dove Awards, GMA Music Week and the GMA Academy. For more information, please visit www.gospelmusic.org.