FM STATIC "ROCKERS ON THE RISE" AFTER SUCCESSFUL STREET WEEK
OF DEAR DIARY DEBUTING ON BILLBOARD 200
Album Featured on imeem.com generating huge stream numbers first week out of the box

NEWS SOURCE: Overture Media
April 17, 2009
Seattle, WA...April 17, 2009...Writing a concept album that fans are grabbing onto, FM Static celebrates a successful street week for "Dear Diary" released on Tooth & Nail Records April 7th. "Dear Diary" debuted for the first time for a FM Static album on the Billboard 200 with more than 3,200 scans. The album hit the shelves and digital players with a bang blasting onto the Top 5 iTunes Rock chart and Top 30 of the iTunes overall album chart. Included with these top lists, the band is currently labeled as "Rockers on the Rise" on the Rock page of iTunes (images included).
"Thank you guys so much for so much support the first week of release! It's been amazing," shares Trevor McNevan to the fans. "We're so excited to share this record/story with you, and I'm so glad you're taking the time to read the story along with it. Can't wait to hit the road this fall, yes that's right...big announcement coming about touring...stoked to see you guys!!! Thx again."
"Dear Diary," which out-scanned the last FM Static studio album, was also featured on the streaming social media site imeem.com. FM Static is one of the most searched bands on the site and due to their previous track record, imeem was eager to promote and feature the new album on the homepage. This premiere went up on Monday, April 6th with the featured playlist spot and featured blog post (image included). In just two days, the tracks off the new album were streamed 47,013 times. During the first week the numbers continued to grow, streaming more than 390k of their total catalog. Their song "Tonight" from the previous FM release has received more than 4.6 million plays in imeem and exceeded 6 million on MySpace. The band has also remained in the Top 10 Punk/Pop bands on MySpace for many months.
Radio airwaves are a buzz as well with the debut singles from "Dear Diary." The first CHR single "Take Me As I Am" moved up 4 spots this week to #18, and at Rock "The Unavoidable Battle of Feeling on the Outside" moved up 5 spots to #11.
Press also are falling in love with this conceptual album, which tells a story from beginning to end.
"This album is totally creative and so incredibly catchy, it reminded me of some of the best punk rock impact albums of the past 15 years..."
-NewReleaseTuesday.com / ChristianMusicReview.com
"This is their 3rd project, and I have to say it's the best one yet."
-StereoTruth.net
"Dear Diary has arrived and it might not only meet, but is likely to exceed your expectations."
-JesusFreakHideout.com
"Dear Diary continues the tradition of FM Static with getting songs stuck in your head."
-CMSpin.com
About FM Static & "Dear Diary":
Fans of Thousand Foot Krutch have been enjoying the sounds of FM Static, the summery punk-pop side-project, since their 2003 debut. FM Static is composed of TFK singer-songwriter Trevor McNevan and drummer Steve Augustine, who both enjoy the fun, creative advantage of two monikers. Such an advantage they took this time around was creating a concept album with "Dear Diary."
No doubt FM Static listeners will also be enthralled with the spot-on relatable happenings and character confessions of Dear Diary, a project whose special story can only be unlocked as it happens, from song one to song ten. The story begins with a couple of self-explanatorily-titled rock tunes. "Boy Moves to a New Town with Optimistic Outlook" introduces the star (Aero) who hopes to find something or someone worth living for. Coupled with the concept album is the corresponding blog, (aerodeardiary.wordpress.com), from the central figure of the story "Aero." Fans can follow the blog and follow FM Static's twitter account (www.twitter.com/fmstatic) for updates, announcements.
For more information on FM Static, visit their MySpace at www.myspace.com/fmstatic
And for more info on FM Static, visit the JFH Artists Database.
- ### -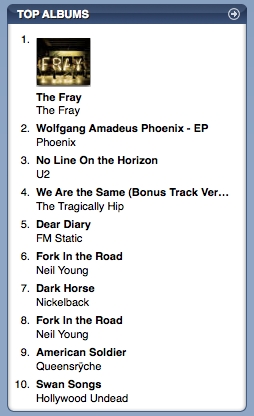 FM Static's "Dear Diary" debuts on the iTunes Top Albums for the Rock category (above)
Featured as "Rockers on the Rise" on iTunes (below)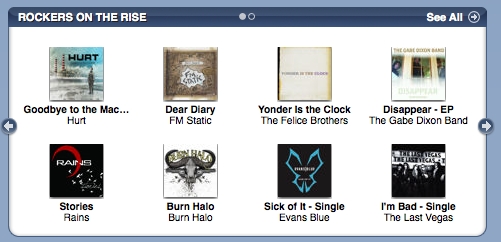 www.imeem.com featured playlist (below)