J O N N Y D I A Z
THE ANTICIPATED RELEASE
- MORE BEAUTIFUL YOU -
HITS SHELVES THIS WEEK AND IS ALREADY A TOP 10 HIT
Impactful First Single, "More Beautiful You," Continues To Climb The Charts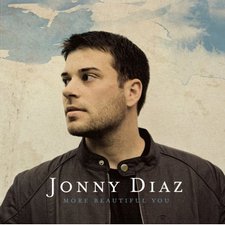 NEWS SOURCE: Vining Media
May 7, 2009
Nashville, TN (May 7, 2009) - More Beautiful You, the latest project from Jonny Diaz, officially released Tuesday on INO Records. This talented lyricist and performer, who has been getting ready for his INO debut by building fans and awareness through his previous three independent releases, is already nabbing rave reviews thanks to the huge radio hit, "More Beautiful You." The CD is already #7 on iTunes' top album chart and the debut single is climbing up both AC-Monitored and AC-Indicator radio charts.
Here are just a few highlights from industry folks and fans alike:
From JesusFreakHideout.com: "More Beautiful You looks to be the record that proves that following God's will can really pay off.... The extreme relevancy and potential impact of the music found on this record seem guaranteed to make Jonny Diaz a soon-to-be household name... look out for a possible 'New Artist of the Year' nomination at the 2010 GMA Dove Awards."
From CBN.org:
"[Diaz] delivers sincere lyrics about life and faith with a pleasant, easy-on the-ears voice."
+ + +
From Bart Millard (MercyMe):
"The bottom line is Jonny Diaz is the real deal. To stand in front of 7000 people with just your guitar and your voice, and keep the crowd captivated is a gift. Jonny has that gift and then some."
+ + +
From Steve Turley of WCLN - Fayetteville, NC
"Jonny Diaz's 'More Beautiful You' presents so well the contrast between God's thoughts toward us and the image our culture tries to present. It's not only a powerful message for our daughters to hear, it is a perfect reminder for parents as well."
From Chris Scotland of WRBS - Baltimore, MD
"At first listen 'More Beautiful You' spoke to me being a father of 2 girls, but it wasn't until my wife heard the song that I realized the impact it could have on our listeners....For me the add was a no brainer and the results so far from our listeners have been amazing. People are responding and I hope this will help change the opinion of how a lot of women view themselves."
From Dave Kirby of WXHL - Wilmington, DE
"When I heard 'More Beautiful You' from Jonny Diaz, I knew it was a message that would resonate especially with our female listeners. The world tries to tell women they have to meet certain standards in order to be beautiful, and Jonny shatters that message with the truth that we are all precious creations of God, beautiful in every way. In these days of shattered hearts we could not have a more timely message of hope."
From Brian Strickland of WSCF - Vero Beach, FL
"Jonny Diaz has nailed it with a song that's not only extremely easy on the ears, but also delivers a message that every listener needs to hear."
www.JonnyDiaz.com
www.inorecords.com


[2022]
Jan. | Feb. | March | April | May | June | July | Aug. | Sept. | Oct. | Nov. | Dec.
[2021]
Jan. | Feb. | March | April | May | June | July | Aug. | Sept. | Oct. | Nov. | Dec.
[2001 - 2022]
Visit our complete MUSIC NEWS ARCHIVE