ISHINE LIVE DOUBLES ATTENDANCE WITH SPRING TOUR
Tween-Focused Tour Announces Fall Plans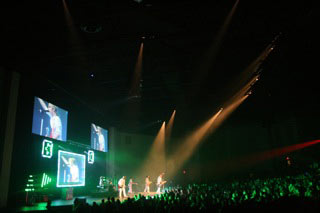 Mission Six performs in front of a packed house during a tour stop in Battle Creek, Mich.
NEWS SOURCE: The M Collective
June 3, 2009
Nashville, Tenn. Jun. 3, 2009… iShine Live has seen record growth in only their second season of touring drawing in crowds of over a thousand people a night. In the midst of this growth, iShine Live and founder Robert Beeson have announced that the tour is already planning their third season in Sept. through Nov. of 2009.
The event has seen crowds of over 1,000 in markets such as Evansville, Ind., Battle Creek, Mich., Flint, Mich. and more. In Midland, Mich. the venue had to turn away crowds due to already reaching full capacity with hundreds of tweens staying afterwards to meet the iShine Live artists. Below is an example of the feedback iShine Live has received while out on the road this spring.
"Thank you so much for bringing iShine to Flint, MI. My students, as well as those from around the Flint area will be talking about this for weeks... Thanks again for this awesome ministry and allowing us to partner with you." - a middle school youth pastor in Flint, Mich.
Due to this overwhelming response, the tour has also added dates in June with stops in Albuquerque, Plano and Sherman. An updated tour schedule is below.
"It's exciting to see the growth that has taken place and the families that have been reached through iShine Live this spring," says founder Robert Beeson. "We look forward to continuing this ministry in the fall."
This spring tour features performances from The Rubyz, Mission Six, Jasmine, Logan Charles, Jamie-Grace and speaker and former Make-A-Wish child Paige Armstrong as well as special guest performances from teen actor Luke Benward. iShine Live has also received support from Make A Wish Foundation, World Vision and American Heritage Girls. TBN debuted "iShine KNECT" this month, an iCarly style show that features the iShine Live crew. The series features interview, fan questions and performances. "iShine KNECT" will air on TBN on Saturdays at 8:30am PST and on Smile of a Child TV on Saturdays at 3pm PST.
For all things iShine Live, please visit www.iShineLive.com or to find out how you can take part in this ministry visit, www.iShineministries.com.
###
·all dates subject to change, please check www.iShineLive.com for most updated information.
June 5 Albuquerque, NM
June 7 Plano, TX
June 8 Plano, TX
June 9 Sherman, TX


[2022]
Jan. | Feb. | March | April | May | June | July | Aug. | Sept. | Oct. | Nov. | Dec.
[2021]
Jan. | Feb. | March | April | May | June | July | Aug. | Sept. | Oct. | Nov. | Dec.
[2001 - 2022]
Visit our complete MUSIC NEWS ARCHIVE