Big Idea Unwraps a Brand-New VEGGIETALES® Holiday DVD!

SAINT NICHOLAS—A STORY OF JOYFUL GIVING
DVD Launch Supported by an Extensive Holiday Marketing Program, Including Free DVD Gift with Purchase Offer, Advertising, Promotions, Retail Initiatives, New Merchandise, Live Events

Original Song Written and Performed by Matthew West, Duet with
Amy Grant to Promote Partnership with Operation Christmas Child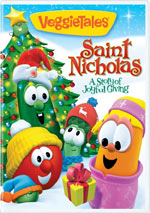 NEWS SOURCE: Hoganson Media
July 6, 2009
FRANKLIN, TN (July 6, 2009) – It's beginning to look a lot like Christmas! This fall, Big Idea will unwrap its first new Christmas holiday DVD title in seven years, Saint Nicholas—A Story of Joyful Giving. The release will be supported by a comprehensive fourth-quarter marketing and promotional campaign targeting both Christian and general markets. Just in time for the holiday gift giving season, Saint Nicholas—A Story of Joyful Giving debuts October 3rd in the CBA through Word Distribution ($14.99 SRP) and October 6th in the general market through Genius Products ($14.93 SRP).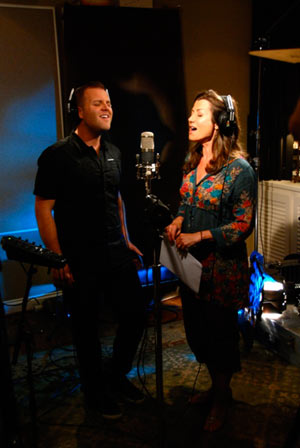 Featuring all-stars Bob the Tomato and Larry the Cucumber, this new seasonal DVD tells the story of Saint Nicholas, the world's greatest giver, and introduces Nicky the Pepper, the first new VeggieTales character in five years. Bonus features include an original new song by critically acclaimed singer-songwriter Matthew West, "Give This Christmas Away," performed by West and GRAMMY Award-winning artist Amy Grant.
"VeggieTales Christmas releases are fan-favorites, and Saint Nicholas is sure to become an evergreen title," said Greg Fritz, SVP of Sales and Marketing at Big Idea. "A national cross-promotion with Operation Christmas Child and extensive radio play of the featured song by Matthew West with Amy Grant will build great awareness of the timely message of giving."
FREE Consumer DVD Gift with Purchase Offer
A gift for you! Consumers who purchase the Saint Nicholas DVD will receive a FREE VeggieTales DVD to give to a friend in need! Through this offer inside the DVD, consumers can log onto a special website and select the free VeggieTales DVD they would like to send to a friend with only $2.99 shipping and handling.
CBA Exclusives!
A Free Gift with Purchase premium will also be available exclusively to all CBA retailers on street date. Consumers who buy the Saint Nicholas DVD will receive a free Bob & Larry cookie cutter, including a recipe for Bob & Larry's Yummy Christmas Cookies on the back of the package. This special CBA promotion will run while supplies last.
Consumer Rebate Offer: Consumers who purchase both the Saint Nicholas DVD and the VeggieTales Holiday Pack, a fun-filled collection of the best in VeggieTales holiday shows and music, can receive a $10 rebate by mail with proof of purchase. The offer will be promoted via point of purchase and on product.
Advertising, Radio, TV and Online Support
A high-profile Christian and general market radio advertising and promotional campaign will run on top-tier stations during the holiday season. Indoor spots will be broadcast on closed-circuit TV in more than 1,000 quick service restaurants, including KFC, Wendy's, Arby's and CiCi's Pizza in November. TV promos will run on broadcast and cable networks in VeggieTales' 15 top markets. Print ads will run in select parenting and family publications. Big Idea will also advertise and run extensive promotions on popular family-friendly and mom-centric websites in November and December.
Promotional Partners
The music video for the new silly song, "Donuts for Benny" featured on Saint Nicholas, will play in Chuck E. Cheese's family restaurants' 529 locations as well as Gymboree children's clothing stores' 761 locations and Crazy 8 stores' 53 locations during the fourth quarter.
Live Events
Timed to the DVD release, Big Idea has coordinated holiday Saint Nicholas-themed events for families to help celebrate the season. In-store premiere events at more than 500 Christian retailers will take place on October 3rd. Big Idea will also host more than 1,500 "Family Fun Nights" at churches nationwide where special Saint Nicholas screenings will be held in October and November.
Additionally, churches may choose to host a Church Communication Network (CCN) Satellite Delivery Premiere Event. Beginning in November, Saint Nicholas—A Story of Joyful Giving will be available for broadcast to more than 2,000 CCN network member churches.
Operation Christmas Child Partnership
'Tis better to give than to receive! This fall, Big Idea has teamed up with Operation Christmas Child, a project of international Christian relief organization Samaritan's Purse, to help collect gifts for needy children throughout the world. More than 65,000 churches across the country will hold shoe box gift collection events. Church leaders have the opportunity to hold a screening of Saint Nicholas where kids and families will be encouraged to "share the spirit of giving" this Christmas by donating shoe box gifts.
"The message of giving found in Saint Nicholas will encourage many children and families to give to and pray for needy children this Christmas," says Randy Riddle, Domestic Director for Operation Christmas Child, Samaritan's Purse. "With Operation Christmas Child, we look forward with anticipation to many more shoe box gifts and opportunities to share the Gospel from those who learn about this ministry through Saint Nicholas."
Holiday Merchandise
New Saint Nicholas merchandise will roll out to retail this fall. All-new items includes a Saint Nicholas Little Golden Book from Random House, plush toys from Pint Size, Christmas ornaments from DaySpring and AIM Global, and shoes and shoe charms from Jibbitzä, a subsidiary of Crocsä. Additionally, a 10-song Saint Nicholas album will be available exclusively at iTunes, which includes the theme song, "Give This Christmas Away".
DVD Synopsis
Discover the power of a simple gift! Laura Carrot's Christmas stocking might be empty this year because her dad is in danger of losing his job. While Larry thinks a letter to the North Pole should fix the problem, Bob knows what will really help…and tells the story of a little boy named Nicholas who made a discovery in Bethlehem that changed Christmas forever. But what did Nick learn and how can it possibly help Laura and her family? Find out as the Veggies discover the true joy of giving to others—at Christmas time and throughout the year!
Bonus Features:
"Give This Christmas Away" Operation Christmas Child music video
Behind The Song with Matthew West and Amy Grant
Art Gallery
Audio Commentary
Sing Along with Larry
Discussion Guide
Family Activity – "Bob & Larry's Sugar Cookies"
VeggieTales: Saint Nicholas—A Story of Joyful Giving
Not Rated-45 minutes-Color-5.1 Surround Sound-English & Spanish Subtitles-Close-Captioned
DVD UPC Code: 820413114596 $14.99 SRP.
About Operation Christmas Child
Operation Christmas Child, a project of international Christian relief organization Samaritan's Purse, is the world's largest Christmas gift project. Since 1993, Operation Christmas Child has hand delivered more than 69 million gift –filled shoe boxes to needy children in more than 130 countries. In 2009, the project hopes to collect and deliver 8 million shoe box gifts. For more information on Operation Christmas Child, visit: www.samaritanspurse.org/OCC.
About Big Idea, Inc.
Big Idea, Inc. is the leading faith-based studio and producer of children's and family programming, characters and brands. Since 1993, Big Idea's best-selling animated series VeggieTales has sold 52+ million videos, 13 million books and more than 7 million CDs. VeggieTales and Big Idea's newest property, 3-2-1 Penguins!, are in their third season as top-rated series on NBC Saturday mornings, Telemundo and ION TV via the qubo children's programming block. The studio's two theatrical releases, Jonah-A VeggieTales Movie (2002), and Universal Pictures' and Big Idea's The Pirates Who Don't Do AnythingÔ-A VeggieTales Movie (2008), are distinguished among the top ten most successful faith-based films of all time. Big Idea also maintains an extensive presence in publishing, licensing and live entertainment arenas. For more information on Big Idea, visit: www.bigidea.com.
###


[2021]
Jan. | Feb. | March | April | May | June | July | Aug. | Sept. | Oct. | Nov. | Dec.
[2020]
Jan. | Feb. | March | April | May | June | July | Aug. | Sept. | Oct. | Nov. | Dec.
[2001 - 2020]
Visit our complete MUSIC NEWS ARCHIVE