CHYNNA PHILLIPS TEAMS UP WITH SINGER/SONGWRITER VAUGHAN PENN FOR NEW DUO "CHYNNA & VAUGHAN"
DEBUT ALBUM TITLED ONE REASON SET TO RELEASE OCTOBER 6

Title Track Gains Quick Momentum with Early Adds at Christian Radio
on Houston's KSBJ and Tulsa's KXOJ Stations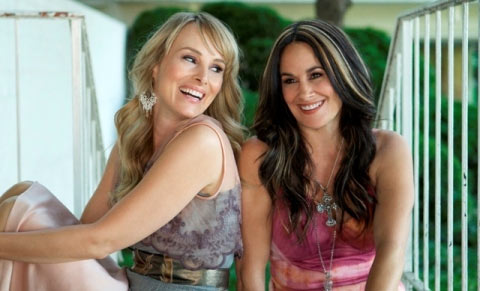 NEWS SOURCE: Provident Label Group
July 28, 2009
(Nashville, Tenn) July 28, 2009 – Chynna Phillips, one third of the pop supergroup Wilson Phillips, announces a new phase in her music career as she joins independently-famed singer/songwriter Vaughan Penn to form the duo "Chynna & Vaughan." The group's debut album titled, One Reason, releases Oct. 6 on Reunion Records, an imprint of Christian music's Provident Label Group.
Phillips and Penn first met in 2007 and although their musical career paths were distinctive and unique, Chynna & Vaughan naturally formed a creative partnership based on their passion to share the hope of Christ with a hurting world.
Phillips says, "This is such an important time in my life. Although I did accomplish a lot of the things I wanted to as an artist and songwriter during all the touring, talks shows and the awards as a member of Wilson Phillips, nothing compares to what I'm doing now." She adds, "Nothing is more gratifying as a Christian believer than being able to thread my faith and love for Jesus into my music."
"Contemporary Christian music is for me, the very best music in the world," Penn says. "It's the most beautiful, healing and hopeful music that exists. We are doing this because it's our calling. We want our music to bring light to dark places and offer healing for listeners."
Produced by Penn, One Reason conveys themes of redemption, forgiveness, and hope with a musical canvas of authentic, organic, and honest instrumentations and harmony-rich arrangements.
The project's title track and first radio single is already generating buzz, receiving six early adds at radio including Tulsa's KXOJ and Houston's hit station KSBJ, which exists as one of the top five Christian AC radio stations based on listenership.
Phillips says of the single, "This is a song about the busyness of life. All of us have an incredible task balancing daily activities with cell phones and email devices attached to us, and oftentimes it just seems impossible. The lyrics of "One Reason" ask us to put the Lord first, amid the craziness, and remember that He is our One Reason for life."
The duo of Chynna & Vaughan is the result of a divine collaboration between two artists with diverse musical backgrounds but shared journeys of faith. Chynna Phillips achieved vast international fame and recognition as a member of the pop sensation, Wilson Phillips. With massive radio hits such as "Hold On", "Release Me", "You're In Love", and "Impulsive", Wilson Phillips sold over 10 million copies worldwide. Yet despite this extraordinary success, Chynna did not experience true joy and peace until she gave her life to Jesus Christ six years ago. Phillips has been married to actor William Baldwin since 1995. The couple have three children: daughter Jameson (born 2000), son Vance (born 2002), and daughter Brooke (born 2004).
Vaughan Penn earned respect and credibility in the national independent music scene by receiving such accolades as "Top 40 Breakthrough Artist of the Year" (New Music Weekly Awards 2007.) Her songs have been prominently featured in over 100 films and television programs including Grey's Anatomy, Criminal Minds, Numb3rs, Boston Public, The Hills, Laguna Beach, Kicking & Screaming, and many others. She also toured with such renowned artists as Huey Lewis and The News, Emmylou Harris and Edwin McCain. However, during a life-threatening medical condition four years ago, Vaughan committed her music career to God and began to write songs to specifically encourage others to develop a relationship with Christ.
For more, visit www.chynnaandvaughan.com and follow Chynna & Vaughan on Twitter at http://www.twitter.com/chynnavaughan.
# # #


[2021]
Jan. | Feb. | March | April | May | June | July | Aug. | Sept. | Oct. | Nov. | Dec.
[2020]
Jan. | Feb. | March | April | May | June | July | Aug. | Sept. | Oct. | Nov. | Dec.
[2001 - 2020]
Visit our complete MUSIC NEWS ARCHIVE