"FIRE IT UP" WITH THOUSAND FOOT KRUTCH
iTunes Single "Fire It Up" Available Today;
Single Already a Hit with Song Placements
and a Major Movie Trailer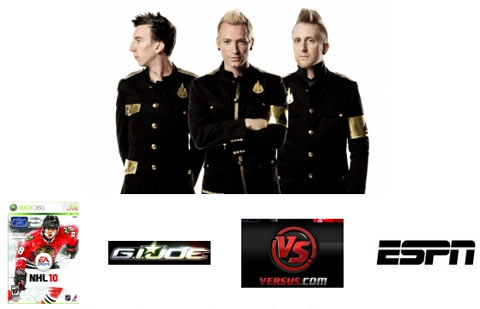 NEWS SOURCE: Overture Media
July 28, 2009
Seattle, WA...July 28, 2009...With a little over a month until fans will get their hands on the fifth studio album Welcome to the Masquerade from rockers Thousand Foot Krutch, a new single from the forthcoming project is made available today on iTunes. The single "Fire It Up" is the second single fans have heard from the new CD as the first single, "Bring Me to Life," was a free download with the Taco Bell "Feed The Beat" program earlier this Spring.
"Fire It Up" is a high-energy, crunchy riff-filled, rock song that is being featured in a major movie trailer for "G.I. Joe", two upcoming video games (MX vs. ATV Reflex and upcoming EA Sports NHL 10 (game releases September 15th, soundtrack July 31st)), used on ESPN's airing of the NASCAR Nationwide series feature on Kyle Busch and on the Versus Network during the Edmonton IndyCar race this past weekend.
Terry Lingner, IndyCar on Versus Producer had this to say, "IndyCar Racing is all about power and sound and we are flat to the floor with Thousand Foot Krutch's material. Talk about a great mix. TFK in your face and the power appeal of land rockets!"
As fans prepare for the ball of a lifetime with Welcome To The Masquerade, early thoughts on this powerhouse single have been coming in. Here are what some media outlets have said about "Fire It Up":
"'Fire It Up' captures the edge and energy that fans have come to love about TFK. And if this track is any indication to the future of the band, these guys aren't showing any signs of cooling down anytime soon!"
-- John DiBiase, JesusFreakHideout.com
"Thousand Foot Krutch's 'Fire It Up' features everything you've come to love about the band. It's a raucous number that will get your heart pumping, your feet moving, and your head banging. 'Fire It Up' fires on all cylinders."
--C.E. Moore, TheChristianManifesto.com
"Taking their signature punk attitude meets full fledge rock and roll to an all new level, 'Fire It Up' quickly stands out as one of Thusand Foot Krutch's best songs to date."
--James Shotwell, Under The Gun Review
"'Fire It Up' instantly burns itself into the memory and becomes TFK's most rawkfist anthem to date."
-- Matt Conner, Soul-Audio.com
"'Fire It Up' is vintage Thousand Foot Krutch, with obvious arena play potential in the way of former hits like "Rawk Fist" and "Move."
--Tyler Hess, ChristianMusicZine.com
Thousand Foot Krutch will release "Welcome To The Masquerade" on Tooth & Nail Records September 8th. The band will also be out on the Creation Festival: The Tour this fall along with FM Static. For more information on TFK, follow the band on Twitter and check out their MySpace.
- ### -
About Thousand Foot Krutch:
Thousand Foot Krutch, started by frontman/songwriter Trevor McNevan, have sold a half-million copies to date of their albums "Set It Off," "Phenomenon," "The Art Of Breaking," and "The Flame in All of Us." The band hit the musical scene with the "Phenomenon" album and branched into radio with songs "Rawkfist" (Phenomenon) and "Move" (The Art of Breaking). TFK has also celebrated three Active Rock/Alternative singles to break into the Top 30.
Last fall, 100 bands participated in Taco Bell's "Best of the Beat" competition, where they competed for a chance to record, have Taco Bell produce a single and gain valuable marketing support for that single. More than 180,000 fans voted on Feed the Beat's Virtual Music Festival Web site (www.feedthebeat.com) and Thousand Foot Krutch was one of three bands win the bracket-style contest.
For more info on Thousand Foot Krutch, visit the JFH Artists Database.


[2021]
Jan. | Feb. | March | April | May | June | July | Aug. | Sept. | Oct. | Nov. | Dec.
[2020]
Jan. | Feb. | March | April | May | June | July | Aug. | Sept. | Oct. | Nov. | Dec.
[2001 - 2020]
Visit our complete MUSIC NEWS ARCHIVE