THE COVERS EP BY RUTH RELEASING DIGITALLY
8/25/09 ON TOOTH & NAIL RECORDS
New Single on iTunes - "Fix You"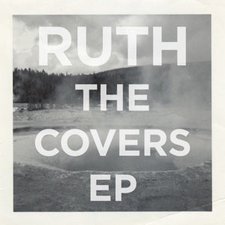 NEWS SOURCE: Overture Media
July 29, 2009
SEATTLE, WA...July 29, 2009...Last fall heartfelt rockers Ruth released a successful sophomore album, "Anorak," which garnered the band such praise as "one of the best acts on Tooth & Nail Records' star-studded roster." Now the band so many have fallen in love with is back with "The Covers EP" featuring five covered tunes ranging from Buddy Holly to Coldplay (track listing below). "The Covers EP" will be available digitally on August 25, 2009. Yesterday the first single "Fix You" (Coldplay) was digitally released on iTunes. On August 11th, "Everyday" (Buddy Holly) will be released.
Band founder / singer Dustin Ruth shares, "We are super excited about the release of this EP. Each one of these songs is special to us for different reasons, and it was really fun to go into the studio and put our own 'Ruth' spin on them. We hope everyone enjoys them!"
Beginning this Saturday, August 1st, Ruth will be hitting the road again playing various venues and festivals including Spirit West Coast (Monterey), The Knitting Factory (LA), 12th & Porter (Nashville) to The Plaza Club (Vancouver, BC) (tour dates below). Some dates will be will also include Sleep For Sleepers. Check their MySpace for updates and more information.
- ### -
About Ruth: Hailing from Battle Ground, Washington, Ruth isn't just the last name of the band's founder, singer / guitarist Dustin Ruth. When his longtime collaborator Nick Wiinikka suggested they call their fledgling group "Ruth" one night while watching a talk show on television, Dustin gave it a lot of thought until something special came to him, arriving with powerful force: Ruth as an acronym. 'Return Us To Him'
"We feel like our songs are a gift. Really what it boils down to is that playing this music keeps us closer to God. The music is returning us to who He wants us to be. And I know I am doing what I'm supposed to be doing and I'm not willing to give that up for anything." -Dustin Ruth shares about the band's moniker.
After a successful debut in 2007 ("Secondhand Dreaming") and extensive touring with Switchfoot, Relient K (2007 "Appetite for Construction Tour with Habitat for Humanity") as well as Emery, Ruth returned proudly with their sophomore release, "Anorak," in 2008.
www.myspace.com/ruthrock
Track Listing for "The Covers EP"
1. Everyday (Buddy Holly)
2. Dream (Averly Brothers)
3. I'm The One Who Wants To Be With You (Mr. Big)
4. Give Me One Reason (Tracy Chapman)
5. Fix You (Coldplay)

Ruth Tour Dates:
8/1 - Monterey, CA - Spirit West Coast
8/2 - Los Angeles, CA - The Knitting Factory
8/4 - Tempe, AZ - Vault Arts
8/5 - El Paso, TX - Chic's Bar and Billiards
8/7 - Laredo, TX - Bottoms Up Bar
8/8 - Arlington, TX - Dreamworld Music Complex
8/9 - Tulsa, OK - Side Stage
8/11 - Atlanta, GA - Masquerade
8/12 - Nashville, TN - 12th and Porter
8/13 - Virginia Beach, VA - Club Relevant
8/15 - Trenton, NJ - Championships Bar and Grill
8/16 - Cleveland, OH - Peabody's
8/17 - Chicago, IL - TBA
8/20 - Portland, OR - TOM FEST
8/21 - Seattle, WA - Studio Seven
8/22 - Vancouver, BC - The Plaza Club
8/23 - Spokane, WA - The Blvd
8/25 - Boise, ID - The Venue
8/26 - Pocatello, ID - Icon
8/27 - Riverton, WY - Eagles Club
8/28 - Gillette, WY - Knights of Columbus
8/29 - Cheyenne, WY - TBA
8/30 - Denver, CO - The Marquis
9/1 - Colorado Springs, CO - Black Sheep
9/2 - Farmington, NM - Gator's
9/3 - Flagstaff, AZ - Studio 111
9/4 - Riverside, CA - TBA
9/5 - LA or San Diego

* dates subject to change
For more info on Ruth, visit the JFH Artists Database.


[2021]
Jan. | Feb. | March | April | May | June | July | Aug. | Sept. | Oct. | Nov. | Dec.
[2020]
Jan. | Feb. | March | April | May | June | July | Aug. | Sept. | Oct. | Nov. | Dec.
[2001 - 2020]
Visit our complete MUSIC NEWS ARCHIVE