BIG IDEA LAUNCHES FIRST EVER VEGGIETALES® iPHONE™
AND iPOD TOUCH APPLICATION
"VeggieTales® Just For Me" Debuts World-Wide!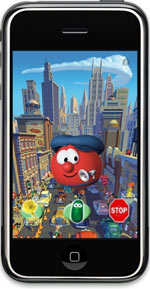 NEWS SOURCE: Hoganson Media
August 6, 2009
Big Idea, Inc., in partnership with Personalized Products, announces the launch of the first ever VeggieTales® iPhone and iPod Touch Application this week available at the VeggieTales iPhone App. "VeggieTales® Just For Me" is the first iPhone and iPod Touch application with name personalization. Merging iPhone magic with never-before-seen technology, millions of iPhone or iPod Touch users will have the opportunity to hear the voices of beloved VeggieTales characters Bob the Tomato and Larry the Cucumber sing and speak their name as part of a fun interactive experience, all for just $2.99 for unlimited name use.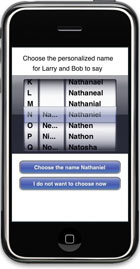 Perfect for VeggieTales fans of all ages, this "must-have" application offers 3,500 names and nicknames to choose from and allows users to:
Listen and watch your very own personalized VeggieTales theme song sung by Bob and Larry.


Spin Bob and Larry in and out of costumes.


Choose from a variety of popular VeggieTales backgrounds, and match them with Bob or Larry's costumes.


Play the "Tuba Game" with Larry and watch notes pile up as the user plays the Tuba theme song.


Shake or tilt the iPhone or iPod Touch to clear the notes and play again.
To celebrate the VeggieTales worldwide iPhone debut, each version will allow users to freely customize the "VeggieTales Just For Me" game with their name or nickname, as well as change names at any time to accommodate family and friends by taking advantage of the advanced capabilities of this new application.
For more information on this family-friendly app, please visit www.bigidea.com, VeggieTales iPhone App, or www.justmemusic.com
# # #


[2021]
Jan. | Feb. | March | April | May | June | July | Aug. | Sept. | Oct. | Nov. | Dec.
[2020]
Jan. | Feb. | March | April | May | June | July | Aug. | Sept. | Oct. | Nov. | Dec.
[2001 - 2020]
Visit our complete MUSIC NEWS ARCHIVE