SUPERCHICK PARTNERS WITH INTERNATIONAL "OPERATION BEAUTIFUL" CAMPAIGN
Band's "So Beautiful" Selected as Theme Song for Internet Movement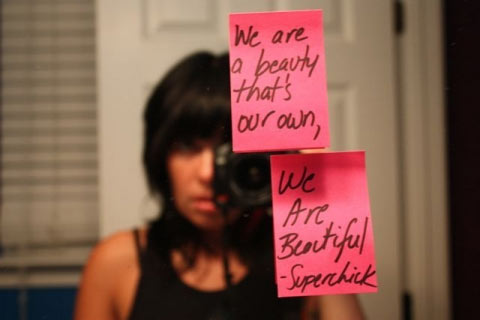 NEWS SOURCE: Savvy Media
August 31, 2009
(Nashville, Tenn) Aug. 31, 2009--Grammy nominated pop-rock band Superchick has joined efforts with "Operation Beautiful," an international campaign that encourages women to love themselves just the way they are. Superchick's song "So Beautiful" has been tapped as an anthem for the movement, which the band will support on tour this fall.
Launched in June 2009 by food and fitness blogger Caitlin Boyle, Operation Beautiful encourages women to post encouraging notes in public places, take pictures of those notes and share them online. The campaign's official web site, OperationBeautiful.com, is rapidly becoming an Internet phenomenon, with more than 350 notes posted last month alone. Women from the United States, Canada, Germany, Japan, Guam, Iraq, New Zealand and other countries are posting notes in public restrooms, on boxes of supermarket diet shakes, in subway stations and in fitness center changing rooms with phrases like "You are perfect just the way you are!" and "Why wait? Start loving yourself now!"
Sisters Tricia and Melissa Brock of Superchick recently discovered the web site and have committed to posting their own notes as they travel across the country on the BarlowGirl-Superchick Live Tour this fall. They are also encouraging their fans to join the movement and post notes of their own to help spread love and confidence to women everywhere.
"A few weeks ago, we came across OperationBeautiful.com and fell in love with its mission to encourage confidence in girls and women of all shapes and sizes," says Tricia Brock. "Not enough girls look in the mirror and see what's beautiful and different about themselves! Spreading messages of positive self-esteem and self-image has been Superchick's passion for the past ten years that we've been writing and touring. Needless to say, we were excited to come across this growing underground movement and honored to be a small part of it."
"Superchick's record label contacted me earlier this month, saying they had the perfect song for Operation Beautiful," says Boyle. "The song was 'So Beautiful,' and the first time I listened to it all I could think was 'This is the rock anthem for Operation Beautiful!' I want women to realize that they are beautiful – and I don't mean physically beautiful. Every one of us has an inner light that shines through and makes us unique. We need to accept and embrace the way we are instead of trying to reach an unattainable ideal. Our daughters will thank us for it!"
To see what Operation Beautiful is all about, visit http://www.youtube.com/watch?v=SM7lMO0pjjc or www.OperationBeautiful.com.
Inpop Records' sister-fronted band Superchick comprises Tricia Brock (vocals) and Melissa Brock (vocals, guitar), Matt Dally (bass, vocals), Dave Ghazarian (lead guitar, vocals), and Max Hsu (keyboards/DJ). With five projects to date, Superchick has sold upwards of 700,000 albums and celebrated multiple record-breaking No.1 singles at radio, including the standout tracks "We Live" and "Stand In The Rain." The group's songs have been heard in more than 80 films, television shows and video games, making Superchick one of the most licensed bands in the Christian music industry. Superchick's latest release, Rock What You Got, its boldest and most unapologetic project to date, turned out the group's highest ever first week sales numbers and has received significant licensing placements on MTV's "The Hills," ABC television spots for "True Beauty," and the Style Network's reality series "Running In Heels," to name a few. The album additionally received a 2009 GRAMMY nomination for Best Rock Or Rap Gospel Album and produced the Top 5 radio hit, "Hold." For more information, visit http://www.superchickonline.com/.
Part of a larger community of healthy lifestyle blogs, OperationBeautiful.com seeks to end "Fat Talk," which is detrimental to a women's personal happiness, health, and relationships. In June 2009, Caitlin Boyle posted a note that simply read "You Are Beautiful" in a public bathroom, took a picture, and wrote about it on her personal food and fitness blog, HealthyTippingPoint.com. Within two days, her inbox was flooded with similar photographs, and the phenomenon of OperationBeautiful.com was born. OperationBeautiful.com has been featured in several online and in-print newspapers, including The Orlando Sentinel, The New York Daily News, Jezebel.com, Salon.com, TrueSlant.com, TheExaminer.com, and DailySpark.com. HealthyTippingPoint.com and OperationBeautiful.com receive more than 340,000 hits a month combined.
###
For more info on Superchick, visit the JFH Artists Database.


[2021]
Jan. | Feb. | March | April | May | June | July | Aug. | Sept. | Oct. | Nov. | Dec.
[2020]
Jan. | Feb. | March | April | May | June | July | Aug. | Sept. | Oct. | Nov. | Dec.
[2001 - 2020]
Visit our complete MUSIC NEWS ARCHIVE