STARFIELD LAUNCHES FALL 2009 "REIGN IN US" TOUR
Ticket to Visit 37 Cities In the U.S. and Canada Through late November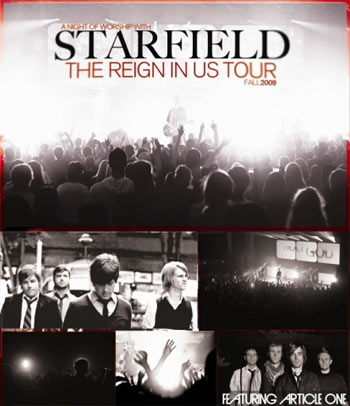 NEWS SOURCE: Savvy Media
September 9, 2009
(NASHVILLE, Tenn.) Sept. 9, 2009—Sparrow Records award-winning Canadian modern rock band Starfield sets out this month on its fall 2009 "Reign In Us" tour, visiting 37 cities throughout the U.S. and Canada. Additionally featuring Inpop Records' Canadian-based band Article One, the tour kicks off Sept. 22 and wraps late November.
A perennial fan favorite in the band's native Canada, Starfield is among the country's best-selling tour bills year after year. Having invested in developing similar relationships with churches across America, the Starfield frenzy has taken root in the U.S. as well, becoming the "hot" ticket due to Starfield's amazing live dynamic and reasonable ticket price.
"Starfield has become Canada's biggest touring band, and it's exciting to see their audience grow so quickly now in the U.S.," says Starfield's manager Chris Nichols. "It's helpful to have a great show, but ultimately it's Starfield's partnership with the local church that's driving their growth."
The "Reign In Us" tour will make its way to major markets in both countries including Seattle, Atlanta, Philadelphia, Minneapolis, Montreal, Calgary, and Toronto. The tour will focus on Starfield worship standards as well as other longtime fan favorites.
"It seems we're always trying to add new songs to the set list on these tours," says Starfield's Tim Neufeld. "It will be nice this time around to focus instead on an evening of worship where people can sing along and engage. And we know people are going to love Article One - they have great fans and will add a lot of energy to the evening."
An up-to-date tour itinerary follows this release. For more information on the "Reign In Us" tour, visit www.starfieldonline.com.
Starfield gained strong momentum, achieving its best radio success, album sales and touring season in the band's six-year history with its last project Beauty in the Broken. Then inspired by its home congregation, Starfield began to write new songs of substance and style. The substance became the theme and title of the album, I Will Go. The project has made Starfield's musical mission very clear. The band now brings an intentional message that encourages the listeners to help a hurting world. To learn more about Starfield, visit. www.starfieldonline.com or www.myspace.com/starfield.
Founded by brothers Nathan and Matthew Piché, Article One formed six years ago in Ontario, Canada. Winner of the 2005 Kingdom Bound International Talent Search, Article One was additionally honored in 2006 with a Covenant Award nomination for New Artist of the Year. Having appeared on the 2007 SHOUTfest tour as well as newsboys' spring 2008 "GO" Tour and Superchick's fall 2008 "Rock What You Got" tour, the band performs an average of 150 dates annually. Article One released its sophomore project, Colors & Sounds, in May 2008. Produced by Tedd T. (Mute Math, newsboys), the album garnered a 2008 Covenant Award for Pop/Contemporary Album of The Year. For more information, visit: http://www.articleonemusic.com/ or www.myspace.com/articleonemusic
###
"Reign In Us" Tour Itinerary
Date City
9/22 Seattle, WA
9/23 Tracy, CA
9/24 Clovis, CA
9/25 Irvine, CA
10/2 Albuquerque, NM
10/4 Colorado Springs, CO
10/17 Atlanta, GA
10/18 Knoxville, TN
10/19 Athens, TN
10/20 Johnson City, TN
10/22 Silver Spring, MD
10/23 Philadelphia, PA
10/24 Lodi, NJ
10/25 Rochester, NH
10/27 Montreal, QC
10/28 Belleville, ON
10/29 Cambridge, ON
10/30 Toronto, ON
10/31 Ottawa, ON
11/1 London, ON
11/2 Hamilton, ON
11/3 St Catharines, ON
11/8 Minneapolis, MN
11/13 Winnipeg, MB
11/14 Saskatoon, SK
11/15 Regina, SK
11/16 Medicine Hat, AB
11/17 Lethbridge, AB
11/19 Red Deer, AB
11/20 Calgary, AB
11/21 Edmonton, AB
11/22 Grande Prairie, AB
11/26 Kelowna, BC
11/27 Abbotsford, BC
11/28 Vancouver, BC
11/29 Campbell River, BC
11/30 Victoria, BC
For more info on Starfield, visit the JFH Artists Database.


[2022]
Jan. | Feb. | March | April | May | June | July | Aug. | Sept. | Oct. | Nov. | Dec.
[2021]
Jan. | Feb. | March | April | May | June | July | Aug. | Sept. | Oct. | Nov. | Dec.
[2001 - 2021]
Visit our complete MUSIC NEWS ARCHIVE