JASON GRAY TO BE FEATURED ON SANCTUS REAL SOMETHING HEAVENLY TOUR 2009
Tour Comes On Heels Of CD Release, Everything Sad Is Coming Untrue And Two Week Retail And Radio Tour In Support Of New Project
NEWS SOURCE: Bozeman Media
September 10, 2009
Nashville, TN (September 10, 2009) ----- Centricity Music's, Jason Gray, took to the road in support of his new project, Everything Sad Is Coming UnTrue, for a radio and retail tour. The trip took him to seven states that started August 21 and included stops in Kentucky, Illinois, North Carolina, Georgia, Wisconsin, Indiana, and concluded September 3 in Gray's home state of Minnesota.
While on the road, Gray paid visits to local radio stations and retail outlets while performing shows in the area that featured acoustic performances of songs from Everything Sad Is Coming UnTrue. The performances also spotlighted Gray's new single, "For The First Time Again," that went for adds at radio, July 24. Stations already on the song include: WPOZ. KXOJ, XM/Sirius, WDJC, WBHY, WAYR, WCVK, WGNZ, WPER, KYTT, WXHL, WJTL, WCTL, WGRC, KZKZ, WQME, KJIL, WCSG, WJQK, WMUZ, KCVO, KSLT and others. For Gray's final performances in the Minneapolis area he invited Joel Hanson, formerly of the group PFR, onstage as his opening act.
Gray won't have a chance to unpack his bags after the events of street week, as he has been invited to be the featured guest on Sanctus Real's Something Heavenly Tour 2009. The tour launches September 10th in Canada and ends October 17th in Ohio. Gray will also join Phil Wickham and Addison Road on the tour.
Everything Sad Is Coming UnTrue released September 1st and this week debuted in the Top 30 on Billboard's Current Contemporary Christian chart. At the same time, media is once again giving Gray rave reviews for the project.
JesusFreakHideout.com - Everything Sad… is a gem.
ChristianMusicToday.com - Lyrically conjuring up memories of the late Rich Mullins, Jason Gray is a Ragamuffin with a pop veneer.
NewReleaseTuesday.com - I've been anxiously awaiting the release of the new album from Jason Gray, "Everything Sad Is Coming UnTrue", which hits stores September 1, 2009. Gray's previous project, "All The Lovely Losers", dealt with brokenness and now he takes the subject a step further, dealing with brokenness that begins with confession.
Soul-Audio.com - Jason Gray has crafted another album full of worthy, occasionally quirky tunes. It's well worth a listen.
Gray was also featured with interviews on Examiner.com and AlphaOmegaNews.com. He will soon have features with JesusFreakHideout.com, CCM Magazine, Christian Radio Weekly and All Access.
For more information on Jason Gray please visit www.jasongraymusic.com or www.centricitymusic.com.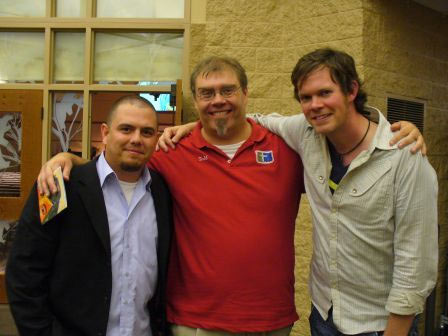 Photo ID (Left to Right): Josh Peterson, Manager Retail/Marketing, Centricity Music; Todd Christopher, Music Director, Christian Family Radio/WGNV; Jason Gray
Centricity Music is an independent recording and publishing company based in Bellevue, Washington and Nashville, Tennessee. The company's mission is to nurture the gifts and expand the influence of Christian artists around the world. Centricity Music's artist roster includes Jaime Jamgochian, Downhere, Jason Gray, Daniel Kirkley, Lanae' Hale, Andrew Peterson, High Valley, Matt Papa, Sixteen Cities and Me In Motion.
###
For more info on Jason Gray, visit the JFH Artists Database.


[2022]
Jan. | Feb. | March | April | May | June | July | Aug. | Sept. | Oct. | Nov. | Dec.
[2021]
Jan. | Feb. | March | April | May | June | July | Aug. | Sept. | Oct. | Nov. | Dec.
[2001 - 2021]
Visit our complete MUSIC NEWS ARCHIVE