JFH NEWS SHORTS FOR SATURDAY OCTOBER 10, 2009
News on Nevertheless, Project 86, Cool Hand Luke, Jimmy Needham
NEWS SOURCE: a Jesusfreakhideout.com report
October 10, 2009
>> Nevertheless Call It Quits!
After reversing their decision to quit earlier this Summer, Nevertheless has changed their minds again, deciding that 2009 would mark the end of the band. Below is their official announcement.
"Friends, I hope all is well!l. Although this may come with a bit of sadness, we have to share some important news with you all. The honest truth is that we have been wrestling with some tough decisions lately regarding band life, personal life, etc..., and we have come to a crossroads. After much thought, prayer, and consideration, we have decided that Nevertheless will be disbanding at the end of 2009. There are no hard feelings towards each other or anything such as that, but rather, we are each entering a new season in our lives.

That being said, we have TWO MORE HOMETOWN SHOWS left. The first is this coming up Wednesday night at Dallas Bay Baptist Church with Everyday Sunday and Wavorly. The door will open at 5:30, and the order will be Adrian, Wavorly, Nevertheless, and then Everyday Sunday. COME EARLY!

OUR LAST HOMETOWN SHOW EVER WILL BE IN DECEMBER! WE ARE WORKING OUT THE DETAILS NOW. WE HOPE TO SEE YOU EITHER THIS WEDNESDAY OR IN DECEMBER... or BOTH!

Love you all! - NEVERTHELESS"
>> Tour, Video, And Book Updates From Project 86
Here's the latest from Project 86...
"Its a cloudy could be a chance of rain day which actually suits our video perfectly. We are all sitting up here watching some playback of footage and its killer so far. Can't wait to debut it for you guys in a few weeks. We have also been practicing our new set list and its pretty insane. We are having a good time mixing it up and think the P86 faithful will enjoy what we have coming. Come out to the shows and you won't be disappointed we can guarantee it!

Also don't forget the Coats for Cold Nights Campaign and bring an old jacket to be donated to a local homeless shelter. Be a voice of compassion in your community and help someone less fortunate. If that doesn't stir you then maybe being entered to win a mega tour prize pack will? Everyone that brings a coat will be entered and we will draw a winner every night.

Last but not least..Schwab has completed a new book called "Fame Is Infamy" that will be available this November. If you are a fan of his previous offerings you will dig definitely dig this project.

See you soon!
P86"
>> Cool Hand Luke Gives Band Updates...
Although Mark Nicks is single-handedly carrying on the Cool Hand Luke name right now, he's keeping pretty busy with CHL stuff. Check out the latest news on the band...
"Hello, again. We have lots to discuss, so Iíll get right down to it. Some of you have asked if Cool Hand Luke is over and if Iím done with music. There is no band so to speak. For the past year Iíve been playing as Cool Hand Luke, but the shows have mostly been just me playing Cool Hand Luke songs on piano. I will not go by the Cool Hand Luke moniker too much longer, but for now Iíll continue to do that. Iím definitely not done with music.

Iíve been taking a break from shows so that I can focus on writing and recording the 47 different records that I seem to be working on. However, there are a few shows coming up and a few in the works. At long last, there are a couple of Texas shows. Itís been far too long since Cool Hand Luke played Texas, and Iím excited to get back and spend some time in the land of Whataburger and oil. Those shows are coming up in just a couple of weeks, and I think they are really going to be special. There will also be a show in December with Derek Webb and Matthew Mayfield in Nashville.

SHOWS
Friday, October 23 @ 7:00 PM
The Core Venue
13115 Hargrave Rd
Houston, Texas 77070

Saturday, October 24 @ 7:00 PM
Live@Mokah
2803 Taylor Street
Dallas, Texas 75226

Saturday, December 12 @ 7:00 PM
w/ DEREK WEBB & MATTHEW MAYFIELD
Rocketown
401 6th Ave. S
Nashville, Tennessee 37203

A CHL DOCUMENTARY ó We need your help!
Our friend Thomas Irby in Panama City is beginning work on a documentary film about Cool Hand Luke. But he needs help because we donít have a tremendous amount of footage of the band. If you do, hereís your chance to dust off your VCR and relive those magic moments. Weíre hoping to get rolling on this soon, so if you have some footage of Cool Hand Luke shows or interviews from any time period please send it our way and you will be credited. Hereís the info: We will accept VHS tapes. However, please use your judgment about whether or not the footage is usable. If you want to share your VHS videos, but don't trust us to take care of them, you can get them converted to a digital format. You can get this done at most local video production companies. We will accept the following digital video file types: .mpg .mov .avi We will accept digital video files on a data DVD or through YouSendIt.com. Send emails about contributing video to coolhandlukevideo@gmail.com

RECORDING
So, Iíve been writing and recording. Itís a slow process because Iíve also been working full-time and enjoying life with my wife. Itís coming along though. Iíve spent some time in Atlanta and in Nashville recording with different friends. Iím going to keep doing that every chance I can get. When I get a song mixed, Iíll play you something so you can hear it. Also, on November 6, I will be recording a live set in Nashville. I plan on releasing it sometime shortly after that since so many of you have asked for some of the piano versions of CHL songs. I'll give you more details about it soon.

STORE ó everything is on sale!
Have you been to the Cool Hand Luke store lately? There is a link to it HERE. We just marked almost everything down. Itís priced to MOOOVE! The Cool Hand Luke retrospective album, The Balancing Act, is now available for just a measly $5. Also, donít forget that the first two Cool Hand Luke releases (so farÖand I Fought Against Myself) are now available for digital download on iTunes, Amazon, and all the other places you can buy mp3ís.

A REUNION?
As some of you know, Brandon and Jason (my two friends who started Cool Hand Luke with me back in the day) played with me in Louisville a few months back. Ever since there have been rumors swirling around that we are going to reunite. All I can say is that weíve talked about it and there is a good possibility that it will happen. Seeing as how we are all adults with adult responsibilities and we donít live in the same city anymore, it would prove difficult logistically. I mean, itís not like weíre Sunny Day Real Estate and we can just throw a tour together out of nowhere and sell out every show. If it were that simple, the answer would be yes. So, you tell us what you think. What would your interest in this be? Can we make it worthwhile? Iím curious to know if anyone still remembers those good ole days.

Thank you for reading all of this. I love you all more than you can know. I long for your prayers and look forward to the next time I can play music for you. I still believe in the Church and the Kingdom of God, do you?
mark"
>> Jimmy Needham Bumps Into... David Hasselhoff?!
CAPTION: Inpop Records singer-songwriter Jimmy Needham and his wife Kelly cross paths with actor/singer David Hasselhoff of "Knight Rider" and "Baywatch" fame last week in Los Angeles. Needham was in town performing at a Youth Specialites' national youthworkers convention, held Sept. 25-28, 2009. (source: Savvy Media)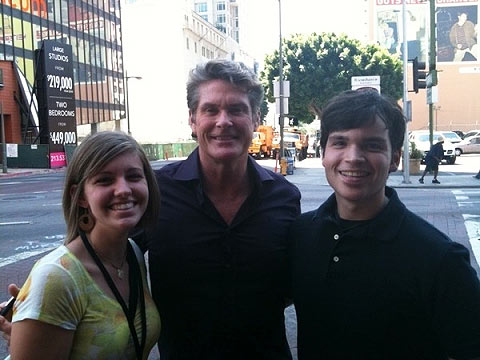 For more info on these artists, visit the JFH Artists Database.


[2021]
Jan. | Feb. | March | April | May | June | July | Aug. | Sept. | Oct. | Nov. | Dec.
[2020]
Jan. | Feb. | March | April | May | June | July | Aug. | Sept. | Oct. | Nov. | Dec.
[2001 - 2020]
Visit our complete MUSIC NEWS ARCHIVE