JFH MORNING NEWS SHORTS FOR THURSDAY OCTOBER 15, 2009
News on The Almost, Family Force 5, Take It Back!, A Plea For Purging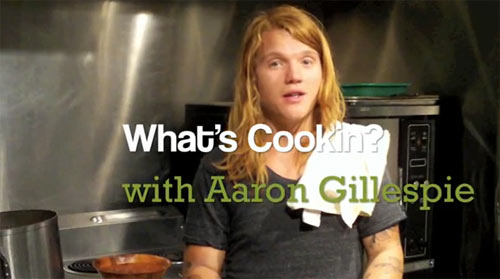 NEWS SOURCE: a Jesusfreakhideout.com report
October 15, 2009
>> The Almost Launches Culinary Contest
You probably know that Aaron Gillespie, the lead singer of The Almost, also plays drums for Underoath... but did you know he's quite the food enthusiast? Well, right now Aaron is giving fans a chance to COOK with him! Read on...
"Aaron Gillespie: Front Man. Drummer. Food Enthusiast?
That's right. We all know that Aaron can shred on stage, but you may not know that he's also a "monster monster" in the kitchen. If you share Aaron's love of tasty foods, and are up for a culinary challenge, then you could win a chance to cook with Aaron in Los Angeles! Head over to the official Almost Culinary Contest homepage for all the details on how to enter. All you have to do is submit a video of yourself cooking your favorite recipe, and if the band thinks yours sounds the best, you'll be flown out to LA to cook your delicious dish with Aaron on camera. Not only that, but you'll also get 2 tickets to see The Almost that night at the Wiltern! All entries must be received by October 30th, so get cookin'!"
>> Family Force 5's Christmas Tour Is Coming...!
We got a real kick out of the new promo video for Family Force 5's Christmas Pageant Tour (with Remedy Drive and House of Heroes!). Check it out below... (And visit http://thechristmaspageant.com now for tour dates and a great candid video from Remedy Drive)
>> Take It Back! Release New Song, Announce Tour
This was releases yesterday from Facedown Records...
"Take It Back! has just released the first song from their upcoming album Atrocities. The single is called "Hollow Eyes" and is a part of Take It Back's full length follow up to 2008's Can't Fight Robots. You can hear it at the band's myspace here: http://myspace.com/takeitbackar

Take It Back! was on the Alternative Press list of Bands To Know in 2009 and they prove it to be true with the first single from their new album. Atrocities will be released on November 10 on Facedown Records.

You can catch Take It Back! on tour with Four Letter Lie, Corpus Christi, and A Bullet For Pretty Boy this fall. Dates below."

TOUR DATES
November 6, 2009 - Claremore, OK @ The Tree
November 7, 2009 - Abilene, TX @ Rose Park Activity Building
November 8, 2009 - Plano, TX @ Eisenbergs Skatepark
November 9, 2009 - Mansfield, TX @ The Boom Room
November 10, 2009 - Waco, TX @ Art Ambush
November 11, 2009 - Corpus Christi, TX @ House of Rock
November 12, 2009 - San Antonio, TX @ The White Rabbit
November 13, 2009 - Longview, TX
November 14, 2009 - Douglasville, GA @ BBQ Fest @ The 7 Venue
November 15, 2009 - Pensacola, FL @ Sluggos
November 16, 2009 - Brandon, FL @ Brandon Assembly of God
>> A Plea For Purging Announce Headlining Tour
Facedown Records also sent this out yesterday...
"From the band: "We are stoked to announce that we will be leaving out on a short headlining stint on November 1st with our friends in VENIA and HUNDREDTH. Both bands are solid dudes with solid tunes and we're happy to have them out with us to help us finish up some of our final dates for 2009." The tour will mainly hit the southeast and midwest regions of the country right before the band joins up with "THE HELL MUST FEAR US WINTER TOUR" with Impending Doom and Oh Sleeper.

The band has also just released the track "Retribution" from their album, Depravity, on their myspace. http://myspace.com/apleaforpurging"

TOUR UP FROM THE FLOOR UP w/ venia and hundredth.
Nov 1 - Montgomery, AL @ The Furnished
Nov 4 - Springfield, IL @ The Black Sheep Cafe
Nov 5 - Franklin, IN @ The Gear
Nov 6 - Dayton, OH @ The Attic Club
Nov 7 - Corbin, KY @ Parkway Church of God
Nov 8 - Greenville, SC @ The Channel
Nov 9 - Wilmington, NC @ Chapel of Wilmington
Nov 12 - Columbus, GA @ Gallery 13
Nov 13 - Jacksonville, FL @ Murray Hill Theatre
Nov 14 - Douglasville, GA @ The 7 Venue
Nov 15 - East Ridge, TN @ The Warehouse
Nov 16 - Clarksville, TN @ The Coup
Nov 17 - Evansville, IN @ Resurgence
Nov 18 - Conway, AR @ The Soundstage
Nov 19 - Springfield, MO @ The Neon
Nov 20 - Storm Lake, IA @ Dows Conference Center
Nov 21 - Buffalo, MN @ The Vault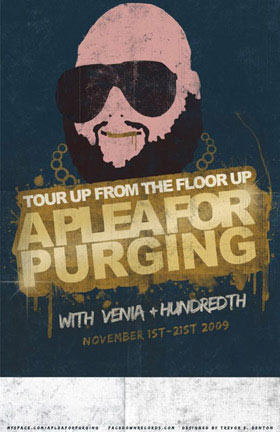 For more info on these artists, visit the JFH Artists Database.


[2021]
Jan. | Feb. | March | April | May | June | July | Aug. | Sept. | Oct. | Nov. | Dec.
[2020]
Jan. | Feb. | March | April | May | June | July | Aug. | Sept. | Oct. | Nov. | Dec.
[2001 - 2020]
Visit our complete MUSIC NEWS ARCHIVE