CHRIS + CONRAD

Duo Wraps Up An Amazing 2009 Thanks To The Huge Radio Success Of "Lead Me To The Cross;"
Are Now Ready To Take On 2010 With More Touring And New Single, "You're The One," Already Receiving Early Adds!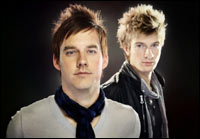 NEWS SOURCE: Vining Media
January 15, 2010
January 15, 2010 - Nashville, TN - VSR Music Group's Chris And Conrad have closed their 2009 on a high note thanks to the release of their self-titled debut CD, intensive touring and successful radio airplay. Their debut single, "Lead Me To The Cross," charted Top 5 on Billboard AC for 12 weeks and continues to be heard on an astounding three radio formats. The hit song introduced the duo to listeners everywhere who are ready to hear more from them in 2010.
Chris And Conrad, comprised of Chris Kuti and Conrad Johnson, could not be more thrilled, and more humbled, with their radio success. "2009 is a year that we will always look back on and remember that God, in His perfect timing, orchestrated our lives to come together in unity to serve Him through the very dream that we have had since we were kids," exclaims Johnson.
"2009 was far beyond our expectations," Kuti adds. "In a market with such great artists and songs, it was an honor to be on the same charts, let alone be where we landed for so long."
According to the year-end charts, "Lead Me To The Cross" achieved the #2 spot on AOL's Christian Song of the Year chart while it placed #7 on Billboard's Top Christian songs of 2009. During the year, along with the song hitting Top 5 on Billboard's Christian AC chart consecutively for 12 weeks, it also reached #3 on the AC and Audience charts. To add to their chart success, during the holiday season Chris And Conrad released their self-produced version of the Bryan Adams' Christmas song, "Christmas Time," which hit Billboard's Christian AC chart at #6.
To promote Chris And Conrad, the duo spent 30 days straight this past summer visiting radio stations across the country. In total, they visited 70 cities and logged a remarkable 8,000 miles during their promotional, and very successful, radio tour.
"We are so proud of all that Chris and Conrad accomplished in 2009," states Ken Mary, President, VSR Music Group. "God has certainly opened many doors for them and for us, and we cannot express enough how grateful we are for all the support we have received from those throughout the CBA industry as well as our distributor, EMI CMG. We are so excited to see the response to their next single 'You're the One.'"
"You're The One," from their self-titled debut is set to go for adds January 22nd. The song has obtained early believers, including WPOZ in Orlando, and numerous other stations have already added the single to their rotation.
"With the encouragement of 2009 in our minds, we're pumped to move forward with what's to come in 2010,' states Kuti. "We can't wait for people to hear our new single 'You're the One.' it's a cry to all believers to grow in a passionate and intimate relationship with their Creator. God made the way for that kind of love, through Jesus, and we can't help but share what that's meant to us." A music video for the single is set to release shortly.
Ahead for the guys in 2010 includes more of what they love to do - hit the road! Chris And Conrad are currently touring with Jonny Diaz on K-LOVE's Listener Appreciation Tour, where they get to passionately give back to their fans and Christian radio with free shows throughout January.
They will then join World Vision's WinterBlast Tour, sharing the stage with artists and friends Building 429, MIKESCHAIR and Brit Nicole. Chris And Conrad are also set to be part of Big Daddy Weave's "We Want The World To Hear" Spring tour.
To find out if any of these tours hits your hometown, visit www.ChrisandConrad.com for the most updated concert dates.
Kuti concludes, "But bigger than any chart position was the confirmation that God placed on our ministry. He used us for some great things this past year. We've been able to encourage so many people right in the midst of their struggles with the message that 'God loves them more than they could ever know.' We are blown away that God has chosen to use us to get that message out there through the gift of music."
www.chrisandconrad.com
www.vsrmusic.com
ABOUT CHRIS AND CONRAD
Chris And Conrad is comprised of Chris Kuti and Conrad Johnson. In their music, this talented pair offers a refreshing perspective to everyday struggles in life and faith. When they are not touring, Chris and Conrad reside in central Florida, making music ministry happen on a weekly basis. Chris Kuti leads worship for the college-age service at his church, while Conrad Johnson is a producer/engineer at a local sound studio. Chris And Conrad released May 5th and was distributed by EMI CMG Distribution. They are booked by Greg Oliver Agency (www.goa-inc.com) and managed by 220 Entertainment Group.


[2020]
Jan. | Feb. | March | April | May | June | July | Aug. | Sept. | Oct. | Nov. | Dec.
[2019]
Jan. | Feb. | March | April | May | June | July | Aug. | Sept. | Oct. | Nov. | Dec.
[2001 - 2018]
Visit our complete MUSIC NEWS ARCHIVE