TOBYMAC & SKILLET JOIN FORCES FOR AWAKE TONIGHT TOUR
TOUR DATES ANNOUNCED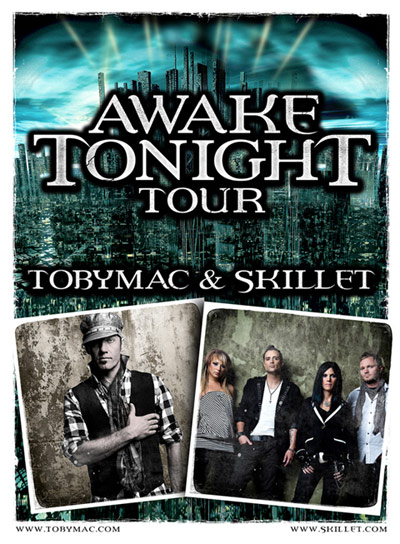 NEWS SOURCE: The M Collective
January 20, 2010
NASHVILLE, TN....1/20/10..... In what many are already calling one of the best line up's in the history of Christian touring, two of the industry's biggest acts, SKILLET & TOBYMAC, have joined forces for the AWAKE TONIGHT tour this spring (see dates below).
Sure to be an evening of pure adrenaline and energy, the tour will hit over 20 cities throughout March and April, kicking off on March 5th in Indiana (current tour routing below). Both John Cooper of Skillet and TobyMac recently spoke about the fun they'll have out on the road together and their excitement about the tour in CCM Magazine's new digital issue, featuring TobyMac on the cover, which can be seen at: http://www.nxtbook.com/nxtbooks/salem/ccm_201001/
"Every year people say this is the "must see" tour," comments Awakening Events' Dan Fife, who is promoting several shows on the AWAKE TONIGHT tour. "This Spring the TobyMac & Skillet pairing has created the ultimate concert EXPERIENCE. With two headliners on the same stage, that have this much energy to offer night after night, all I can say is go get a ticket. You don't want to be the unlucky person that spends the rest of their life wishing they were there."
With all three of TobyMac's solo projects receiving GRAMMY® nominations, and his live CD/DVD taking home a GRAMMY® award, the much-celebrated and acclaimed artist is now celebrating his fifth consecutive GRAMMY® nomination with his new single, "City On Our Knees" receiving a nod for Best Gospel song. The track will be included on TobyMac's February 9th release, "TONIGHT," and has topped the sales and radio charts faster than any of his previous singles, spending 8 weeks at #1 on the Christian Audience Chart.
Each of TobyMac's studio releases, "Momentum" (2001),"Welcome to Diverse City" (2004), and "Portable Sounds (2007)," were awarded RIAA Gold Certification, with "Portable Sounds" making his highest solo debut ever on the Billboard Top 200 chart (No. 10), and hitting No. 1 on SoundScan's Contemporary Christian Overall chart in its first week with over 50k in sales. Along with sold out tour dates, back-to-back radio hits, being named the GMA Dove Award's 2008 Artist of the Year, and R&R's Christian CHR Artist of the Year in 2007, TobyMac was nominated for a 2007 American Music Award as Favorite Inspirational Artist. His song "Ignition" was also chosen to play during the 2009 Superbowl as The Arizona Cardinals entered the stadium in Tampa, FL. For more information on TobyMac, go to: http://www.tobymac.com
Skillet's latest, AWAKE, continues to propel the incredible momentum the rock outfit has going for them with a blockbuster debut at No. 2 on Billboard's Top 200, selling over 67,000 units and peaking at No. 1 on iTune's "Top Albums" chart and "Top Rock" chart. Already over 300k in scans in just 20 weeks (more than double that of the GOLD selling COMATOSE), AWAKE was Amazon.com's best selling Christian CD of 2009, and boasts the No. 4 mainstream Active Rock single in the country with "Monster," which was also AOL Music's No. 4 mainstream rock song of last year, and the No. 1 Christian CHR & Rock single, "Hero," which has been used all season long by the NFL in their, Sunday Night Football and NFL Weekend Kickoff promos.
Skillet has toured with the likes of mainstream megastars Breaking Benjamin, Three Days Grace, Seether and Flyleaf, and headlined a slew of major Christian festivals, all followed by solo tours that ranked within Pollstar's Concert Pulse Top 50 Tours. Along the way, the two-time Grammy®-nominated alternative rockers also scored seven consecutive number one Christian radio singles, a 2008 GMA Dove Award for "Rock Song of the Year," and a 2009 nomination for Artist of the Year. Along with a trio of singles on Billboard's Mainstream Rock charts, a pair of BMI Songwriting Awards, and being chosen as Reader's Poll favorites on several top ccm websites, they also released their first ever concert CD/DVD combo pack "Comatose Comes Alive." For more information on Skillet, go to: www.skillet.com
###
AWAKE TONIGHT TOUR (ALL DATES SUBJECT TO CHANGE):
3/4 Aurora, IL ACS Gymnasium
3/5 West Lafayette, IN Elliot Hall of Music University of Perdue
3/6 Valparaiso, IN ARC at Valparaiso University
3/7 Murray, KY RSEC at Murray State University
3/12 Evansville, IN Roberts Stadium
3/13 Bristol, TN Viking Hall
3/18 Lancaster, PA Giant Center
3/19 Baltimore, MD 1st Mariner Arena
3/20 Johnstown, PA War Memorial Auditorium
3/21 Toledo, OH Lucas County Arena
3/25 Tallahassee, FL Civic Center
3/26 Ft. Meyers, FL Germain Arena
3/27 West Palm Beach, FL Cruzan Amphitheater
3/28 Auburn, AL Beard-Evans Memorial Coliseum
4/1 New Orleans, LA UNO Lakefront Arena
4/2 Tyler, TX Oil Place
4/3 Jackson, MS Mississippi Col
4/9 Huntington, WV Big Sandy Superstore Arena
4/10 Lynchburg, VA Liberty University
4/11 Asheville, NC Civic Center


[2020]
Jan. | Feb. | March | April | May | June | July | Aug. | Sept. | Oct. | Nov. | Dec.
[2019]
Jan. | Feb. | March | April | May | June | July | Aug. | Sept. | Oct. | Nov. | Dec.
[2001 - 2018]
Visit our complete MUSIC NEWS ARCHIVE