WINTER JAM 2010 TOUR SPECTACULAR
DRAWING RECORD CROWDS
Christian Music's Largest Annual Tour Enters 15th Year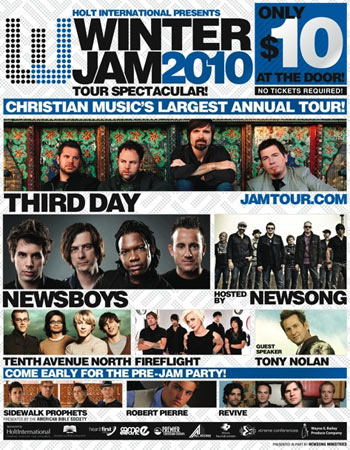 NEWS SOURCE: Turning Point Media
January 20, 2010
NASHVILLE, Tenn.—Following the first six dates, Christian music's largest annual tour, the Winter Jam 2010 Tour Spectacular, has kicked-off with the highest average attendance in its 15-year history. Launching January 8 in Chattanooga, Tennessee, Winter Jam has seen nearly 63,000 attendees to date, an average spike of more than 9% from last year, making history for the Tour franchise. Concerts at the Time Warner Cable Arena in Charlotte, North Carolina, and the St. Pete Times Forum in Tampa, Florida, each drew crowds in excess of 13,000.
In addition, Winter Jam has facilitated 1,401 sponsorship commitments to adoption and child welfare organization Holt International, to help meet the needs of orphaned children around the world.
Hosted by one of the genre's most highly regarded and successful bands, NewSong, Winter Jam will hit a total of 44 cities this year and features multi-platinum Reunion recording artist Third Day; internationally-renowned Inpop recording artist Newsboys; Dove Award-winning Reunion recording artist Tenth Avenue North; acclaimed Flicker recording artist Fireflight; and guest speaker Tony Nolan. The Tour also includes a Pre-Jam Party with Sidewalk Prophets, Robert Pierre and Revive.
"We're blown away by the success of Winter Jam this year," said NewSong founding member Eddie Carswell. "The show is truly a high energy 'spectacular' that features some of the best and brightest our industry has to offer, but the reason we do what we do is because of the thousands of people who are being encouraged and the hundreds who have received Christ at each concert. It's incredibly humbling to see God use this event for His glory."
NewSong created the multi-artist Winter Jam Tour Spectacular in 1995 and hosts the event each year. Last year's Tour ranked among the largest in the world, according to Pollstar's First Quarter Attendance Chart. In addition, the Gospel Music Association presented its prestigious Impact Award to the Winter Jam Tour Spectacular in 2009, in recognition of the Tour's continued success.
Presented by Holt International, the Winter Jam 2010 Tour Spectacular is also sponsored by the American Bible Society, www.HearItFirst.com, Camp Electric, Premier Christian Cruises, All Access Merchandising, Texas TransEastern, Xtreme Conferences, and Wayne E. Bailey Produce.
NewSong's 28 years in ministry have yielded 17 albums; 20 #1 singles; and a GRAMMY Award nomination, among numerous other achievements. The band's most definitive recording to date, Give Yourself Away, released last fall on their new label, His Honor Music (EMI CMG Distribution). Marking the official return of acclaimed vocalist Russ Lee to the group, the project is also NewSong's first collaboration with one of Christian music's most renowned producers, Charlie Peacock. The album's latest single, "Hope," was recently serviced to Christian radio.
For further information, visit www.jamtour.com.


[2020]
Jan. | Feb. | March | April | May | June | July | Aug. | Sept. | Oct. | Nov. | Dec.
[2019]
Jan. | Feb. | March | April | May | June | July | Aug. | Sept. | Oct. | Nov. | Dec.
[2001 - 2018]
Visit our complete MUSIC NEWS ARCHIVE