KJ-52 SETS OUT TO FIND "MODERN DAY HEROES"
CO-HEADLINE TOUR WITH GROUP 1 CREW
PRE-SHOW BIBLE STUDY & LOCAL "HERO" NOMINATION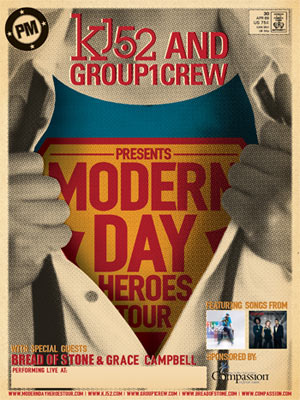 NEWS SOURCE: Overture Media
January 21, 2010
SEATTLE, WA...January 21, 2010...After releasing his popular "Five-Two Television" last fall, KJ-52 is seeking out "Modern Day Heroes." He is joined by Group 1 Crew for the upcoming co-headlining tour the "Modern Day Heroes," which will kick off next month, February 2010. This tour will be filled with vertical rhymes, high energy dance moves, and possibly even a few surprises. As with all things that KJ-52 is involved with, this will not be the average concert, but include elements to reach out to the local youth and "heroes."
The "Modern Day Heroes" tour involves two facets making this an unique experience for those attending. First, those fans that purchase their tickets online will have entry into a pre-show Firestarter Bible Study. Secondly, fans can nominate a local "Modern Day Hero" in each market online powered by HearItFirst.com at www.moderndayheroestour.com. The chosen "Hero" will have free access to the show and be honored by KJ-52 and Group 1 Crew.
Local "Hero":
This person needs to exemplify dedication to ministry, his or her community, and others around the area. The selected hero will be honored in their city when the "Modern Day Hero" tour hits their town. Nominations for the heroes can be made online by clicking "Nominate Your Hero."
Firestarter Bible Study:
KJ-52 and Group 1 Crew will implement and lead a Firestarter Bible Study walking through the book of Luke for local youth groups in each tour market. Interacting on a spiritual level and studying scripture prior to the concert is for those that purchase tickets prior to the show online. Purchase tickets at www.moderndayheroestour.com. By purchasing tickets online, your name will be on the Will Call list granting entry to the study.
Tour dates are being revealed daily at www.moderndayheroestour.com. The tour is sponsored by Compassion International and Hearitfirst.com.
About KJ-52:
Releasing his debut project in 2000, KJ-52 continued to do his "thing" for a total of seven projects released. Three of his four titles have scanned over 100,000 units—the only Christian hip-hop artist in history to do so. KJ-52 has become one of the most trusted names in music as a songwriter, producer, minister, and comic poet, in spite of many seemingly insurmountable obstacles. Let's not forget: He is an unabashed follower of Christ, he is white, and he is a rapper. In 2009, KJ-52 was once again nominated for the fourth consecutive year as CCM Magazine's Favorite Hip Hop Artist in the Reader's Choice poll. He also was honored with his fifth Dove Award.
Releasing "Five-Two Television" in September 2009, KJ-52's project was said to be "making a run for best rap album of the year," and debuted at #14 on Billboard's Heatseaker's chart. KJ-52 is on BEC Recordings. For more information, updates, blog, and tour dates visit: http://www.kj52.com also follow KJ-52 on Twitter: @kj52 .
About Group 1 Crew:
A self-professed entertainer, a pop diva, and a bona fide producer: that's the makeup of breakout urban sensation Group 1 Crew, three everyday Latinos who rose above their circumstances and the middle-of-the-road to become one of the most exciting aggregates in faith-based music. Their 2008 release, Ordinary Dreamers (2009 Dove-winning "Rap/Hip Hop Album of the Year"), the trio's second album for Fervent Records, shattered any and all preconceptions created by their out-of-the-box, Dove-winning debut, Group 1 Crew (2008 "Rap/Hip Hop Album of the Year"), to position itself as one of the most unordinary offerings of the moment—an amalgam of rhythm and rhyme that takes the best of urban pop and hip-hop and turns them upside down. G1C challenge people to dream and pursue the calling God has given them. For more information, visit http://www.group1crew.com .
- ### -
For more info on KJ-52, visit the JFH Artists Database.


[2020]
Jan. | Feb. | March | April | May | June | July | Aug. | Sept. | Oct. | Nov. | Dec.
[2019]
Jan. | Feb. | March | April | May | June | July | Aug. | Sept. | Oct. | Nov. | Dec.
[2001 - 2018]
Visit our complete MUSIC NEWS ARCHIVE