MIRROR, MIRROR ON THE WALL,
WHO HAS THE TRUEST HEART OF ALL?

BIG IDEA ENTERTAINMENT TO RELEASE FIRST EVER VEGGIETALES® ADVENTURE FOR GIRLS THIS SUMMER
VeggieTales®: Sweetpea Beauty–A Girl After God's Own Heart

DVD Teaches A Valuable Lesson About True Beauty

Original Song Written and Performed by Sparrow Records Celebrated Artist Nichole Nordeman

Launch Supported by Extensive Marketing, Promotional and Licensing Campaign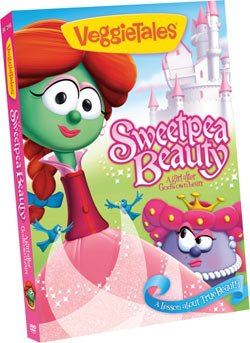 NEWS SOURCE: Hoganson Media
April 26, 2010
FRANKLIN, TN (April 26, 2010) Big Idea Entertainment, the leading faith-based studio and producer of children's and family programming, characters and brands, announced today they will release a brand new enchanting adventure on DVD, VeggieTales®: Sweetpea Beauty—A Girl After God's Own Heart, on July 31, 2010 for $14.99 SRP in Christian market stores, and on August 3, 2010 for $14.93 SRP in the general marketplace. This creative fairy-tale parody teaches a valuable lesson about true beauty based on 1 Samuel 16:7 which says, "For the Lord sees not as man sees. Man looks on the outward appearance, but the Lord looks at the heart."
The DVD features an original new song entitled "Beautiful For Me" by critically acclaimed singer-songwriter and nine-time Dove Award winner—including two for "Female Vocalist of the Year"— Nichole Nordeman. Also included on this show is the fun Silly Song, "Pants" written by recording artist and Dove Award-winning writer and "Producer of the Year" Ian Eskelin, a sing-along song called "More Beautiful," and other family friendly exclusive interviews and guide content. The Sweetpea Beauty launch is supported by a comprehensive marketing and advertising campaign with licensing and promotional partners such as, Gund, Gregg Gift, Chuck E. Cheese's, Crocs/Jibbitz, Gymboree, Crazy 8 and more.
"We're thrilled to introduce the first VeggieTales show created specifically for girls," said Greg Fritz, SVP of Sales and Marketing at Big Idea Entertainment. "Sweetpea Beauty is a fun and meaningful fairy 'Veggie' tale that will help young girls understand the real value of true beauty and that God loves them just as He made them. A comprehensive line of consumer products will be available that will allow girls to play and learn about this important life-changing lesson."
As a special musical feature for the DVD, Big Idea enlisted the songwriting talents of Sparrow Records recording artist and VeggieTales enthusiast Nichole Nordeman, who wrote and recorded an original song for the first time in more than two years, which is about the importance of embracing the beauty God sees in each of us as shown in the Sweetpea Beauty episode.
"The topic of beauty...real beauty...has long been near and dear to my heart," says Nordeman. "I am thrilled that VeggieTales is tackling this tough and murky issue for young girls. A year and a half ago, God blessed our family with a daughter, and even though she is still too young to grapple with big questions like, 'Am I beautiful?,' it forced me to dust off my own skeletons and snarky old whispers regarding that question from my own mirror."
DVD Synopsis
Once upon a time, there lived a royally sour blueberry, a fair rhubarb maiden and a dastardly deceptive mirror! Sweetpea Beauty knows that what's on the inside is what matters most, but insecure Queen Blueberry can't see past her own reflection! So, when a decree is handed down that only the most beautiful can rule the land, the Queen gets nervous and things turn ugly! Banished to the dark forest, Sweetpea's fate seems bleak until a charming prince, a band of merry minstrels and seven snow peas come to the rescue! Will Sweetpea and her friends be able to warn the Queen in time to save her from the clutches of the tricky mirror – or will the crumbling kingdom and the Queen's own heart be lost forever? Find out in this fairy "Veggie" tale about the real meaning of true beauty.
Plus, the almost-classic tale of . . .Snoodlerella.
A self- conscious Snoodlerella is the star of the ball after getting an extreme makeover. Her life of glamour is short-lived as the clock strikes midnight and her glasses, braces and insecurities return. Will she be able to see herself as the good King sees her—unique, beautiful and perfect just the way she is?
Bonus Features
Directors' Audio Commentary
Art Gallery
Sweetpea's True Beauty Guide For Girls
"Pants" Silly Songs with Larry Sing-Along
"More Beautiful" Sing-Along
Girl Talk – Kids thoughts on true beauty
Behind The Music of Sweetpea Beauty—An Interview with Nichole Nordeman
Advertising, Radio, TV and Online Support
The VeggieTales: Sweetpea Beauty—A Girl After God's Own Heart release is supported by an extensive marketing and advertising campaign. The campaign will focus on national print, television, radio and online advertising and promotions, plus grassroots efforts through the VeggieTales "Ambassador" team. Big Idea Entertainment will also develop a viral eGreeting card campaign and take part in promotions at select summer music festivals. In addition, Big Idea Entertainment will launch a targeted campaign involving multi-Dove Award-winning musical artist Nichole Nordeman and the elements surrounding the release of the featured end credit song "Beautiful For Me," written and performed by Nordeman specifically for Sweetpea Beauty.
Promotional Partners
Big Idea Entertainment will promote the DVD release through their branded, interactive grocery carts for children in regional Kroger and Kmart locations. Each "TVKart" will feature a video screen with selection button for kids to watch VeggieTales silly songs, clips and promotions for upcoming DVD releases including Sweetpea Beauty. Additionally, indoor advertising on closed-circuit televisions will play clips and silly songs in national quick service restaurants including McDonalds, Wendy's, Arby's, KFC, Hardee's, Carl's Jr. and at more than 500 Chuck E. Cheese's locations in the birthday party area. More than 800 Gymboree and Crazy 8 locations in the United States, United Kingdom, Ireland and Australia will play clips and silly songs from the DVD on their GymTV in-store viewing area.
Taco Bueno will also raise awareness for Sweetpea Beauty at more 200 locations with a kids meal promotion featuring a free VeggieTales® watch and coupons for $3 off a DVD purchase. The promotion will be included in select newspaper inserts reaching over three million households.
Consumer Products
Beginning July 31, 2010, Big Idea Entertainment will roll out a line of Sweetpea Beauty themed consumer products. Merchandise will include plush toys of Sweetpea Beauty and Prince Larry characters from Gund, a puzzle from Talicor, T-shirts from Crossroads Designs, purse and shoe charms from Crocs/Jibbitz, photo albums, book covers, a coin purse, tote bag, melamine place set, back pack and placemat from Gregg Gift.
Big Idea Entertainment will produce a Sweetpea themed 365 Bedtime Devos for Girls devotional book, a Sweetpea Beauty children's watch, and a Girl Power DVD including three classic VeggieTales® episodes with favorite female characters from the cast. The company will also produce a Sweetpea's Songs For Girls CD that features songs from popular VeggieTales characters Madame Blueberry, Petunia Rhubarb, Laura Carrot and the brand new song from Nichole Nordeman, "Beautiful For Me."
Live Events
This summer, Big Idea Entertainment will host "Sweetpea Beauty Dress Up Party" events at more than 2,000 churches nationwide to premier the DVD before it's available in stores. Sweetpea Beauty "Mother and Daughter" events will also take place at more than 450 Christian retail outlets timed to coincide with the July 31 street date.
About VeggieTales: Sweetpea Beauty— A Girl After God's Own Heart
Not Rated-45 minutes-Color-5.1 Surround Sound-English & Spanish Subtitles Close-Captioned
DVD UPC Codes CBA: 820413117290 $14.99 SRP and GM: 88347602765 $14.93 SRP
About Big Idea Entertainment
Big Idea Entertainment is the leading faith-based studio and producer of children's and family programming, characters and brands. Since 1993, Big Idea's best-selling animated series VeggieTales has sold 53+ million videos, 13 million books and more than 7 million CDs. VeggieTales and Big Idea's property, 3-2-1 Penguins!, enjoyed four seasons as top-rated series on NBC Saturday mornings, Telemundo and ION TV via the qubo children's programming block. The studio's two theatrical releases, Jonah-A VeggieTales Movie (2002), and Universal Pictures' and Big Idea's The Pirates Who Don't Do AnythingÔ-A VeggieTales Movie (2008), are distinguished among the top ten most successful faith-based films of all time. Big Idea also maintains an extensive presence in publishing, licensing and live entertainment arenas. For more information on Big Idea Entertainment, visit: www.bigidea.com.
# # #


[2021]
Jan. | Feb. | March | April | May | June | July | Aug. | Sept. | Oct. | Nov. | Dec.
[2020]
Jan. | Feb. | March | April | May | June | July | Aug. | Sept. | Oct. | Nov. | Dec.
[2001 - 2020]
Visit our complete MUSIC NEWS ARCHIVE