D A V E B A R N E S

"GOD GAVE ME YOU" CONTINUES TO RECEIVE TOP AIRPLAY, GOES TOP 5 AT CHR;
"God Gave Me You" Music Video Now Available At iTunes
Song Featured On NOW 34 Compilation CD, Performs With Lady Antebellum
NEWS SOURCE: Vining Media
May 18, 2010
Nashville, TN - May 18, 2010 - "God Gave Me You," the first single from Dave Barnes' brand new CD release, What We Want, What We Get (Razor & Tie), continues to climb the radio charts. The hit song is top 5 at CHR and is also the second most-added record at AC radio this week. It was the most-added song for the last two weeks in a row.
In addition to its radio success, the music video for "God Gave Me You," which debuted on AOL Music in April, is now available for download at iTunes for only $1.99. The video, currently being played on outlets such as gmc and TBN, can also be seen along with exclusive interview footage of Dave Barnes at outlets such as HearItFirst.com, Steelroots.com and JCTV's "1 Music Village."
Barnes' AAA radio single, "Little Lies," will be featured in the June 15th release of the NOW 34 brand, a compilation of the past year's biggest songs from today's most popular artists. "Little Lies" was chosen as only one of four exclusive songs for the "Now What's Next" artists promotion. Be sure to visit NOW 34 for more information.
Barnes continues to travel around the country to promote What We Want, What We Get, just released April 6th. While in New York City, he was invited to open up for Lady Antebellum at the Nokia Theatre where he shared the stage with Lady A's Hilary Scott during his performance of "On A Night Like This." Photos from the show are below.
Barnes' NYC set received stellar reviews, such as one from the Hollywood Reporter stating, "Opener Dave Barnes...delivered a well-received set showcasing sturdy vocals and diverse original songs displaying rock/R&B influences. His boyish good looks, personable manner and self-deprecating humor had the audience -- who sang along and even cheered on cue -- eating out of the palm of his hand."
Can you check out Dave Barnes at a town near you? Be sure to visit his website for the most updated information!
DaveBarnes.com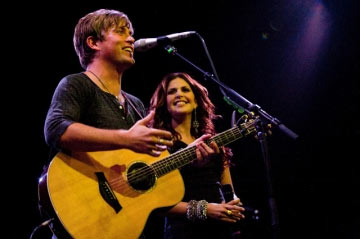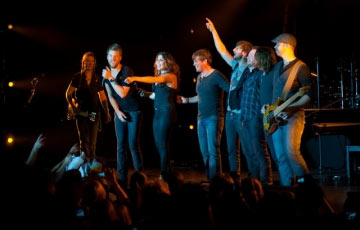 em>Dave Barnes/Lady Antebellum photos courtesy of Timothy Griffin


[2021]
Jan. | Feb. | March | April | May | June | July | Aug. | Sept. | Oct. | Nov. | Dec.
[2020]
Jan. | Feb. | March | April | May | June | July | Aug. | Sept. | Oct. | Nov. | Dec.
[2001 - 2020]
Visit our complete MUSIC NEWS ARCHIVE