KARI JOBE AND DESPERATION BAND RAISE PRAISE AND SPONSORSHIPS DURING HEARTWORK TOUR

NEWS SOURCE: Spinhouse PR
June 7, 2010
June 7, 2010 – Dove Award winner Kari Jobe and Colorado worship band Desperation Band proved to be a powerful touring team during the recent "Heartwork Tour," their first time doing worship events together, and certainly not the last.
The two artists visited churches in the American heartland cities of Fort Smith, Ark.; Irving, Texas; Tulsa, Okla.; Oklahoma City, Okla.; Lubbock, Texas; Elk City, Okla.; Colorado Springs, Colo. and Loveland, Colo. The tour was named after Heartwork, an orphan ministry first started by Desperation Band at their New Life Church in Colorado Springs, and was sponsored by New Missions, an Orlando-based ministry supported by Jobe.
At each worship event, Desperation Band and Jobe shared the stage for two hours of continuous and powerful worship. The events also included a short presentation by a tour pastor encouraging people to get involved with matters of the heart and Heartwork, specifically supporting New Missions with child sponsorship in Haiti. Nearly 300 child sponsorships were promised during the tour.
The nights of worship also provided an opportunity to introduce Heartworks' new 1K Campaign, an endeavor to engage 1000 youth groups in 1000 orphan projects in 1000 days. An introduction video to Heartwork is found here: http://www.youtube.com/watch?v=YfdeGpxm2y8. For more information on Heartwork and the 1K Campaign, visit www.heartwork.tv.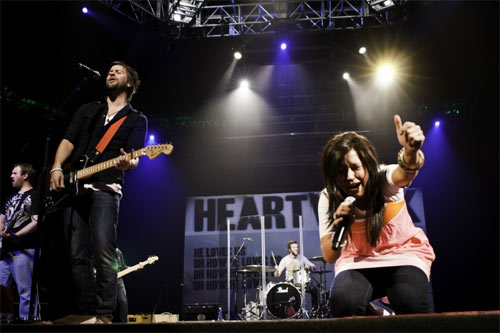 "The great success of the Heartwork Tour was seeing thousands of kids come together and do something more, something selfless. They have started a movement that we believe will surpass any tour hype and will stand as a reminder of why we all do what we are called to do - touch lives in the most desperate places for the most desperate people. Our medium is music and worship and we are thankful for being allowed to do this. But more than that, the witness that DB and KJ have been is so powerful; it compelled kids, teens and adults to look far beyond themselves to touch the lives of children who are completely hopeless without our support," said David Todd, tour manager.
Jobe (www.karijobe.com), who is a worship leader and pastor at Gateway Church in Southlake, Texas, was recently nominated for the Gospel Music Association's Dove Award for New Artist of the Year. At the award ceremonies in April, she was honored with two Dove Awards and also performed on the Gospel Music Channel-televised Dove Awards singing "Revelation Song" with Phillips, Craig & Dean. Jobe released her best-selling self-titled debut in February 2009. Produced by Ed Cash, the album contains songs written by Kari as well as co-writes with worship leaders/songwriters Chris Tomlin, Paul Baloche, Mia Fieldes, Ed Cash and Klaus Kuehn.
The Desperation Band (www.desperationband.com) was birthed out of the student ministries of New Life Church in Colorado Springs and features songwriter Jon Egan. Egan's songs are sung in churches throughout America and around the world including favorites such as "I Am Free," "My Savior Lives," "Overcome" and more. They continue to lead worship both within the student ministries and in the main services at New Life Church, as well as at the annual Desperation Conferences. They released their latest album 'Light Up The World' in September 2009. Light Up the World was inspired by "Heartwork," a student-driven ministry at their church which is helping to build orphan homes in Africa and now gives its title to the band's tour with Jobe. The students' "HeartWork" ministry – and the new CD – began with a challenge from a local philanthropist with a heart for orphans. He challenged the youth to give $60,000, and matched that donation dollar for dollar for World Orphans (worldorphans.org).
Headquartered in Orlando, New Missions (www.newmissions.org) is a non-profit Christian organization with mission projects in Haiti and the Dominican Republic. Since 1983, New Missions has reached the poorest of the poor in Haiti with Christian education, medical care, food, and the establishment of churches. Currently, 10,000 children attend school at New Missions in Haiti.
# # #
For more info on Kari Jobe, visit the JFH Artists Database.


[2022]
Jan. | Feb. | March | April | May | June | July | Aug. | Sept. | Oct. | Nov. | Dec.
[2021]
Jan. | Feb. | March | April | May | June | July | Aug. | Sept. | Oct. | Nov. | Dec.
[2001 - 2021]
Visit our complete MUSIC NEWS ARCHIVE