TRANSFORM MUSIC GROUP SIGNS FLAGSHIP ARTIST, AT THE ONSET
Band to Release National Debut, Healing In Surrender, Oct. 5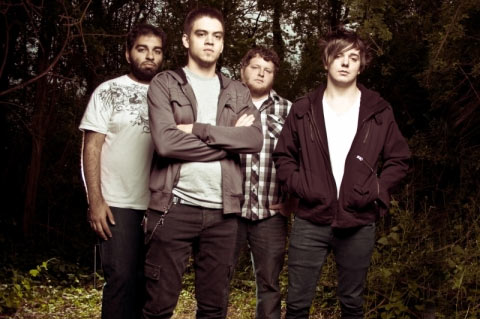 NEWS SOURCE: Savvy Media
July 12, 2010
(NASHVILLE, Tenn.) July 12, 2010--Independent Christian label Transform Music Group welcomes rock/metal band At the Onset to its roster. The label's first artist signing, At the Onset will release its national debut, Healing In Surrender, Oct. 5, 2010.
Based in Nashville, Tenn., Transform Music Group, whose motto is "We're not afraid to be a Christian Record Label," seeks artists with a unique message and strong work ethic. It aims to represent the spectrum of Contemporary Christian Music genres.
CEO Matt Rogers comments, "The music industry has changed over the years, and a lot of labels seem to be playing it 'safe' in the music that they release to the masses. Here at Transform, we strive to be different in the fact we're not afraid to work with artists of all styles."
Pennsylvania natives At the Onset fit the bill with their unique blend of metalcore sounds and soaring pop rock. The band's forthcoming project Healing In Surrender, produced by Josh Silverberg (TobyMac, Sanctus Real), showcases everything from catchy and commercial radio hits to primal, raw screamo tracks.
"At The Onset is by no means a safe artist to launch as our debut act," says Rogers. "But the fact of the matter is that metalcore is one of the most popular genres of music among youth today. The metalcore bands our kids are listening to glorify suicide, death, drugs, sex, and living a hopeless life. Not only is At the Onset committed to excellence in music, but more importantly, music that shares God's love and hope."
Healing In Surrender will be available nationwide Oct. 5. The album's debut single, "Anthem" will begin vying for adds at Christian Rock radio late August. For more information on At the Onset or Healing In Surrender, visit www.myspace.com/attheonset.
Transform Music Group, a division of Mattrix Media Group, was founded by Matt Rogers, a 15-year veteran of the Christian music industry. The foundation of Transform Music Group is based on Acts 4:13 "The members of the council were amazed when the boldness of Peter and John, for they could see that they were ordinary men with no special training in the Scriptures. They also recognized them as men who had been with Jesus." For more information, visit www.transform-music.com or www.twitter.com/transformmusicg.
###


[2022]
Jan. | Feb. | March | April | May | June | July | Aug. | Sept. | Oct. | Nov. | Dec.
[2021]
Jan. | Feb. | March | April | May | June | July | Aug. | Sept. | Oct. | Nov. | Dec.
[2001 - 2021]
Visit our complete MUSIC NEWS ARCHIVE