Seminars4Worship Glorious Coming to Boston, Raleigh-Durham, Augusta and Mobile After Successful Kick-off in Pittsburgh
Paul Baloche, Kathryn Scott and Brian Doerksen Offer Practical and Spiritual Worship Team Training and Worship Concert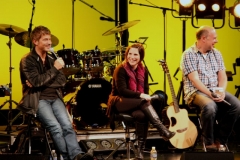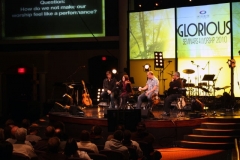 NEWS SOURCE: Spinhouse PR
October 12, 2010
MOBILE, Ala. – October 12, 2010 – Church music teams across the nation still have the unique opportunity to come together for training and encouragement at Integrity Music's popular Seminars4Worship Glorious events this fall and based on the response from the first event held last week in Pittsburgh, the upcoming Seminars in Boston, Raleigh-Durham, Augusta and Mobile are not to be missed.
As part of Integrity Music's commitment to serve and equip local churches, each Seminars4Worship Glorious event features internationally renowned worship leaders/songwriters Paul Baloche, Kathryn Scott and Brian Doerksen and offers skill-building workshops, faith-building general sessions and soul-feeding worship for everyone involved in music ministry. Some of the comments from attendees in Pittsburgh:
"This was excellent. A thoroughly positive, encouraging, edifying, educational experience. I firmly believe attending this conference once a year should be mandatory for all worship leaders."
"Glorious is the best conference on any topic that I have attended so far this year."
"Thank you so much! I really feel as though my head and heart are being realigned and reconnected through this conference. Like I am being brought to a place of sincerity."
"This has been an absolute blessing! I'm so thankful for the opportunity to be fed and encouraged by such skilled and godly examples. I've rested in the presence of God these two days and am leaving changed, as a result. Therefore, my local church will be impacted, thanks to Kathryn, Brian, Paul, and the Integrity team. Thank you for loving the King AND the Kingdom!"
"This is the most personal conference I have ever been to. The "unconference". I am learning a lot as well as being blessed by the Lord during times of worship."
The two-day conferences are taught by Baloche, Scott, Doerksen and a host of skilled musicians and clinicians, offering both practical instruction and a spiritual foundation in an intimate setting. After wrapping up a successful first Seminar in Pittsburgh, the team of worship leaders and speakers will move on to four remaining dates in the Fall 2010 version of Seminars4Worship.
This year's Seminars4Worship Glorious remaining schedule is:
October 29-30 Boston, Mass.
November 1-2 Raleigh-Durham, N.C.
November 5-6 Augusta, Ga.
November 8-9 Mobile, Ala.
Special pricing for groups (such as church worship teams) and "alumni" of Integrity Live events is also available. Information and registration details can be found at www.seminars4worship.com.
The Seminars4Worship Glorious conferences include inspirational and encouraging general sessions as well as personalized breakout sessions that will address distinct roles in worship. The class topics include: songwriting, effective worship leading, vocal technique, audio mixing, worship space design/lighting, music production/technology, women in worship, technology for multi-site churches, etc.
Worship leaders Paul Baloche ("Above All," "Offering," "Glorious"), Kathryn Scott ("At the Foot of the Cross," "Hungry," "I Belong") and Brian Doerksen ("Come Now is the Time to Worship," "Faithful One," "Refiner's Fire") are joined by top audio and visual experts who offer practical, interactive training and "behind-the-scenes" perspectives. This includes an opportunity for registrants to observe sound checks and dialogue with the worship leaders and guest musicians such as Carl Albrecht, Michael Rossback and Ben Gowell.
At each of the five seminar cities, Baloche, Doerksen and Scott will present a ticketed worship concert that is open to the public. Registrants of Seminars4Worship will receive free concert tickets as part of their registration. Ticket information available at http://www.itickets.com/.
Previous Seminars4Worship conference registrants make a strong case for attending the events together with their teams or on an individual basis. Said Lisbet Siebert who attended last year in Portland, Ore.: "The worship seminar was wonderful, and we learned so many awesome things! I walked away with a desire to seek God more, and was inspired as a worship leader! It was a refreshing time of drawing closer to God and learning some profound things about leading worship!"
Jim Caswell, a Seminar alum from Cleveland, Ohio, states: "I have been to Integrity seminars before, but being able to bring our whole team will really bless our congregation in ways that I can't wait to see!"
# # #


[2022]
Jan. | Feb. | March | April | May | June | July | Aug. | Sept. | Oct. | Nov. | Dec.
[2021]
Jan. | Feb. | March | April | May | June | July | Aug. | Sept. | Oct. | Nov. | Dec.
[2001 - 2021]
Visit our complete MUSIC NEWS ARCHIVE