Kirk Cameron and Warren Barfield to be Featured Guests
at Feed Your Faith's "Love Worth Fighting For" Tour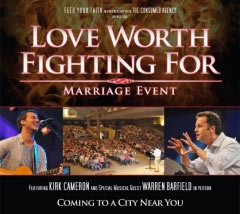 NEWS SOURCE: The M Collective
December 13, 2010
Nashville, Tenn. Dec. 13, 2010… Kirk Cameron, star of the runaway hit movie "Fireproof," will be the featured speaker for Feed Your Faith's "Love Worth Fighting For" tour, which kicks off in Feb. 2011. Well-know signer/songwriter Warren Barfield ("Love Is Not A Fight" from the movie "Fireproof") will also be a featured guest on the tour.
The "Love Worth Fighting For" conference focuses on all areas of relationships including our relationship with God. The conference encourages people in all stages of life to attend as the event applies to teenagers, single adults, newly married couples and longtime spouses. The tour begins on Feb. 4, in Simpsonville, S.C. and is scheduled to conclude in Nov., in Orlando, Fla. The tour will be making 30 stops across the country including cities in Tex., Ohio, N.J. and Md. Tickets range from $20 to $35 each and are available as reserved seats or general admission for singles, couples and groups of 10 or more.
As the featured speaker for the "Love Worth Fighting For" conference, Cameron has proven to draw crowds as over 35,000 people attended this event in 2010 to hear him speak and to learn about God's plan for healthy, happy marriages. Tickets sold out almost six months in advance as a result of the conference's high attendance.
Additionally, the "Love Worth Fighting For" tour is partnering with the well known non-profit, Food for the Hungry. Last year's conferences led to over 700 child sponsorships. Since 1971, Food for the Hungry has been a relief and development organization for the poor in more than 26 countries.
Following the success of his 1980s hit television show, "Growing Pains," Cameron married actress Chelsea Noble and is now the father of six children. He's an outspoken Christian and has starred in the Left Behind movies, written books, and continues to work in film and television. Cameron's next movie, "Monumental: In Search of America's National Treasure," is currently in production.
Feed Your Faith started five years ago built on a simple concept; bring in Christian speakers, authors, singers and music groups to help Christians grow in their faith and, at the same time, raise money for those who are less fortunate. All of the organizations proceeds go directly to local charities. To date, Feed Your Faith has worked with nationally known writers and music groups including Lee Strobel (former legal editor of the Chicago Tribune and author of The Case for Christ), author Mark Mittelberg, DecembeRadio, Decyfer Down and Sanctus Real, needtobreathe and Sarah Reeves.
For more information about Feed Your Faith's "Love Worth Fighting For" tour featuring Kirk Cameron and Warren Barfield, or to order your tickets, visit www.FeedYourFaith.org
###
About Kirk Cameron:
Kirk is best known as the lovable teen heartthrob "Mike Seaver," of the award winning series Growing Pains. He is also known as "Buck Williams" from the Left Behind films based on the New York Times best selling novels by Tim LaHaye and Jerry Jenkins. Kirk's most recent role was playing the part of "Captain Caleb Holt" from the 2008 blockbuster movie success, "Fireproof."
Cameron continues to be actively involved in quality family entertainment and travels throughout the country, making the most of every opportunity to further the Gospel. He speaks in schools, churches and at community events. He is also a producer and host of The Way of the Master television series.
About Warren Barfield:
North Carolina-born singer/songwriter Warren Barfield is on a mission to make the truly important things important again in his life. Things like faith, love, marriage, children, truth and with his songs, he challenges us all to do the same. Martin Luther King Jr. said, "If a man hasn't discovered something that he will die for, he isn't fit to live." Warren has found those things in his faith, his wife, and his belief in love. "These are the things I would die for; things I will wake up every morning and spend my day fighting for."
About Feed Your Faith:
Feed Your Faith is a group of evangelical Christians working collaboratively outside and across denominations to engage Christ's Church in the U.S. They are dedicated to bringing the best Christian speakers, teachers and artists to engage Christians and non-Christians in our sphere of influence. In turn, the organization is donating the proceeds from its events to local missions and ministries. Their mission is to teach Jesus during their seminars, praise Jesus during their concerts and to be Jesus to people in the community by assisting area ministries.
"Love Worth Fighting For" schedule
* all dates subject to change, please stay tuned to www.FeedYourFaith.org for the most up to date itinerary.
February 4, 2011 –- First Baptist Church --- Simpsonville, SC
February 5, 2011 – Broad River Electric Auditorium --- Gaffney, SC
February 6, 2011 – First Wesleyan Church --- High Point, NC
March 11, 2011 -- Far Hills Community Church --- Dayton, OH
March 12, 2011 -- Genoa Baptist Church, --- Westerville, OH
March 13, 2011 -- Willoughby Hills Friends Church --- Willoughby Hills, OH
May 20, 2011 -- First Christian Church --- Newburgh, IN
May 21, 2011 -- First Baptist Church --- Mattoon, IL
July 30, 2011 -- First Baptist Church of Concord--- Knoxville, TN
August 14, 2011 -- Decatur Baptist Church --- Decatur, AL
September 16, 2011 -- Mountain Christian Church --- Joppa, MD
September 17, 2011 -- Ocean Grove Camp Meeting Association --- Ocean Grove, NJ
For more info on Warren Barfield, visit the JFH Artists Database.


[2022]
Jan. | Feb. | March | April | May | June | July | Aug. | Sept. | Oct. | Nov. | Dec.
[2021]
Jan. | Feb. | March | April | May | June | July | Aug. | Sept. | Oct. | Nov. | Dec.
[2001 - 2022]
Visit our complete MUSIC NEWS ARCHIVE