AUDIO ADRENALINE'S MARK STUART AND WILL MCGINNISS PARTNER WITH INTEGRITY MUSIC TO LAUNCH KNOW HOPE COLLECTIVE
Ground-Breaking Initiative Combines Worship Music with Stories of Hope and Inspiration;

Know Hope Collective CD to Release February 15
NEWS SOURCE: Vining Media
December 15, 2010
Mobile, Alabama - (December 15, 2010) - Audio Adrenaline lead singer Mark Stuart and bassist Will McGinniss have returned after a three-year departure. Partnering with Integrity Music and joining some of their favorite emerging voices of worship, these two talents have created the Know Hope Collective, a ground-breaking initiative that combines worship music with stories of hope and inspiration.
According to Stuart and McGinniss, the Know Hope Collective will be an ever-changing group of musicians from a variety of backgrounds who come together to create worship music while sharing their unique experiences and testimonies. "The Know Hope Collective is driven from an emerging style of worship and a place of vulnerability," explains Stuart. "We go on a journey together through the good, bad and ugly to the redemptive side."
Stuart says the Know Hope Collective grew out of their own cathartic experience of sharing life stories with friends and church members. "We'd meet at Will's around a campfire and talk vulnerably with each other about our successes as well as hardships. It was a time of healing and redemption as we discovered the evidence of God's hand in our lives like never before and the importance of telling one's story."
The duo's pastor urged them to initially take their story-telling on the road, creating an intimate and hope-filled night of music, testimony and worship with friends. Since then, the Know Hope Collective has appeared across the U.S. and Canada. Additional tour plans are slated for spring 2011 and will be announced shortly.
Their first recorded self-titled project is an enhanced CD slated to release February 15. The ten-track album was produced by Stuart, McGinniss and Josh Heiner.
"This project was birthed out of the failure I went through," Stuart says. "But the next one might be on missional living, orphan care or clean water, wherever God is leading us."
For the Know Hope Collective CD, Stuart speaks far more now than he sings, and shares the microphone with Julia Ross (of popular Disney group Everlife), David Leonard (former Jackson Waters, NEEDTOBREATHE and currently with Sons and Daughters), and 2010 BMI Christian Music Award-winning Songwriter of the Year Jason Walker.
The group introduces new cuts, including "Jealous God," the radio singles "Attention" and "Build Us Back," along with meditative reworks of Audio A hits like "Ocean Floor," "The Good Life," and "Hands and Feet."
Following "Attention," "Build Us Back" is the project's next radio single, releasing December 27th to AC, CHR and INSP stations.
The enhanced CD includes videos where the Know Hope Collective artists share their personal stories of hope. The project also links to additional content, including information about Hands & Feet, a ministry founded by Stuart and McGinniss to aid orphans and abandoned children.
Additional information, including an EPK is available at knowhopecollective.com. Song charts are available as free downloads at integritymusic.com/knowhopecollective.
# # #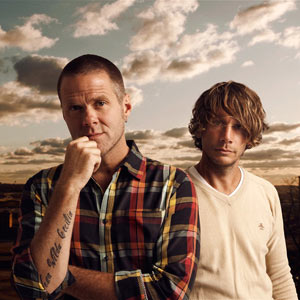 Know Hope Collective creators Mark Stuart and Will McGinniss


[2022]
Jan. | Feb. | March | April | May | June | July | Aug. | Sept. | Oct. | Nov. | Dec.
[2021]
Jan. | Feb. | March | April | May | June | July | Aug. | Sept. | Oct. | Nov. | Dec.
[2001 - 2022]
Visit our complete MUSIC NEWS ARCHIVE