FRANCESCA BATTISTELLI RINGS IN THE NEW YEAR WITH A
NEW SINGLE, NEW ALBUM, NEW TOUR
K-LOVE Presents An Exclusive Online Pre-Sale For Her Forthcoming Album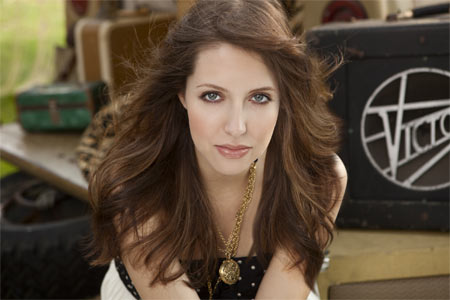 NEWS SOURCE: Warner Music Nashville
January 6, 2011
Nashville, TN / January 6, 2011 – For Fervent Records' GRAMMY-nominated artist and reigning Dove Awards Female Vocalist of the Year Francesca Battistelli, the New Year is bringing in all things 'New' with her fresh single "This Is The Stuff" hitting both the Christian radio airwaves and iTunes on January 11, 2011, her highly anticipated sophomore album Hundred More Years set for release on March 1 and a coveted slot on the 47-city "Winter Jam 2011 Tour Spectacular" that kicks off this week on January 7 in Chattanooga, TN.
Written by Francesca Battistelli, Ian Eskelin and Tony Wood, "This Is The Stuff" is an irresistible, up-tempo tune that expresses the frustrations of every day life that often drive us crazy but in the end teach us patience and thankfulness. This is the leadoff single from her forthcoming release Hundred More Years.
To top it all off, K-LOVE is presenting an exclusive online presale for the new release beginning today January 6 on Francesca's website - www.FrancescaMusic.com. This unique version of Hundred More Years includes special, limited edition packaging featuring a personal touch from Battistelli. Fans will have the chance to be one of the first to order the new album and with purchase will instantly receive a download of "This Is The Stuff."
Inspired by legendary jazz greats and current contemporaries like John Mayer and Sara Bareilles, singer/songwriter Francesca Battistelli set out to write pop, soul-infused music that would motivate and encourage listeners of any age. Her exposure to the arts began at a young age with her interest and involvement in theatre, music and dance, and at 15, Francesca began writing and performing her own songs. My Paper Heart released to rave reviews and has since earned her a Grammy nomination (Best Gospel Song Performance), 2 Dove Awards and 11 Dove Award nominations in a two-year period. Her debut delivered the smash No. 1 single "Free To Be Me" and hit singles "It's Your Life," "I'm Letting Go" and "Beautiful, Beautiful." With over 390,000 copies sold and well over 775,000 downloads to date, Battistelli has become the best-selling new artist in the genre in the past eight years. Her music has also been featured on Jon & Kate Plus 8, ABC's Extreme Makeover: Home Edition, NBC's The Biggest Loser, Fox's So You Think You Can Dance, and several other television and movie outlets.
For additional information on Francesca Battistelli and tour dates please visit, www.FrancescaMusic.com
For information on K-LOVE, visit www.klove.com.
About Word Entertainment
A leader in the music industry for 59 years, Word Entertainment, a Warner/Curb company, is a unique, comprehensive entertainment company comprised of multi-faceted artist service departments including publishing, merchandising, booking, and online initiatives. Word Entertainment represents some of the top names and brands in music, including Point Of Grace, BarlowGirl, Francesca Battistelli, Group 1 Crew, Sidewalk Prophets, Chris August, Mark Schultz and Big Daddy Weave and is home to Word Distribution, Word Print, 25 Live, Word Music Publishing and Word Label Group's Word Records, Fervent Records and Myrrh Records.
About EMF Broadcasting/K-LOVE
EMF Broadcasting, Inc., also known as Educational Media Foundation, is a non-profit organization that operates more than 250 radio stations in the K-LOVE and Air 1 radio networks. The radio stations offer music, news stories, updated music charts, artist links, inspirational ministry spots, concert and event information, interviews with Christian artists, and music reviews. K-LOVE airs adult contemporary Christian music, and Air 1 plays a Christian "positive alternative" format aimed at younger listeners. EMF Broadcasting's corporate headquarters, with more than 325 employees, is based in Rocklin, California.
###
For more info on Francesca Battistelli, visit the JFH Artists Database.


[2020]
Jan. | Feb. | March | April | May | June | July | Aug. | Sept. | Oct. | Nov. | Dec.
[2019]
Jan. | Feb. | March | April | May | June | July | Aug. | Sept. | Oct. | Nov. | Dec.
[2001 - 2018]
Visit our complete MUSIC NEWS ARCHIVE