JASON CRABB SHARES POWERFUL LIFE STORY IN FIRST BOOK,
TRUSTING GOD TO GET YOU THROUGH
NEWS SOURCE: Turning Point Media
January 11, 2011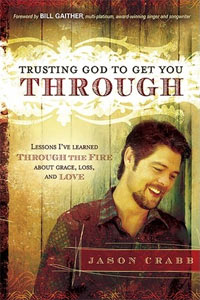 NASHVILLE, Tenn.—Trusting God To Get You Through—Lessons I've Learned Through The Fire About Grace, Loss, and Love, the first book from GRAMMY® and Dove Award-winning recording artist Jason Crabb, is now available from Charisma House publishers.
With a Foreword by gospel music pioneer Bill Gaither, Trusting God To Get You Through features lyrics from The Crabb Family signature song, "Through The Fire," written by Jason's father Gerald, to introduce each of the eight chapters. The book documents challenges Jason faced growing up; the rise and unprecedented success of The Crabb Family; and the uncertainty he felt stepping out to pursue a solo career. In addition, Trusting God To Get You Through offers personal glimpses of his life with his wife, Shellye, including their pain of suffering through two miscarriages prior to the arrival of their daughters Ashleigh and Emmaleigh.
"Everyone walks through the fire of adversity, but whatever your experiences—joys or sorrows—our amazing God can use every bit of your life to produce the most unexpected results," said Crabb. "That is my story, and it is your story too."
Trusting God To Get You Through includes such chapters as "Facing Life's Questions," "Feeling All Alone," and "Divine Help In Desperate Times," in which Crabb focuses readers' attention on God's character, reassuring them that they can walk through the fires of adversity with His help. Jason also references personalities from the Bible, using their own journeys to illustrate God's faithfulness.
Jason Crabb is one of gospel music's most awarded artists. His 2009 self-titled best-selling Spring Hill solo debut garnered a GRAMMY® Award for Best Southern/Country/Bluegrass Gospel Album, as well as a Dove Award for Country Recorded Song of the Year for his crossover single, "Somebody Like Me." The 10-time Dove Award-winning and GRAMMY®-nominated Crabb Family, for which Jason was lead singer, helped to expand the genre of southern gospel music during their groundbreaking tenure. Jason's follow-up to his acclaimed debut recording is slated to release later this year on the Spring Hill label.
Trusting God To Get You Through retails for $14.99 and is available at bookstores nationwide.


[2019]
Jan. | Feb. | March | April | May | June | July | Aug. | Sept. Oct. | Nov. | Dec.
[2018]
Jan. | Feb. | March | April | May | June | July | Aug. | Sept. | Oct. | Nov. | Dec.
[2001 - 2017]
Visit our complete MUSIC NEWS ARCHIVE