MMGI ARTIST, SEEKING SHELTER, TO BEGIN RECORDING AT INTEGRITY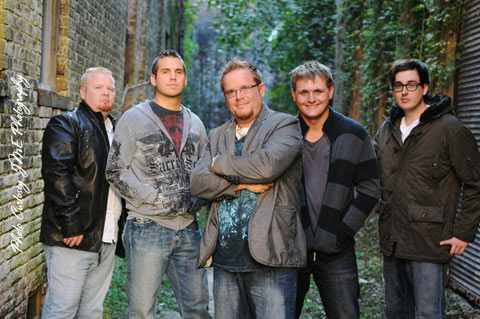 NEWS SOURCE: McLaughlin Music Group
January 25, 2011
McLaughlin Music Group International artist Seeking Shelter will be recording their new full-length record at Integrity Recording Studio in the band's hometown of Mobile, AL, from Feb. 28 to March 6.
Seeking Shelter is a band that longs to provide a relevant connection between a generation seeking shelter and a God who longs to provide it. They have opened for "Shane & Shane" and "Me in Motion", as well as youth events and several intimate worship settings.
"It's so important that everyone, from the youngest to the oldest, from the richest to the poorest, knows where their true Shelter is, and that it is not in the things this life can buy. Jesus is the only Shelter we need," says lead guitarist Jody Clements.
The band is well-known for its hit song, "Acceptable", that reached #1 on Global CHR radio for 13 weeks, #3 on Global CHR Top 100 for 2010, #4 on Global AC, and #11 on Global AC top 100 for 2010. Their other hit song, "Not Forgotten", hit #8 on Global AC and #12 on Global INSPO. Seeking Shelter has also played on more than 470 radio stations across the country and internationally.
"This new album is going to be more about an intimate relationship between man and God." said Clements.
Clement's fellow band-mates include Jeremy Clements on vocals, Mason Paseur on keys, Sam Pierce on bass and Josh Thames on drums. The band is eager to get their new album started and out to their listeners. The main focus on their album is to provide a worshipful atmosphere where the lyrics are directed to God.
Jeff Quimby will be producing the record. Quimby has been part of the music business for more than 20 years and has been the musician, producer and recording engineer involved in the creative process of developing music for a variety of artists and projects. He was an A&R Manager and a Director of Artist Development for Integrity Music from 2000 through 2008. Quimby has worked as a session musician, live performer and producer in Nashville with artists such as Lincoln Brewster, Big Daddy Weave, Nicole Nordeman, Margaret Becker, Charlie Peacock, Susan Ashton, Out Of The Grey, Wayne Watson and Twila Paris. He has spent 10 years working as a drummer and band director for Dove Award-winning artist Margaret Becker.
"We actually met him through the engineer at Integrity," Clements said. "We are super excited that he will be working with us. He has worked with a lot of great Christian artists and he has some great ideas."
While at Integrity, Quimby worked to develop the careers of artists such as Lincoln Brewster, Darrell Evans, Desperation Band, Jared Anderson, Jason Morant, Joel Auge, Worth Dying For, Michael Gungor and Ten Shekel Shirt. His efforts have led to the creation of albums that garnered sales, critical acclaim, Dove Award nominations and Christian radio hits including the No. 1 AC single, "Everlasting God", from Lincoln Brewster and CHR single, "Ocean", from Ten Shekel Shirt.
"We feel like this is a milestone in our career," Clements said. "It's a big door that God is opening for us. This is the next step to get us where we are going."
Seeking Shelter is also planning a tour in Australia in the fall of 2011.
# # #


[2019]
Jan. | Feb. | March | April | May | June | July | Aug. | Sept. Oct. | Nov. | Dec.
[2018]
Jan. | Feb. | March | April | May | June | July | Aug. | Sept. | Oct. | Nov. | Dec.
[2001 - 2017]
Visit our complete MUSIC NEWS ARCHIVE