MICHAEL W. SMITH ANNOUNCES 2012 CRUISE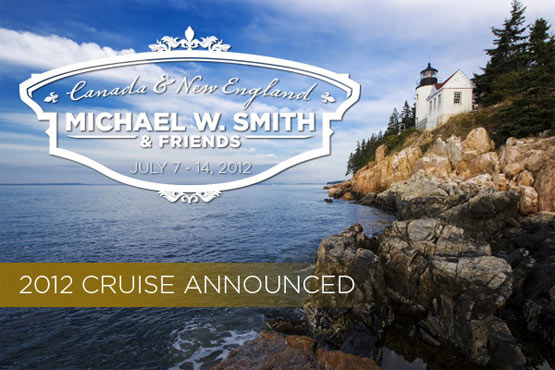 NEWS SOURCE: Michael W. Smith
February 1, 2011
Michael W. Smith has officially announced his upcoming 2012 Cruise from July 7 - 14. Check out a personal announcement letter from Smitty himself below...
"When we set out on our first cruise a few years ago, I really did not know what to expect. But after a week of the most beautiful scenery and rich interaction with friends like you, cruising became a Smith-Family Tradition.
Debbie and I could not have anticipated the depth of ministry and refreshment that comes from spending time in a beautiful setting with fellow Believers. To be challenged by great teaching, to be entertained by incredible artists and to be refreshed by each others company all make for an amazing week.
From something as silly and fun as Smitty-oke (your chance to sing on stage with me and my band); to something as meaningful as our morning devotions; each cruise has been different, but the laughs and the tears we share together have made for memories we will never forget.
Our biggest challenge for 2012 was to come up with a "new and exciting" destination and we have found it! We couldn't be more excited about the itinerary we have set. The beauty and old-world feel of Quebec and Montreal; the breathtaking scenery of the St. Lawrence River and Halifax; and the charm and history of Maine and Boston. All of the ports, the concerts, the worship, and the fellowship will combine for an amazing week together.
And, of course, it wouldn't be a Smitty "and Friends" Cruise without some of my very special "Friends." In the past we have been so fortunate to have Amy Grant, Max Lucado, Natalie Grant, Matthew West and others join us. I promise you'll be thrilled with what we have planned for 2012. So, I hope you will join me, Debbie and our family on what, I believe, will be one of the most spectacular weeks you can imagine. It's going to be a week of nightly concerts, amazing teaching, fun and ultimately great spiritual growth.
We look forward to seeing you on the ship!
God Bless
Michael W."

From Michael's Management:
All past MWS cruises have sold out. While the MS Masdaam has all the amenities and luxuries our cruises have come to expect; the passenger capacity of the ship is smaller than our past ships so we recommend that you book now. Book Your Reservation Now
# # #
For more info on Michael W. Smith, visit the JFH Artists Database.


[2022]
Jan. | Feb. | March | April | May | June | July | Aug. | Sept. | Oct. | Nov. | Dec.
[2021]
Jan. | Feb. | March | April | May | June | July | Aug. | Sept. | Oct. | Nov. | Dec.
[2001 - 2021]
Visit our complete MUSIC NEWS ARCHIVE