THE NEWEST EDITION OF WOW #1'S
NOW AVAILABLE EVERYWHERE TODAY, MARCH 1
New Collection Features Christian Music Favorites: Francesca Battistelli, Casting Crowns, NEEDTOBREATHE, Third Day, TobyMac And Matthew West Plus Many More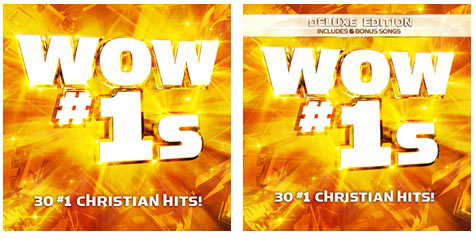 NEWS SOURCE: Warner Music Nashville
March 1, 2011
Nashville, TN - (March 1, 2011) - EMI Christian Music Group, Provident Music Group and Word Entertainment proudly announce their continued partnership in the WOW brand with the release of WOW #1's available everywhere today March 1. With 30 smash hits that reigned in No. 1 at Christian Radio, WOW #1's marks the 17th two-disc release and the second Deluxe Edition release of the platinum-selling series that compiles the best songs from Christian radio. The entire WOW branded series (Worship, Gospel, Hits and specialty releases) now tops 26 million units in sales with over half-a-million from the last WOW #1's release.
Featuring 30 inspiring No. 1 hits on two-discs, the WOW #1's is a must-have collection of Christian Radio chart-toppers from 2005-2010, including fan favorites like Francesca Battistelli's "Free to be Me," Brandon Heath's "Give Me Your Eyes" and Matthew West's "The Motions."
Highlights on Disc 1 include monster hits such as Phillips, Craig & Dean's "Revelation Song" which topped the charts for 16 weeks, Casting Crowns' "Praise You In This Storm" and Chris Tomlin's "How Great Is Our God." Disc 2 includes more No. 1 songs like TobyMac's "City on Our Knees," Tenth Avenue North's "By Your Side" and NEEDTOBREATHE's "Washed By The Water."
The WOW #1's Deluxe Edition features six bonus tracks of even more No. 1 favorites from top Christian Music performers including Krystal Meyers, Nichole Nordeman, Relient K, Remedy Drive, Rush Of Fools and Superchick.
WOW # 1's Track Listing:
-Disc 1-
1. God With Us - MercyMe
2. Give Me Your Eyes – Brandon Heath
3. The Motions – Matthew West
4. Praise You In This Storm – Casting Crowns
5. Cry Out To Jesus – Third Day
6. The Words I Would Say – Sidewalk Prophets
7. There Will Be A Day – Jeremy Camp
8. Revelation Song – Phillips, Craig & Dean
9. Held – Natalie Grant
10. How Great Is Our God – Chris Tomlin
11. My Savior, My God – Aaron Shust
12. I Am – Mark Schultz
13. Cinderella – Steven Curtis Chapman
14. Here I Am To Worship – Michael W. Smith
15. What Faith Can Do – Kutless
Deluxe Edition
16. Brave – Nichole Nordeman
17. Undo – Rush Of Fools
18. Stand In The Rain – Superchick
-Disc 2-
1. Never Going Back to OK – The Afters
2. City on Our Knees - TobyMac
3. Free To Be Me – Francesca Battistelli
4. By Your Side – Tenth Avenue North
5. The Lost Get Found – Britt Nicole
6. Washed By The Water - NEEDTOBREATHE
7. The Last Night - Skillet
8. I'm Not Alright – Sanctus Real
9. I Need You To Love Me - BarlowGirl
10. This Is Your Life – Switchfoot
11. Me And Jesus – Stellar Kart
12. Every Time I Breathe – Big Daddy Weave
13. Hide – Joy Williams
14. Everlasting God – Lincoln Brewster
15. Everything You Ever Wanted – Hawk Nelson
Deluxe Edition
16. Forgiven – Relient K
17. All Along – Remedy Drive
18. The Way To Begin – Krystal Meyers
Marketing efforts include prime retail positioning at all Christian, mainstream and digital retail outlets, radio spots and contests, a continued partnership with Hearitfirst.com providing content for all WOW artists, and a newly created on-line campaign.
The Word Entertainment distributed release is part of the multi-platinum WOW brand series. Created through the partnership between the three largest Christian music/entertainment companies in the industry, including EMI Christian Music Group, Provident Music Group, and Word Entertainment, the marketing and distribution of WOW projects are shared among the companies, with Word Entertainment leading efforts for WOW #1's.
About Word Entertainment
A leader in the music industry, Word Entertainment, a Warner/Curb company, is a unique, comprehensive entertainment company comprised of multi-faceted artist service departments including publishing, merchandising, booking, and online initiatives. Word Entertainment represents some of the top names and brands in music, including Meredith Andrews, Chris August, BarlowGirl, Francesca Battistelli, Big Daddy Weave, Group 1 Crew, Point Of Grace, Mark Schultz, Sidewalk Prophets and Chris Sligh and is home to 25 LIVE, Word Distribution, Word Print, Word Music Publishing and Word Label Group's Word Records and Fervent Records.
###


[2021]
Jan. | Feb. | March | April | May | June | July | Aug. | Sept. | Oct. | Nov. | Dec.
[2020]
Jan. | Feb. | March | April | May | June | July | Aug. | Sept. | Oct. | Nov. | Dec.
[2001 - 2020]
Visit our complete MUSIC NEWS ARCHIVE