INTRODUCING CAIT PLAGE, AN ARTIST AND SONGWRITER RELEASING ALL WE HAVE IS NOW MARCH 29th, PRODUCED BY CHRIS AUGUST AND JACOB SCHRODT
Plage Honestly Opens Her Heart And Soul With The Listener On New EP, Already Has Fans From Tenth Avenue North To Meredith Andrews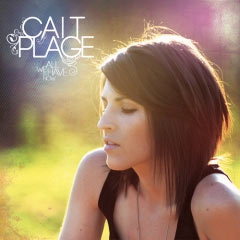 NEWS SOURCE: Vining Media
March 8, 2011
Nashville, TN - 8 March 2011 - Introducing Cait Plage, a 24-year-old touring artist and songwriter who is releasing her sophomore project, the EP All We Have Is Now, March 29th. Produced by Chris August and Jacob Schrodt, All We Have Is Now is Plage's storybook, sharing personal stories and experiences from set to song. As the follow-up to her debut CD, Cait Plage (2008), the new five-song EP shares her good times and the bad, yet most of all, shares what God has placed openly on her heart.
"These songs are definitely different than my previous album, but they are all recent stories of my life," Plage explains. "I have literally cried and laughed writing them, and they are all true, representing who I am from a very honest place. They are pages from the most honest and raw places in my soul—places where I have struggled and fallen short. The songs reveal how God continues to pursue me and use me despite my weaknesses for His glory."
All We Have Is Now includes the self-titled cut, along with "Loaded Gun," "In Your Arms," and "Live Love Loud." Another tune is "Pieces," which Plage shares her personal story about heartache and frustration that goes along with falling for someone for the wrong reasons, yet having the courage to close a door when you know in your heart it's not right. "Loaded Gun," which Plage literally wrote in one sitting, is about being disobedient to God, while both "All We Have Is Now" and "Live Love Loud" are about what God has been putting heavily on her heart. All of the songs were written solely by Plage with the exception of "All We Have Is Now," where she was joined by American Idol contestant/singer and songwriter Ben Honeycutt and producer/drummer Jacob Schrodt to pen the EP's title cut.
Along with sharing his vocal talents to sing background, Chris August produced three of the songs. Schrodt produced two along with playing drums on the entire EP. David Leonard (NEEDTOBREATHE, Sons & Daughters, Jackson Waters) is the feature vocalist on "In Your Arms."
Cait Plage is more than ready to share her music and personal stories with the listener and is currently planning a tour, along with leading worship at camps and other venues. She explains, "During the past few years, I've had a lot of experiences and I have grown more in the past few years than ever in my life as I've learned, sometimes the hard way, what is truly important in this life. I've been feeling the pressing urgency more than ever to tell the world about Jesus. I am not promised another moment in this life and I need to make every second count for His Kingdom."
Want to know more about Cait Plage?
Cait Plage is a Liberty University graduate who currently lives in Nashville and regularly leads worship at her church. She once voiced Japanese anime and loves some good sushi. She spends rainy days decorating cakes and gets song ideas on long runs.
Her music has been compared to such artists as Taylor Swift and Brooke Fraser. She was given her first guitar on her fourteenth birthday and found the calling God had been pulling her toward all along: To capture God's love in a song and then share it with the listener.
"I believe experiences are meant to be shared, all in the hope that they might help someone else," claims Plage. "My one goal in life is to share God's love with you. My days, hours, and moments are numbered and I want to make them count."
For more information about Cait Plage, please visit the following sites:
What do others have to say about Cait? From Tenth Avenue North to Meredith Andrews, read on....
"To say there's a lot of talent in this industry would be a definite understatement. What drew me to Cait as a person, and now has drawn me into her musical endeavors, was her complete lack of pretension. She is as real and honest as one could hope for when listening to another human bear their heart & soul through art. I'm thankful to know her as a friend and equally as excited to see her music become something that others can not only identify with but hopefully, with God's grace, heal from."
--Ruben Juarez, Tenth Avenue North
"Cait Plage is a brightly gifted artist who writes great music and is passionate about making a difference in the lives of those around her. I have the delight of seeing Cait lead worship every Sunday night at the Tennessee Prison for Women. The women are blown away that Cait takes time from her life and invests it in their world. Her connection with them goes far beyond the music and into their hearts. I am very excited about 'All We Have Is Now' and the opportunities that the new music will provide Cait to use her music to serve others."
--Cindy Wilt Colville, Creative Music Publisher
"All We Have Is Now from Cait Plage has been a long time coming. I have watched her grow from a wide-eyed college freshman to a seasoned singer/songwriter who knows exactly what she wants to say and is willing to work hard to perfect her talent. She has patiently waited for the right moment to share her art with the world, and now that moment has arrived. World, meet Cait. Give her a listen. You won't be disappointed."
--Meredith Andrews, worship leader/recording artist
"Cait's heart and passion for Christ shines throughout her music and her testimony. Her voice is amazing, to say the least, but even deeper than that she is a light that blesses all of those in attendance. Not only did she lead us into corporate worship, she took the time to get to know our church. It is refreshing to meet an artist who has such a passion for people as well as music. We look forward to having her back as soon as we can!"
--Matt McCall, Worship Pastor Northwood Baptist Church, North Charleston SC
"Cait Plage is definitely one of the hardest working girls in Nashville, and her new EP is the proof. With her honest lyrical approach and smooth vocal, this dynamic collection of well produced songs has definitely been on repeat in my iTunes library."
--Chris Kuti, Chris and Conrad
"I've always been impressed with Cait's song writing. I think she has finally found who she is through this new project and I am excited to see what the future has for her."
--Travis Lawrence, Addison Road
####


[2021]
Jan. | Feb. | March | April | May | June | July | Aug. | Sept. | Oct. | Nov. | Dec.
[2020]
Jan. | Feb. | March | April | May | June | July | Aug. | Sept. | Oct. | Nov. | Dec.
[2001 - 2020]
Visit our complete MUSIC NEWS ARCHIVE