33Miles to Headline "Today Tour" with Special Guest Jonny Diaz
Tour To Also Feature Newcomers Finding Favour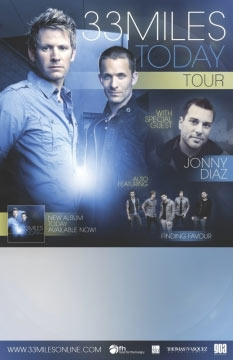 NEWS SOURCE: The M Collective
March 9, 2011
Nashville, Tenn. Mar. 9, 2011… 33Miles will begin their headlining "Today Tour" at the end of this month with special guest Jonny Diaz and newcomers Finding Favour. This is the second leg of the "Today Tour," the band also went on the road in promotion of their latest recording Today in the fall of 2010.
The tour, which takes the namesake of 33Miles' most current album Today, will begin in Ohio on March 25 and will wrap at the end of May in Kansas City, MO. Other notable tour stops include Arlington, TX, Bloomington, IL and others. For a full list of tour dates, please see below and visit www.33milesonline.com.
"I have been really looking forward to the spring leg of the 'Today Tour,'" says 33Miles front man Jason Barton. "We are thrilled to have Jonny Diaz back on the road with us along with the new band Finding Favour. It's going to be a great night of worship for the entire family!"
In addition to the tour, 33Miles' latest radio single "Arms That Hold The Universe" is moving up the charts. The song if currently added at over 40 stations nationwide, and can be found on their INO Records' release titled Today.
33Miles:
33Miles is comprised of Jason Barton and Chris Lockwood. The band has received multiple GMA Dove Award nominations, including one for "New Artist of the Year" for their self-titled debut. They have released three albums with INO Records to date: a self-titled debut, One Life and their most recent, Today. The band also unveiled a Christmas project which released nationally last fall. 33Miles' aggressive touring schedule includes nearly 150 dates a year, many with long time sponsors and ministry partners Food for the Hungry. For more information, visit www.33milesonline.com.
Jonny Diaz:
Jonny Diaz is an artist whose mission in life is to serve the Body of Christ. From the beginning of his music career, Diaz's desire has been to write songs that encourage, entertain and challenge fellow believers. His latest album, simply titled Jonny Diaz, is a collection of songs that accomplish his mission. "I attempted to break free from some of the traditional confines of Christian music, but I couldn't get away from the fact that most of my songs revolve around my relationship with Christ. He is the focus of my life and I find it impossible to honestly record my emotions and my journey without including Him. The people who truly understand my music share this same kind of relationship with God," he explains. His first release as a signed artist was titled More Beautiful You (2009). This album produced the No. 1 radio single "More Beautiful You," as well as Top 10 "Waiting Room," and led to a 2010 Dove Award nomination for New Artist of the Year. For more information, visit www.jonnydiaz.com.
Finding Favour:
Hailing from Vidalia, GA, five-piece pop/rock band Finding Favour was formed in 2005. Averaging over 120 dates per year, they have performed at numerous camps, youth events, conferences, and festivals over the past five years. In early 2010 the band recorded a 3-song EP with award-winning producer Ed Cash (Chris Tomlin, Leeland). For more information, visit www.findingfavour.com.
# # #
"Today Tour" Schedule
*All dates subject to change, visit 33milesonline.com for the most up to date concert info.
3/25/11 – Bidwell, OH – Fellowship of Faith Church
3/26/11 – Cartersville, GA – Church at Liberty Square
3/27/11 – Dothan, AL – Ridgecrest Baptist Church
4/1/11 – Alexandria, LA – Parkview Baptist Church
4/2/11 – Columbus, TX – Pine Cove
4/3/11 – Bay City, TX – Bay City Civic Center
4/7/11 – Greenville, MS – Elevate Church
4/8/11 – Arlington, TX – Arlington Music Hall
4/9/11 – Winnsboro, LA – Franklin Parish Catfish Festival
4/28/11 – Appleton, WI – Pathways Church
4/29/11 – Bloomington, IL – Victory Christian Center
4/30/11 – Greenville, IL – Bond County Fairground
5/6/11 – Havelock, NC – Liberty Christian Church
5/7/11 – Knightdale, NC – Faith Baptist Church
5/14/11 – Addison, AL – Addison High School
5/15/11 – Knoxville, TN – Carter Park
5/21/11 – Kansas City, KS – Schlitterbahn
For more info on 33Miles, visit the JFH Artists Database.


[2021]
Jan. | Feb. | March | April | May | June | July | Aug. | Sept. | Oct. | Nov. | Dec.
[2020]
Jan. | Feb. | March | April | May | June | July | Aug. | Sept. | Oct. | Nov. | Dec.
[2001 - 2020]
Visit our complete MUSIC NEWS ARCHIVE