EMI CMG Label Group, Thomas Nelson Team For First Time
To Support Albums Inspired By "Jesus Calling" Released March 8
Jesus Calling: Songs Inspired By Features New Songs from
Luminate, Matthew West, Robbie Seay Band

Additional Music by Amy Grant, Audrey Assad, Chris Tomlin, Christy Nockels, David Crowder*Band,
Hillsong UNITED, Mandisa, Sanctus Real and Steven Curtis Chapman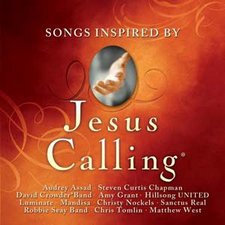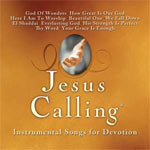 NEWS SOURCE: Hoganson Media
March 11, 2011
The "Jesus Calling"® devotional book written by missionary Sarah Young has captured the hearts of more than one million people, selling over 700,000 copies in just the last 12 months (over 1 million units since its release). Inspiring a growing number of readers, the book has also caught on within the Christian music-artist community. Sparked by the artists, EMI CMG and Thomas Nelson are partnering together for the first time to support this week's release of Jesus Calling: Songs Inspired By, which includes new songs by Luminate, Matthew West, and Robbie Seay Band, along with songs befitting the theme of the book by Amy Grant, Audrey Assad, Chris Tomlin, Christy Nockels, David Crowder*Band, Hillsong UNITED, Mandisa, Sanctus Real and Steven Curtis Chapman.
The first radio single from the album, "O Great Love," one of the three brand new, never released before songs written for the Jesus Calling: Songs Inspired By recording, has been sent to radio by EMI CMG and has already become the fastest added new single ever from Robbie Seay Band.
"This was a book designed for me to stop and listen – to hear God speak directly to me as I meditated on scripture and truth," says Robbie Seay. "Having the chance to contribute to an album inspired by the book was an honor for me. 'O Great Love' was written after a few weeks of reading and listening each morning, and I'm grateful to share it will all our friends at radio."
Matthew West, who wrote and recorded the new song "Rest" for the project, has also become a major proponent of this book. "A few years ago, I was recovering from what could possibly have been career ending vocal chord surgery," said West. "As part of the recovery process, I was unable to sing or even speak for several weeks. A friend brought me a copy of 'Jesus Calling,' and God used it in my life in a major way. Everyday it felt as though God was speaking directly to me, and directly to my circumstances. The song 'Rest,' is inspired by the book's daily call to do just that; rest in the presence of a God who longs to spend time with his children."
Another compelling new song, "Banner Of Love," was contributed by Luminate for Jesus Calling: Songs Inspired By. Lead vocalist/guitarist, Sam Hancock, shares his reason for writing the song: "The world needs an alternative to apathy, and I believe that alternative is realizing we all have a purpose in the Kingdom of God. Raising a 'banner of love' in our cities and daily lives is the only hope we have of reaching this world with the Love and Gospel of Christ."
In addition to the new songs, EMI CMG is collaborating with Thomas Nelson on all marketing efforts for Jesus Calling: Songs Inspired By, as well as the Jesus Calling: Instrumental Songs for Devotion worship album featuring some of today's best-known worship songs with peaceful arrangements for quiet devotional times and releasing in conjunction with the artist-driven album. The campaign includes in-store merchandising, online positioning, social media and more. This is the first time that Thomas Nelson has incorporated a music project to extend brand reach for a book.
"We are very pleased to work with our artists and with Thomas Nelson to provide a companion music product for 'Jesus Calling,'" says Peter York, President, EMI CMG Label Group. "This rich devotional book continues to inspire and encourage thousands of believers who long to have a more intimate and dynamic relationship with Christ. We deeply appreciate the opportunity for our music to provide a soundtrack for this important book."
"Nelson is delighted to partner with EMI in the creation of Jesus Calling music," reciprocates Laura Minchew, Thomas Nelson Vice President and Publisher, Children and Gift Specialty Books. "The brand extension of this bestselling book through music is the perfect complement to enhance a devotional experience."
Author Sarah Young applauds the resulting albums from this new relationship: "The 'Songs Inspired By' CD includes wonderful worship music, and the 'Instrumental Songs for Devotion' CD helps to set a meditative tone to use alongside the 'Jesus Calling' book."
The full track listings for the Jesus Calling inspired by albums follow:
Songs Inspired By 1) Rest* - Matthew West
2) O Great Love* - Robbie Seay Band
3) I'll Show You How To Live - Sanctus Real
4) All The Way My Savior Leads Me - Chris Tomlin
5) Carry Me - Audrey Assad
6) Banner of Love* - Luminate
7) Jesus Will Meet You There - Steven Curtis Chapman
8) Healing Is In Your Hands - Christy Nockels
9) God Speaking – Mandisa
10) Never Let Go - David Crowder*Band
11) None But Jesus - Hillsong UNITED
12) Softly and Tenderly - Amy Grant
* New songs written for this album

Instrumental Songs for Devotion
1) Here I Am To Worship
2) Made To Worship
3) How Great Is Our God
4) Beautiful One
5) Be Still and Know
6) God Of Wonders
7) El Shaddai
8) Everlasting God
9) Thy Word
10) We Fall Down
About Jesus Calling:
"Jesus Calling"® is a devotional filled with uniquely inspired treasures from heaven for every day of the year. After many years of writing in her prayer journal, missionary Sarah Young decided to listen to God with pen in hand, writing down whatever she believed He was saying to her. It was awkward at first, but gradually her journaling changed from monologue to dialogue. She knew her writings were not inspired as Scripture is, but journaling helped her grow closer to God. Others were blessed as she shared her writings, until people all over the world were using her messages. They are written from Jesus' point of view, thus the title "Jesus Calling"®. It is Sarah's fervent prayer that our Savior may bless readers with His presence and His peace in ever deeper measure.
About Sarah Young:
Sarah Young's devotional writing is helping untold numbers of women and men in their quest for intimacy with Christ. Sarah has a degree in philosophy from Wellesley and holds graduate degrees in psychology/counseling from Tufts, Georgia State, and Covenant Seminary. Sarah and her husband have traveled widely counseling and planting churches in Japan and Australia.
About Thomas Nelson:
Thomas Nelson, Inc. is a leading provider of Bibles, products, and live events emphasizing Christian, inspirational and family value themes. For more information on the company and titles visit http://www.thomasnelson.com.
About EMI CMG Label Group:
Brentwood, Tennessee-based EMI CMG Label Group is comprised of Sparrow Records, Forefront Records, and Credential Recordings, in addition to providing A&R and marketing support for sixstepsrecords via a joint venture and licensing partnership. Balancing freedom, discipline, creativity, profitability and ministry, EMI CMG Label Group strives for excellence in artist development. The Label Group is a division of EMI Christian Music Group. For further information, please visit www.emicmg.com.