BIG DADDY WEAVE LAUNCHES A CALL FOR ACTION WITH THE "LOVE COME TO LIFE TOUR" ON MARCH 25TH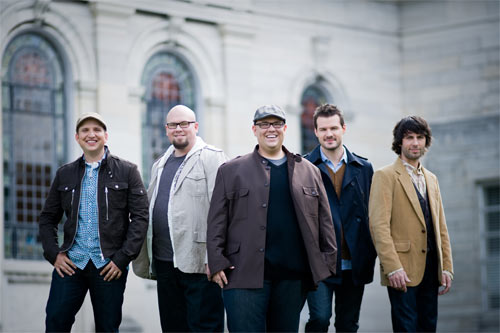 NEWS SOURCE: Warner Music Nashville
March 14, 2011
Nashville, TN – (March 14, 2011) — Word recording artist Big Daddy Weave will hit the road in March for the "Love Come to Life" tour, featuring special guests American Idol Season Six finalist Chris Sligh and breakout new artist Luminate. The tour begins on March 25th in Palos Heights, IL, and wraps up May 8th in Ahoskie, NC.
Big Daddy Weave's reputation for recording songs dear to the hearts of thousands is eclipsed only by their reputation for bringing incredible heart and passion to each and every live performance. Big Daddy Weave's "Love Come To Life Tour" is no exception. The tour's concept centers on seeing Love Come To Life in everyday actions. "I find that I say I love, but that sometimes it stops at words and doesn't turn into action," says lead singer Mike Weaver. "Jesus is Love Come To Life. My prayer to Him is for love to come to life in all of us, to be action, to be in what we do, not just what we say." The Love Come To Life tour promises a one-of-a-kind experience that joins artist and audience in a unique, singular voice. Led by their well-known songs "You Found Me," "What Life Would Be Like," "Every Time I Breathe," "Worthy of My Praise," and their first number one song "Audience of One," Big Daddy Weave takes their audience through a night of high-spirited joy and profoundly spiritual worship sprinkled with some musical surprises.
Big Daddy Weave formed when the band members were in college at the University of Mobile. They stepped into the spotlight in 2002 with the release of their second album One and Only, which debuted in SoundScan's Christian Top 5 — the highest debut for any new artist that year. Since then, the evolution of their career has been swift. Big Daddy Weave have scored five No. 1 singles. The group's 2009 Christmas album, Christ Is Come, won the Dove Award for Christmas Album of the Year.
Undeniably one of the most recognizable faces from American Idol, Chris Sligh won over fans with his mesmerizing vocals and "boy-next-door" persona. After finishing in the top 10 on the show's sixth season, the multi-talented singer/songwriter/producer went on to release his successful debut album Running Back To You, which delivered the Top 5 hit "Empty Me." In 2010 Word Records was proud to release his sophomore album The Anatomy Of Broken, which includes Sligh's current hit single "Only You Can Save." This year Sligh was recognized at the 2010 BMI Country Awards as a co-writer for Rascal Flatts' multi-format hit "Here Comes Goodbye."
Luminate's top-twenty debut single "Come Home" established this Tyler, TX-based group as one of the breakout artists of this past year. Their current single "Healing In Your Arms" delivers the message of love and worship that is so close to the band's heart. Signed to Sparrow Records, their debut album was released January 25, 2011.
Big Daddy Weave's upcoming tour dates are as follows. Please visit www.bigdaddyweave.com/tour for ticket info, show times, and venue information.
03/12/11 Baxley, GA
03/25/11 Palos Heights, IL
03/26/11 Findlay, OH
03/27/11 Albion, IL
04/01/11 Childress, TX
04/02/11 Weatherford, TX
04/03/11 Wichita Falls, TX
04/08/11 Murfreesboro, TN
04/09/11 Picayune, MS
04/10/11 Columbus, MS
04/14/11 Philippi, WV
04/15/11 Cuyahoga Falls, OH
04/16/11 Huntington, WV
04/28/11 Ottumwa, IA
04/29/11 Omaha, NE
04/30/11 Gillette, WY
05/01/11 Spearfish, SD
05/02/11 Maxwell, NE
05/03/11 Washington, IL
05/05/11 Charlotte, NC
05/06/11 Randleman, NC
05/07/11 Supply, NC
05/08/11 Ahoskie, NC
05/13/11 Springfield, OH
05/14/11 West Branch, MI
05/15/11 Odon, IN
###
For more info on Big Daddy Weave, visit the JFH Artists Database.


[2021]
Jan. | Feb. | March | April | May | June | July | Aug. | Sept. | Oct. | Nov. | Dec.
[2020]
Jan. | Feb. | March | April | May | June | July | Aug. | Sept. | Oct. | Nov. | Dec.
[2001 - 2020]
Visit our complete MUSIC NEWS ARCHIVE