BRENTON BROWN RELEASES OUR GOD IS NEAR TODAY AMIDST ACCLAIM
Features Co-Writes with Paul Baloche, Marty Sampson, Matt Maher, Eoghan Heaslip, Jason Ingram

Brenton Brown and The Worship Republic Tour Dates Announced
NEWS SOURCE: Hoganson Media
March 22, 2011
Modern worship songwriter/artist Brenton Brown, best known for anthems like "Everlasting God," "Lord, Reign in Me," "All Who Are Thirsty," and "Your Love Is Amazing," releases today his third full-length album, the acclaimed Our God Is Near from Kingsway with distribution in North America by EMI CMG.
Produced by Jason Ingram and Rusty Varenkamp, Our God Is Near features the musical collaboration of Brenton and his band, The Worship Republic members Daniel Ornellas (bass), Scotty Murray (guitar) and Ben Showalter (drums). Rich with compelling anthems and prayers set in highly singable, modern-edge melodies, the album also features Brenton co-writing with some of the finest worship songwriters of the day, including Paul Baloche, Marty Sampson, Matt Maher, Eoghan Heaslip and Jason Ingram. The resulting album showcases the undercurrent infusing Brenton's music and life; his desire to seek and discover the nearness of God, to see His Kingdom at work in the world.
"Our God Is Near is bent on spanning the chasm between joy and death. Those two ideas seem totally disparate and juxtaposed, like they could never go together, but that's what makes the good news good news," analyzes Brenton. "When God is near, things change. He can literally bulldoze the mountains in our lives out of the way if he chooses to. We can't fully understand it, and our language cannot describe it, but peace can come even in the fellowship of suffering. That we can die in him and rise in him confounds the trials of the world. Our music struggles to contain this idea."
Brenton sets the tone on the album with the opening track, "Our God Is Mercy," followed by the first radio single from Our God Is Near, "Joyful," with its driving, modern spin on the famous hymn, and "We Lift You Up," which was picked by Worship Leader to be featured on its Song DISCovery disc in May.
"In the spirit of Paul the Apostle, this is just for the Lord in the end, an honest offering," says Brenton about the album. "All I need to do, all I ever want to do is pray some honest prayers and sing some things that are true about who God is."
And that authenticity heard on the album has the critics praising Our God Is Near:

"Brenton Brown's sung prayers are treasures that have graced the Church with hope, encouragement and transcendent worship." - Worship Leader

"Don't miss any of these great new songs. Brenton's best overall work is this excellent new album Our God Is Near." – NewReleaseTuesday.com

"Anyone looking for another solid worship album would do well to add Brown's latest," – Soul-Audio.com

"…there is an epic-ness that pulls the whole album together…" – Louder Than The Music

"Our God Is Near is surely Brenton's best album yet…The whole album is beautifully produced…the guitars are bolder, drums fuller… a fantastic album and one definitely worth buying if you love energetic, fun heart-warming music…" – M-Brio Music

"…Our God Is Near is an album of contagious, worshipful melodies and is sure to be hit…Brown's skills as a worship leader and songwriter are showcased well through his new release." – Alpha Omega News
A South African-raised Rhodes scholar who studied at Oxford University, was worship pastor in England's Vineyard Church and now resides in Malibu, CA, Brenton Brown has written nine CCLI Top 500 songs that are being sung by millions in churches all around the world. His song "Everlasting God" was honored by ASCAP as one of the most performed songs in the USA in 2007 across all genres, marking the first time that a worship song has been recognized with such an honor.
To learn more about Brenton Brown, see www.brentonbrown.com/blog/tag/south-africa.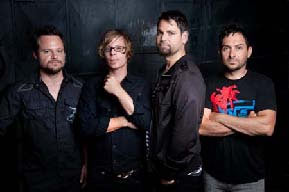 Brenton Brown and The Worship Republic is pictured (l-r):
Ben Showalter (drums), Scotty Murray (guitar), Brenton Brown (vocals/guitar) and Daniel Ornellas (bass).
Brenton Brown and the Worship Republic tour dates follow:
Date City Venue
03/24/11 Brenton Brown in Columbia, SC Spring Valley Baptist Church
04/01/11 Brenton Brown in Little Rock, AR Statehouse Convention Center
04/03/11 Brenton Brown in Hendersonville, TN Lifechurch.TV Hendersonville
04/08/11, 04/09/11 Brenton Brown in Rocklin, CA William Jessop University
04/10/11 Brenton Brown in Westlake, CA Calvary Westlake Village
04/22/11 Brenton Brown in Westlake, CA Calvary Westlake Village
04/24/11 Brenton Brown in San Diego, CA Horizon Christian Fellowship
05/07/11 Brenton Brown in Chicago, IL Harvest Bible Chapel
05/19/11 Brenton Brown in Overland Park, KS Grace Church (All About Worship Retreat)
07/18/11 Brenton Brown in Leawood, KS Worship Leader Conference
07/31/11 Brenton Brown in Rochester, NY Browncroft Community Church
08/01/11 Brenton Brown in Darien Center, NY Darien Lake Theme Park
08/14/11 Brenton Brown in Westlake, CA Calvary Westlake Village
08/19/11 Brenton Brown in Meridian, ID Ann Morrison Park (Worship in the Park)
08/21/11 Brenton Brown in Bonner Ferry, ID Mountain Springs Church
09/07/11 Brenton Brown in Orlando, FL Experience Conference
10/14/11, 10/16/11 Brenton Brown in Irving, TX Alpha Conference
10/20/11 Brenton Brown in Hume, CA Hume Lake Christian Camps

* Tour dates subject to change. For all the latest tour dates, see www.brentonbrown.com.
About Kingsway:
Tracing its music heritage to 1969, Kingsway today is known as a leader in Worship Music. As the creator of Thank You Music, and later in partnership with EMI, its catalogue includes songs such as "Here I Am to Worship," "In Christ Alone," "Everlasting God" and "Blessed Be Your Name" to name a few.
Kingsway's songs are sung in more than 300,000 churches worldwide accounting for over 30% of CCLI's (Church Copyright Licensing International) bestseller list. With writers and artists like Tim Hughes, Matt Redman, Delirious?, Graham Kendrick and Stuart Townend, Kingsway is dedicated to feeding the Church with songs that will change the world. As the music arm of David C Cook, a non-profit organization located in Colorado Springs, CO, a significant portion of the profits that Kingsway and David C Cook generate are used to provide discipleship and music materials free of charge to church leaders in developing parts of the world who wouldn't be able to get them any other way.
# # #
For more info on Brenton Brown, visit the JFH Artists Database.


[2021]
Jan. | Feb. | March | April | May | June | July | Aug. | Sept. | Oct. | Nov. | Dec.
[2020]
Jan. | Feb. | March | April | May | June | July | Aug. | Sept. | Oct. | Nov. | Dec.
[2001 - 2020]
Visit our complete MUSIC NEWS ARCHIVE